printer friendly version
Gas-filled surge arresters and varistors protect basestations
25 October 2000
Circuit & System Protection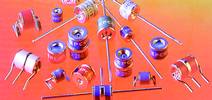 Mobile telephone systems have become one of the most important 'vital nerves' of our society. One of the most self-evident expectations which users place on the network operators is that they can make use of this service at all times with no interruptions. The network operators must consequently ensure that their installations have a high operational reliability. Rugged gas-filled surge arresters and varistors from Epcos make an effective contribution to protecting these systems from external influences such as thunderstorms and noise voltages caused by switching processes.
Only a dense network of basestations of differing output powers allows the continually increasing requirements of network coverage to be fulfilled. The user's expectations of this technology can be summed up in a simple formula: "Interference-free mobile communications services must be available at all times". Various communications services have been set up to do this job: they include not only conventional telephones but also systems for transmitting high data rates - today up to about 2 Mb - as well as terminals for Internet access.
A seamless service provision
The seamless provision of mobile telephony to major urban centers as well as extensive rural areas requires a network of mobile telephone basestations of varying density. These range from micro basestations of small output (2 to 8 W) via microcellular networks - designed to provide services to utilities such as office buildings, subway stations, tunnels, shopping centres, hotel foyers and exhibition halls - up to powerful units (eg 50 W) for macro radio cells with a broad regional coverage. These can reach ranges of up to about 30 km.
Basestations are vulnerable
The basestations are frequently set up at exposed locations in order to ensure maximum regional coverage. This often results in a considerable hazard potential. As a rule, the basestations to be protected have three interfaces to the outside: the power supply, the connection to the operator's fixed network and the antenna's input/output for the radio link to the mobile telephone. Thus interference caused by thunderstorms can destroy the basestation along all three of these paths: via the inductive coupling of partial lightning currents into the power supply system, by coupling of impermissibly high voltages into the signal lines to the fixed network or of lightning energy into the antenna.
Although the proximity of power lines (such as overhead transmission lines) and communications lines should in principle be avoided, this is not always possible in practice. Thus a short circuit on a power line can lead to considerable induction currents or overvoltages on the feed lines to the basestation. In the worst case, even a direct contact between power and communications lines is conceivable. Unless the basestation is sufficiently protected, its operation will inevitably be interrupted.
Arresters and varistors provide reliable protection
Epcos offers an extensive range of proven and attractively priced protective components in the form of gas-filled surge arresters. Thanks to their exceptionally high current-handling capacity, these arresters are particularly well suited to provide protection against the dangerous effects of atmospheric discharges (thunderstorms). They represent an ideal first-stage protection element fitted directly in the access network of the basestation. Gas-filled surge arresters offer optimum protection as they limit the overvoltage resulting from these disturbances at the inputs of the basestation quickly and reliably. They reduce the voltage to noncritical values and reliably conduct the dangerous excess currents away to ground.
A gas-filled overvoltage arrester can be described in a simplified way as a symmetrical low-capacitance switch that is set during manufacture to a specific switching voltage known as the sparkover voltage. In addition, gas-filled surge arresters have the added benefit of not affecting the circuits to be protected in the basestation equipment, because they assume a high resistance of several gigaohms during undisturbed operation. Their low capacitance, typically 1 pF, proves to be very helpful for the layout of the protective circuit at the RF input and outputs of the radio antenna and the fixed-network link via PCM systems (see Figure 1).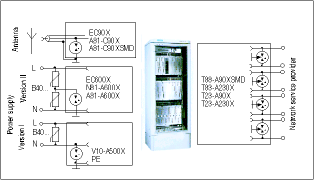 Figure 1. Base station with overvoltage protection circuits at the inputs and outputs. Top left: Surge arrester in the antenna input. Bottom left: Protection circuits in the power supply system with varistors and surge arresters. Right: Protection circuit for the fixed network with symmetrical surge arresters. The most common types of surge arresters are shown for each respective application
The antenna-side protection circuit is, as a rule, integrated in the RF part of the receiver. On the transmit side, use is often made of filters. Depending on their layout, they may offer sufficient protection even without the need for surge arresters. A common solution is to secure the input of the fixed-network connection by a separate lightning-protection module onto which the surge arresters are mounted. The spatial separation of the lightning protection module from the actual input circuit is important in order to intercept the currents expected from the interference sources as closely as possible after the input and thus to avoid carry-overs into the system.
In order to protect the power supply, terminated and ready-to-install overvoltage protection devices with surge arresters have become widely used. The circuitry requirements depend on the power of the basestation and the network structure. The examples in Figure 1 (below left) are typical configurations, showing the layout of the surge arresters and varistors in installation packages.
Additional protection is available from a temperature-controlled isolation key not shown here. The current status can be displayed through an optical detection system or a remote signal in case the varistors become thermally overloaded.
Application know-how
When used in power networks, surge arresters are always connected together with varistors in a series circuit. The varistor limits the current through the surge arrestor which could otherwise assume impermissibly high values because of the negative current/voltage characteristic of the arrester. These two overvoltage protection components from Epcos thus complement each other ideally in practice.
Credit(s)
Further reading:
Microthermal liquid flow sensors
29 July 2020, Electrocomp , Analogue, Mixed Signal, LSI
The SLF3x liquid flow sensor series from Sensirion represents an advancement for microthermal liquid flow sensors. By combining Sensirion's 20-year track record in low and lowest flow rate sensing with 
...
Read more...
---
Industrial enclosures in stainless steel
31 August 2020, Electrocomp , Enclosures, Racks, Cabinets & Panel Products
The IP66 EJSS family from Hammond Electronics is available in 304 or 316 grade stainless steel, supplied as standard in a natural smooth brushed finish. Sealed to IP66, the EJSS is designed for use as 
...
Read more...
---
Protection for single-cell Li-ion batteries
31 August 2020, Altron Arrow , Circuit & System Protection
The AP9221 is a single-package protection solution specially designed for single-cell Li+ rechargeable batteries in portable and wearable equipment. Made by Diodes Incorporated, it provides rich battery 
...
Read more...
---
Li-ion battery protection package
29 July 2020, Altron Arrow , Circuit & System Protection
The AP9221 is a single-package protection solution specially designed for single-cell Li+ rechargeable batteries in portable and wearable equipment. Made by Diodes Incorporated, it provides rich battery 
...
Read more...
---
Multi-sensor IoT module
29 July 2020, Electrocomp , Telecoms, Datacoms, Wireless, IoT
TDK announced worldwide availability of the InvenSense SmartBug, a compact, wireless multi-sensor solution designed for a plethora of commercial and consumer IoT applications. The out-of-the-box solution 
...
Read more...
---
DIN rail enclosures
30 June 2020, Electrocomp , Enclosures, Racks, Cabinets & Panel Products
Hammond Manufacturing has announced its 1597DIN family of UL94-V0 flame-retardant plastic enclosures for mounting to standard IEC/EN 60715 35 mm DIN rails for applications such as industrial control equipment, 
...
Read more...
---
CeraCharge now available in a small packing unit
30 June 2020, Electrocomp , Passive Components
TDK is presenting a new packing unit for CeraCharge, the world's first SMD technology solid-state rechargeable battery, in the compact size EIA 1812 (4,4 x 3,0 x 1,1 mm). The packing unit (B73180A0101M199) 
...
Read more...
---
Robust temperature sensor for E-mobility
30 June 2020, Electrocomp , Analogue, Mixed Signal, LSI
The new B58703M1103A* temperature sensor is specially developed for demanding E-mobility applications, which call for high long-term stability. The NTC sensor is designed for a temperature range of -40°C 
...
Read more...
---
3 kW TVS diode arrays
30 June 2020, Avnet Silica , Circuit & System Protection
To ensure critical operations, aviation and space systems rely on digital and logic functionality and circuitry in engine control units, environmental controls, instruments and actuators. Data centres, 
...
Read more...
---
Thick-film chip resistors
29 April 2020, Electrocomp , Passive Components
Bourns announced the introduction of its new Model CR01005 series thick-film chip resistor. This extra small – 01005 inch (0402 metric) – CR01005 series broadens the general purpose thick-film chip resistor 
...
Read more...
---