At electronica 2008, to be held from 11 to 14 November, 2008 at the new Munich Trade Fair in Germany, visitors will be presented with all of the trends and innovations that the global electronics industry has to offer. Almost without exception, the leading companies in the industry will be represented at the trade fairs, boasting new products and applications. This edition of the trade fair will focus on the growth markets of automotive and wireless.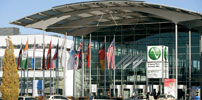 Messe München, venue for electronica 2008, sets high standards for international trade fair venues
The motto of the trade fair, 'Get the whole picture', is reflected in its program: from semiconductors, embedded systems and displays to sensors, measurement and testing technology, and electromechanics/system peripherals through to electronic design, this leading global trade fair covers the entire range of electronics in 14 halls. The focal areas of automotive, wireless, embedded and micronanosystems will be represented in independent exhibition areas with their own presentation programmes. In addition, two-day conferences will take place on the topics of automotive and wireless.
After a successful start in electronica 2006, the electronica automotive conference 2008 will take place on 10 and 11 November at the International Congress Centre Munich (ICM) with a high-ranking group of expert speakers representing leading international automobile manufacturers, supplier companies and system suppliers. The conference, to be held in English, is therefore expected to have a highly international flavour, in terms of both presenters and visitors.
On 12 and 13 November, leading experts in wireless technology will meet at ICM. The 'Wireless Congress: Systems & Applications' is taking place for the fifth time. It also has an international focus and addresses developers, system designers, technology decision makers and those responsible for systems, amongst others. Around 50 presentations will highlight all technical aspects of present and future wireless technologies, especially in industrial use, and will also give insight into currency applications, security aspects, problems with certification and approval, measurement technology expertise, as well as standards and market opportunities.
Two executive round tables will also offer the unique opportunity to see board members of leading global companies live in podium discussions. They are speaking on the topics of semiconductors and climate protection, and will discuss technological and economic future scenarios.
For more information visit www.electronica.de