Telit Wireless Solutions, the Italy-based machine-to-machine (M2M) mobile technology arm of Telit Communications, has announced the opening of a new regional sales office in Midrand. The company says the move is in line with its global expansion strategy and demonstrates its commitment to the African market.
"Telit considers Africa as a unique market occupying its own distinct place in the global picture," said Pieter Lentz, Telit's African regional sales director. "And we think about South Africa as the gateway into this exciting territory.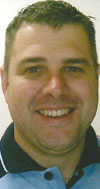 Pieter Lentz
By opening the new sales office, Telit will start selling its M2M modules directly to customers in this region to further explore the potential of the African market. The office will be led by Lentz who has a background in least-cost routing and supervised payphones. For the last three years, Telit has been represented in South Africa by RF Design, which has provided technical, sales and marketing support. Both companies aim to continue this rewarding partnership and indeed to expand their strong relationship in the future.
"We believe new and existing customers in this region will benefit from our global knowledge and experience in the M2M industry," said Lentz. "We in turn can learn from how African developers solve African problems."
Telit takes a unique approach to its product offering, with products being divided into families, each tailored to different levels of integration and volumes according to application size and production scale, and each addressing distinct application groups such as telematics, fleet management and automated meter reading. Within these families, products have the same form factor and functionality irrespective of their underlying wireless technology (GSM, CDMA, etc,).
For more information contact Telit Wireless Solutions, +27 (0)11 655 7190.