Year 2008 was difficult for the semiconductor industry as a whole, and the suppliers of analog products were no exception, with the entire market dropping 2%, from $36,5 billion in 2007 to $35,6 billion in 2008. The majority of the top 10 analog suppliers witnessed a larger drop than the industry average, as they struggled to maintain supremacy against the numerous smaller
manufacturers.
Texas Instruments, with share dropping from 14,4% in 2007 to 14,1% in 2008, exemplified this trend, but remains the clear leader in analog. The company's closest rival, Europe's STMicroelectronics, actually grew its analog business 1% from $3,8 billion in 2007 to $3,9 billion in 2008, thanks largely to the weakening of the dollar and consolidation of the ST and NXP wireless businesses. However, ST's domestic rival, Infineon, did not fare as well with an estimated loss of analog revenue from 2007 to 2008 at 16%. This is the result of a stormy business environment in 2008 with lower demand for wireless products.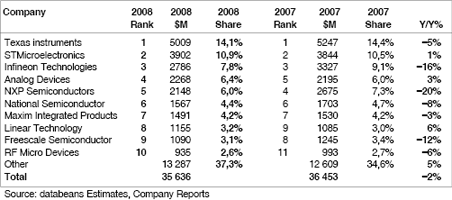 Analog Devices posted a modest gain of 3% from $2,2 billion or 6% of the market in 2007, up to $2,3 billion or 6,4% of the market in 2008. By focusing more upon core competencies such as amplifiers and data converters, the company outperformed the market by growing analog revenue year over year. National Semiconductor's share fell from 4,7% in 2007 to 4,4% of the market in 2008. This was a decline from $1,7 billion to $1,6 billion in total sales after a particularly weak fourth quarter of 2008 which forced the company to cut 26% of its total workforce and quickly regroup strategically to focus on emerging markets such as alternative energy, hybrid vehicles and security electronics.
Like other IC markets, growth for analog this year is mired by the drop in global demand for electronics in general, and stagnant economic conditions caused by the crippling lack of available credit. This year, analog companies are clearly moving quickly to adapt to a truly inhospitable environment; and as they do, they are targeting what may seem to be niche markets. Mobile phones, multimedia players and general trends in portability and wireless drive the analog market today. But consensus is that in the future, the analog market will be driven by areas such as energy, transportation, health and safety – a whole new lineage of applications on the horizon.
The top analog companies have announced significant activities in all of these areas and are banking on future growth. While some are focused specifically on targeting areas that fit in with currently available expertise, such as with Infineon's focus on security and energy, others are pursuing multiple areas and segments.
All of the major power management players are targeting the energy market with new products available for conserving power, more efficient power distribution, and creating power from renewable sources. Some companies are focusing specifically on energy conservation while others, such as Texas Instruments, are focusing on all three areas from conserving power to power generation. Clearly the analog market is in for another challenging year, but the tide will turn and it appears that for this year, analog has a new amulet, and it is green.
For more information visit www.databeans.net