Representatives of consulting engineers from across the
African continent met at a conference held in Durban recently to discuss the role engineers play in achieving the United Nations' eight millennium development goals for the African continent.
Over 170 professionals attended the GAMA conference and AGM which was hosted this year in South Africa by the current secretariat of GAMA, Consulting Engineers South Africa (CESA). The Group of Africa Member Associations (GAMA) is a member of the International Federation of Consulting Engineers (FIDIC). African countries represented at the conference included Sudan, Tunisia, Libya, Nigeria, Botswana, Tanzania, Uganda, Kenya, Egypt and South Africa.
The conference ended on a high note with the first female chairperson of GAMA being elected to office at the AGM. Madame Mayen Adetiba from the Association of Consulting Engineers Nigeria was elected as chairperson of GAMA for 2009. She will be assisted by Arthur Taute, the newly elected deputy chairperson from South Africa.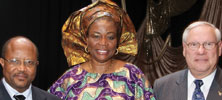 Madame Mayen Adetiba is pictured with outgoing GAMA president Exaud Mushi (left) and John Boyd (right), president of the International Federation of Consulting Engineers (FIDIC) to which GAMA belongs
Adetiba states, "In the context of infrastructure development some of the key issues that I will be focusing on in the coming year will be capacity building, the promotion of gender equality and eradication of corruption on the African continent."
For more information contact Graham Pirie, CESA, +27 (0)11 463 2022