printer friendly version
Teams build robots that walk like humans
9 March 2005
News
Three independent research teams have built walking robots that mimic humans in terms of their gait, energy-efficiency and control. The work, which is described in a recent issue of the journal, Science, could change the way humanoid robots are designed and controlled. It also has potential applications for robotic prostheses and it could aid scientists' understanding of the human motor system.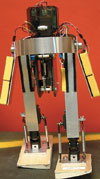 The MIT passive-dynamic powered robot. (Credit: Massachusetts Institute of Technology)
Developed at MIT, Cornell and Holland's Delft University of Technology, the three robots are all based on the same principle - they are an extension of several years of research into 'passive-dynamic walkers' that walk down a shallow slope without any motors. Passive-dynamic walkers were inspired by gravity-driven walking toys that have been around since the 1800s.
The control programs are said to be extremely simple, because a large portion of the control problem is solved in the mechanical design. The MIT robot uses customised learning software to exploit this, allowing the robot to teach itself to walk in less than 20 minutes, or about 600 steps. Dubbed 'Toddler' because it learns to walk and because it toddles when it does so, the robot "is one of the first walking robots to use a learning program, and it is the first to learn to walk without any prior information built into the controller," said Russ Tedrake, a postdoctoral associate at MIT's Department of Brain and Cognitive Sciences.
The robots are quite energy-efficient because energy is only used to push off. The walking robots move like humans, falling and catching themselves as they move forward. This essentially is the same movement people use - a motion toddlers must master to walk. Other robots needlessly use energy to absorb work, for example in moving the limbs forward more slowly than they would naturally swing under gravity power. With these new robots, the researchers simply substituted small motors for gravity power.
For more information see http://hebb.mit.edu/people/russt/robots/
Further reading:
A journey into the automation unknown
31 August 2020 , News
From small-town specialised machine builder to global technology company, Jendamark Automation's business journey has been characterised by calculated leaps into the unknown. And, as South African manufacturers 
...
Read more...
---
Resources for home and building automation
31 August 2020, TRX Electronics , News
Mouser Electronics is expanding its comprehensive range of building automation solutions from Silicon Labs, TE Connectivity (TE), and Littelfuse for the rapidly growing smart home and building automation 
...
Read more...
---
From the editor's desk: Enough of 2020 already
31 August 2020, Technews Publishing , News
Forgive me, but I don't think I'm alone in being a bit all over the place mentally at the moment. So far, two of my colleagues have been diagnosed positive for COVID-19 and have fortunately recovered. 
...
Read more...
---
Tribute to Paul Soteriou
31 August 2020 , News
Paul Soteriou, a man always willing to share what he had with a smile and with a deep-found love for South Africa, passed away earlier this year.
Read more...
---
Personality profile: Brian Andrew
31 August 2020, RS Components (SA) , News
With a father who is a civil engineer and an older brother who is a chemical engineer, you could say engineering was in the DNA of Brian Andrew.
Read more...
---
SA company scores in major international renewable energy project
31 August 2020, ETION Create , News
South African-based Etion Create has been selected as one of the preferred suppliers in the Sofia offshore wind farm project in the United Kingdom, one of the largest in the world. Etion Create, an original 
...
Read more...
---
Company profile: Vepac Electronics
31 August 2020, Vepac Electronics , News
Vepac Electronics was formed in 1987 and has been operating in South Africa since 1976 as Vero UK. Vepac Electronics was formed as a management buyout of Vero UK by the management at the time led by 
...
Read more...
---
South African stakeholders commit to responsible AI
31 August 2020 , News
Much like a microcosm of our socio-economic context, the artificial intelligence (AI) landscape in South Africa is uneven and burdened with regulatory challenges. If not addressed, these challenges could 
...
Read more...
---
Clearing the Static
31 August 2020, Actum Electronics , News
Ionisation and static control
Electronic products normally consist of conductors and insulators. Within the ESD-protected workstation, insulators can be found on products such as PCBs, onthe tools being 
...
Read more...
---
Women taking the lead in engineering
31 August 2020 , Editor's Choice, News
Alaris Antennas is an engineering company specialising in the design and production of (often) customised antennas for electronic warfare. This is not an industry that typically attracts women to steer 
...
Read more...
---