printer friendly version
Teams build robots that walk like humans
9 March 2005
News
Three independent research teams have built walking robots that mimic humans in terms of their gait, energy-efficiency and control. The work, which is described in a recent issue of the journal, Science, could change the way humanoid robots are designed and controlled. It also has potential applications for robotic prostheses and it could aid scientists' understanding of the human motor system.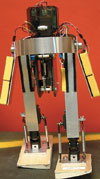 The MIT passive-dynamic powered robot. (Credit: Massachusetts Institute of Technology)
Developed at MIT, Cornell and Holland's Delft University of Technology, the three robots are all based on the same principle - they are an extension of several years of research into 'passive-dynamic walkers' that walk down a shallow slope without any motors. Passive-dynamic walkers were inspired by gravity-driven walking toys that have been around since the 1800s.
The control programs are said to be extremely simple, because a large portion of the control problem is solved in the mechanical design. The MIT robot uses customised learning software to exploit this, allowing the robot to teach itself to walk in less than 20 minutes, or about 600 steps. Dubbed 'Toddler' because it learns to walk and because it toddles when it does so, the robot "is one of the first walking robots to use a learning program, and it is the first to learn to walk without any prior information built into the controller," said Russ Tedrake, a postdoctoral associate at MIT's Department of Brain and Cognitive Sciences.
The robots are quite energy-efficient because energy is only used to push off. The walking robots move like humans, falling and catching themselves as they move forward. This essentially is the same movement people use - a motion toddlers must master to walk. Other robots needlessly use energy to absorb work, for example in moving the limbs forward more slowly than they would naturally swing under gravity power. With these new robots, the researchers simply substituted small motors for gravity power.
For more information see http://hebb.mit.edu/people/russt/robots/
Further reading:
Renesas/Dialog synergy delivers winning combinations
29 September 2021, Hi-Q Electronics , News
Renesas Electronics and Dialog Semiconductor have officially joined forces, resulting in an immediate benefit to customers as Renesas announces 39 new 'Winning Combinations'. These expert designs showcase 
...
Read more...
---
Prototype chip decodes any type of data sent across a network
29 September 2021 , Editor's Choice, News
The silicon chip can decode any error-correcting code through the use of a novel algorithm known as Guessing Random Additive Noise Decoding (GRAND).
Read more...
---
Bumper sales quarter restores Samsung's lead over Intel
25 August 2021 , News
IC Insights has released its August update to the 2021 McClean Report, which includes a review of the top 25 semiconductor sales leaders for the second quarter of calendar year 2021 (2Q21). ICs and optoelectronics, 
...
Read more...
---
RFiber adds high-reliability supplier to its stable
25 August 2021, RFiber Solutions , News
RFiber Solutions has expanded its portfolio by establishing a distribution channel for X-REL Semiconductor's offering into the South African market. RFiber says it is optimistic about the solutions 
...
Read more...
---
ON Semiconductor shortens its name to onsemi
25 August 2021 , News
ON Semiconductor, a well-known name in the IC vendor landscape over many years, has changed its trading name to onsemi and says it has refreshed its brand as a next step in the company's evolution to 
...
Read more...
---
Online sensor technologies and resources content
29 September 2021 , News
Mouser Electronics is helping to empower today's design engineers with insightful content around exciting new sensor technologies enabling the latest design solutions. The global authorised distributor 
...
Read more...
---
Semiconductor market records 29% year-on-year gains
25 August 2021 , News
The Semiconductor Industry Association (SIA) announced that global semiconductor industry sales were $45,4 billion in the month of July 2021, an increase of 29% over the July 2020 total of $35,2 billion 
...
Read more...
---
From the Editor's desk: Hacking sure ain't what it used to be
29 September 2021, Technews Publishing , News
There was a time when the idea of security exploits involving the Internet of Things (IoT) amounted to little more than amusement over someone having managed to hack into their home network through a 
...
Read more...
---
Electronics News Digest
29 September 2021 , News
South Africa
The Department of Science and Innovation (DSI) hosted the signing of the first South Africa-Ethiopia memorandum of understanding (MoU) on the expansion of cooperation in science, technology 
...
Read more...
---
LoRa – Where is the network?
29 September 2021, Otto Wireless Solutions , Telecoms, Datacoms, Wireless, IoT, News
According to the LoRa Alliance's official website, there are currently 156 LoRa network operators in 171 countries across the globe, with over 208 million LoRa devices deployed. Officially, we do have 
...
Read more...
---