Three independent research teams have built walking robots that mimic humans in terms of their gait, energy-efficiency and control. The work, which is described in a recent issue of the journal, Science, could change the way humanoid robots are designed and controlled. It also has potential applications for robotic prostheses and it could aid scientists' understanding of the human motor system.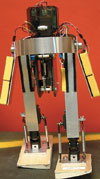 The MIT passive-dynamic powered robot. (Credit: Massachusetts Institute of Technology)
Developed at MIT, Cornell and Holland's Delft University of Technology, the three robots are all based on the same principle - they are an extension of several years of research into 'passive-dynamic walkers' that walk down a shallow slope without any motors. Passive-dynamic walkers were inspired by gravity-driven walking toys that have been around since the 1800s.
The control programs are said to be extremely simple, because a large portion of the control problem is solved in the mechanical design. The MIT robot uses customised learning software to exploit this, allowing the robot to teach itself to walk in less than 20 minutes, or about 600 steps. Dubbed 'Toddler' because it learns to walk and because it toddles when it does so, the robot "is one of the first walking robots to use a learning program, and it is the first to learn to walk without any prior information built into the controller," said Russ Tedrake, a postdoctoral associate at MIT's Department of Brain and Cognitive Sciences.
The robots are quite energy-efficient because energy is only used to push off. The walking robots move like humans, falling and catching themselves as they move forward. This essentially is the same movement people use - a motion toddlers must master to walk. Other robots needlessly use energy to absorb work, for example in moving the limbs forward more slowly than they would naturally swing under gravity power. With these new robots, the researchers simply substituted small motors for gravity power.
For more information see http://hebb.mit.edu/people/russt/robots/