printer friendly version
SJ Andrews acquires Uniross industrial division
30 September 2009
News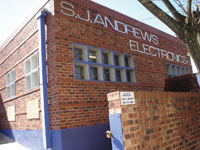 SJ Andrews Electronics recently bought the industrial product division from South African battery supplier Uniross, in a move that sees SJ Andrews covering more of the local supply chain, by supplying raw materials to many local companies.
SJ Andrews is a well-known name to anybody involved in kitting for the local industry. The company is headed by Mark Schroeder and Sue Andrews, who have extensive experience in the battery market, having formerly occupied positions as the technical director and production manager, respectively, of Genbatt. In operation for almost 20 years – 17 of those from its current premises in the Sandton area – the company manufactures and assembles a diverse range of products including batteries, battery charging systems, transformers, power supplies and other power products, as well as solar panels and LED lighting products.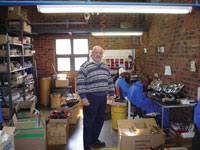 Although its products are not always visible because they are not off-the-shelf items, they find their way into everything from power supplies that end up in power stations, to power products for the mining industry, to GSM products, in South Africa and beyond. Another important market is LED lighting, where the company has developed lighting systems for the mining industry, decorative lighting and signage, and is in the process of developing an LED street light.
The company attributes its long-term success in a small and competitive market in large part to its highly stable staff complement. SJ Andrews currently employs three office staff and 23 people in the production department, with the majority of these employees having been with the company since its inception. By holding onto its employees, the company avoids having to retrain new staff, which takes time and money.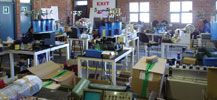 Another vital key to success is that, by running a lean operation, SJ Andrews can be very aggressive with its pricing strategy. To keep costs down, the company buys many components – from batteries to microcontrollers – from suppliers in the East, as well as its tooling. In this regard, it has established accounts and long-term relationships with several reputable suppliers, and takes delivery of imported components on a weekly basis. This in turn allows the company to deliver short turnaround times to its customers and respond quickly to changing market conditions, which has become increasingly important in recent times as companies have strived to avoid keeping too much stock.
For more information contact Mark Schroeder, SJ Andrews Electronics, +27 (0)11 444 1521.
Further reading:
Personality profile: Jean Mearns
29 July 2020, WH Circuit , News
"No one works for me, they only work with me, for without each other our team will fail to exceed the expectations of our customers."
Read more...
---
Letter to the editor
29 July 2020 , News
I take exception to the article 'To fake or not to fake' published in the June edition of Dataweek that is clearly based on the principle 'guilty until proven innocent'. I am by no means an expert 
...
Read more...
---
Q&A with Brandon Kuhn and Steve Stafford
29 July 2020 , News
Q: What is the rationale behind the reorganisation? What impact will it have on Avnet's customers in South Africa?    A (Kuhn):
Since 2009, our shared front-end model in South Africa has differed from the 
...
Read more...
---
Avnet EMEA names two new leaders to SA operation
29 July 2020 , News
Avnet has named Steve Stafford and Brandon Kuhn as new leaders in South Africa following the completion of a reorganisation in the region.
Read more...
---
UCT chooses Tektronix instruments for training lab
29 July 2020, Comtest , News
Comtest, local partner to Tektronix, recently assisted the University of Cape Town (UCT) physics department in refurbishing its electrical training laboratory. All of the existing analog oscilloscopes 
...
Read more...
---
New electromagnetic solutions range from Accutronics
29 July 2020, Accutronics , News
Accutronics has been appointed as the reseller for the Electromagnetic Integrated Solutions (EIS) range of products from API Technologies. APITech offers a complete line of coaxial EMI solutions, 
...
Read more...
---
Fighting COVID-19 using TV white space spectrum
29 July 2020 , News
The CSIR has partnered with the Technology Innovation Agency (TIA) to enable local Internet service providers to deploy Television White Space (TVWS) networks, using the CSIR-developed Secondary Geo-Location 
...
Read more...
---
Clearing the Static: ESD wrist straps
29 July 2020, Actum Electronics , News
The human body is the primary source of electrostatic charge generation. In order to control and reduce static charge build-up and prevent electrostatic discharges (ESD), we use grounding systems to ensure 
...
Read more...
---
From the editor's desk: This too shall pass
29 July 2020, Technews Publishing , News
Things were tough enough for the South African electronics manufacturing industry before, but this year has thrown up unprecedented challenges that nobody could have foreseen and which are outside of 
...
Read more...
---
Electronics news digest
29 July 2020 , News
South Africa
• As part of the national data-driven approach to countering COVID-19, the CSIR has developed a platform that monitors human mobility to better understand movement patterns across specific 
...
Read more...
---