printer friendly version
Local company provides technical training
30 September 2009
News
Nkoka Training is a Centurion-based training centre specialising in providing IPC, electronics and computer engineering skills. The company was founded in 2004 and has since achieved BEE Level 4 status. Nkoka is a Tshixonga word meaning 'quality' and the company holds true to this ideal of providing its clients in South Africa and indeed the whole of the African continent, with high quality technical engineering training solutions, in the areas of both maintenance and design work, with particular emphasis on the broadcasting, communications, military, and avionics and space industries.
The company's specific area of strength lies in providing work integrated learning for students who need their practicals (P1 and P2) to complete their national diplomas, while at the same time providing the ICT sector with competent personnel. The specific technical experiential training provided includes programming, design, maintenance, fault finding, test equipment and advanced circuit diagrams. As its philosophy is to develop the full individual, the company also provides life skills by covering topics such as financial management, personal development, report writing, presentation skills and project management. Nkoka's training laboratories are fully equipped with oscilloscopes, multimeters and all other relevant equipment to make learning a success. In addition, it has workshop facilities where trainees practice hand skills and repairs.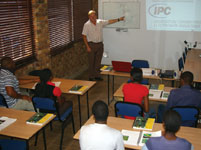 Nkoka offers IPC training and certification for all operators involved with electronic product manufacturing. The company is certified by the IPC as an official African distributor, and considers itself the only private provider in Africa to present the following courses for certified IPC specialists and certified IPC trainers:
* IPC/EIA J-STD-001: Requirements for soldered electrical and electronic assemblies.
* IPC-A-610: Acceptability of electronics assemblies.
* IPC/WHMA-A-620: Requirements and acceptance for cable and wire harness assemblies.
* IPC-7711-IPC-7721: Rework and repair.
* IPC-A-600G: Acceptability of printed boards.
The company is accredited by most of the Universities of Technology across the country to provide P1 and P2 training, and is also fully accredited by the Isset Seta to provide a learnership in the 'National Certificate – Electronics' qualification.
To date, Nkoka has trained 75 students (23 of whom were female) whom it has helped to achieve national diplomas; all but six of these students have been employed. In the words of a senior manager at the SABC (one of Nkoka's biggest clients), "There is not a single bad Nkoka student. All are good, some are just better than the others."
For more information contact Paul Tati, Nkoka, +27 (0)12 653 2629, paul@nkoka.co.za, www.nkoka.co.za
Further reading:
Personality profile: Jean Mearns
29 July 2020, WH Circuit , News
"No one works for me, they only work with me, for without each other our team will fail to exceed the expectations of our customers."
Read more...
---
Letter to the editor
29 July 2020 , News
I take exception to the article 'To fake or not to fake' published in the June edition of Dataweek that is clearly based on the principle 'guilty until proven innocent'. I am by no means an expert 
...
Read more...
---
Q&A with Brandon Kuhn and Steve Stafford
29 July 2020 , News
Q: What is the rationale behind the reorganisation? What impact will it have on Avnet's customers in South Africa?    A (Kuhn):
Since 2009, our shared front-end model in South Africa has differed from the 
...
Read more...
---
Avnet EMEA names two new leaders to SA operation
29 July 2020 , News
Avnet has named Steve Stafford and Brandon Kuhn as new leaders in South Africa following the completion of a reorganisation in the region.
Read more...
---
UCT chooses Tektronix instruments for training lab
29 July 2020, Comtest , News
Comtest, local partner to Tektronix, recently assisted the University of Cape Town (UCT) physics department in refurbishing its electrical training laboratory. All of the existing analog oscilloscopes 
...
Read more...
---
New electromagnetic solutions range from Accutronics
29 July 2020, Accutronics , News
Accutronics has been appointed as the reseller for the Electromagnetic Integrated Solutions (EIS) range of products from API Technologies. APITech offers a complete line of coaxial EMI solutions, 
...
Read more...
---
Fighting COVID-19 using TV white space spectrum
29 July 2020 , News
The CSIR has partnered with the Technology Innovation Agency (TIA) to enable local Internet service providers to deploy Television White Space (TVWS) networks, using the CSIR-developed Secondary Geo-Location 
...
Read more...
---
Clearing the Static: ESD wrist straps
29 July 2020, Actum Electronics , News
The human body is the primary source of electrostatic charge generation. In order to control and reduce static charge build-up and prevent electrostatic discharges (ESD), we use grounding systems to ensure 
...
Read more...
---
From the editor's desk: This too shall pass
29 July 2020, Technews Publishing , News
Things were tough enough for the South African electronics manufacturing industry before, but this year has thrown up unprecedented challenges that nobody could have foreseen and which are outside of 
...
Read more...
---
Electronics news digest
29 July 2020 , News
South Africa
• As part of the national data-driven approach to countering COVID-19, the CSIR has developed a platform that monitors human mobility to better understand movement patterns across specific 
...
Read more...
---