printer friendly version
Semiconductor revenue fell more than 10% in 2009
28 April 2010
News
According to final results by Gartner, total worldwide semiconductor revenue reached $228,4 billion in 2009, down $26,8 billion, or 10,5%, from 2008.
Gartner said that this is the first time the industry has seen two consecutive years of revenue declines. However, the industry performed much better than expected in the second half, setting the stage for strong 2010 growth against weak comparables.
"After an unprecedented decline in the fourth quarter of 2008 and the first quarter of 2009, sequential quarterly revenue growth for the industry overall was very strong in the last three quarters of 2009," said Peter Middleton, principal research analyst at Gartner. "As a result, 2009 performance overall was much milder than initially feared in the aftermath of the financial crisis."
Gartner's annual semiconductor market share analysis examines and ranks the worldwide and regional revenue for more than 270 semiconductor suppliers in 64 separate product categories and eight major market categories. It serves as a benchmark for semiconductor industry performance, as well as a means for individual companies to assess their revenue performance against their competitors.
Intel held the No. 1 position for the 18th consecutive year. It increased its market share to 14,6% in 2009 from 13,6% (see Table 1) despite its revenue declining $1,6 billion. This performance was primarily due to the relative strength of the PC market (mobiles in particular) which sold well despite the recession.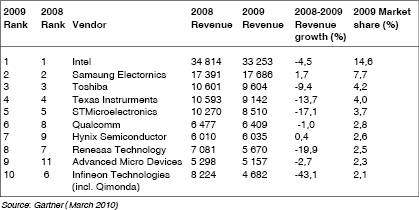 Table 1. Top 10 semiconductor vendors by revenue estimates, 2009 (millions of US dollars)
Samsung Electronics was one of the few companies to see a revenue increase in 2009. Part of the reason for this was that its main product lines, DRAM and NAND Flash, had already seen strong declines in 2008, causing the vendors to quickly react to 2009 conditions by adjusting supply. This forced up pricing substantially through the year for both product areas and, combined with Samsung's technology lead and strong financial position, resulted in revenue growth.
Hynix Semiconductor, like its rival Samsung, saw revenue growth. For Hynix, the growth came from the DRAM market, where it was able to gain share and increase revenue in a market that saw revenue decline.
Infineon had the largest decline, with its overall revenue down 43,1%, due to the bankruptcy of its Qimonda memory business and the divestiture of its wireline communications unit. When these two business units are removed from the equation, the remainder of Infineon declined 16,1% overall, which was roughly in line with its direct peers.
Vendor relative industry performance
Market share tables by themselves give a good indication of which vendors did well or badly during a year, but they do not tell the whole story. More often than not, a strong or weak performance by a vendor is a result of the overall market growth of the device areas that the vendor participates in. Gartner's relative industry performance (RIP) index measures the difference between industry-specific growth for a company and actual growth, showing which are transforming their businesses by growing share or moving into new markets and choosing their customers wisely.
MediaTek led the RIP index in 2009, and its impressive performance was achieved almost entirely based on its performance in the wireless market, though it also performed relatively well in the consumer area. MediaTek (No. 18 overall) was the strongest-performing wireless semiconductor vendor with 42,5% growth compared with 2008. The company benefited from strong unit growth in the Chinese grey market but also expanded its design wins with Tier 1 vendors, including LG and Motorola.
Elpida (No. 16 overall) was once again the No. 2 vendor in Gartner's RIP ranking. It was able to gain share in the DRAM market because its capacity growth was almost twice that of the industry as it took more production from its joint venture production company, Rexchip, as its partner Powerchip struggled for survival. This additional capacity allowed Elpida to pick up market share from the bankrupt Qimonda.
For more information visit www.gartner.com
Further reading:
Personality profile: Jean Mearns
29 July 2020, WH Circuit , News
"No one works for me, they only work with me, for without each other our team will fail to exceed the expectations of our customers."
Read more...
---
Letter to the editor
29 July 2020 , News
I take exception to the article 'To fake or not to fake' (
www.dataweek.co.za/10678r
) published in the June edition of Dataweek that is clearly based on the principle 'guilty until proven innocent'.  
...
Read more...
---
Q&A with Brandon Kuhn and Steve Stafford
29 July 2020 , News
Q: What is the rationale behind the reorganisation? What impact will it have on Avnet's customers in South Africa?    A (Kuhn):
Since 2009, our shared front-end model in South Africa has differed from the 
...
Read more...
---
Avnet EMEA names two new leaders to SA operation
29 July 2020 , News
Avnet has named Steve Stafford and Brandon Kuhn as new leaders in South Africa following the completion of a reorganisation in the region.
Read more...
---
UCT chooses Tektronix instruments for training lab
29 July 2020, Comtest , News
Comtest, local partner to Tektronix, recently assisted the University of Cape Town (UCT) physics department in refurbishing its electrical training laboratory. All of the existing analog oscilloscopes 
...
Read more...
---
New electromagnetic solutions range from Accutronics
29 July 2020, Accutronics , News
Accutronics has been appointed as the reseller for the Electromagnetic Integrated Solutions (EIS) range of products from API Technologies. APITech offers a complete line of coaxial EMI solutions, 
...
Read more...
---
Fighting COVID-19 using TV white space spectrum
29 July 2020 , News
The CSIR has partnered with the Technology Innovation Agency (TIA) to enable local Internet service providers to deploy Television White Space (TVWS) networks, using the CSIR-developed Secondary Geo-Location 
...
Read more...
---
Clearing the Static: ESD wrist straps
29 July 2020, Actum Electronics , News
The human body is the primary source of electrostatic charge generation. In order to control and reduce static charge build-up and prevent electrostatic discharges (ESD), we use grounding systems to ensure 
...
Read more...
---
From the editor's desk: This too shall pass
29 July 2020, Technews Publishing , News
Things were tough enough for the South African electronics manufacturing industry before, but this year has thrown up unprecedented challenges that nobody could have foreseen and which are outside of 
...
Read more...
---
Electronics news digest
29 July 2020 , News
South Africa
• As part of the national data-driven approach to countering COVID-19, the CSIR has developed a platform that monitors human mobility to better understand movement patterns across specific 
...
Read more...
---