printer friendly version
Semiconductor revenue fell more than 10% in 2009
28 April 2010
News
According to final results by Gartner, total worldwide semiconductor revenue reached $228,4 billion in 2009, down $26,8 billion, or 10,5%, from 2008.
Gartner said that this is the first time the industry has seen two consecutive years of revenue declines. However, the industry performed much better than expected in the second half, setting the stage for strong 2010 growth against weak comparables.
"After an unprecedented decline in the fourth quarter of 2008 and the first quarter of 2009, sequential quarterly revenue growth for the industry overall was very strong in the last three quarters of 2009," said Peter Middleton, principal research analyst at Gartner. "As a result, 2009 performance overall was much milder than initially feared in the aftermath of the financial crisis."
Gartner's annual semiconductor market share analysis examines and ranks the worldwide and regional revenue for more than 270 semiconductor suppliers in 64 separate product categories and eight major market categories. It serves as a benchmark for semiconductor industry performance, as well as a means for individual companies to assess their revenue performance against their competitors.
Intel held the No. 1 position for the 18th consecutive year. It increased its market share to 14,6% in 2009 from 13,6% (see Table 1) despite its revenue declining $1,6 billion. This performance was primarily due to the relative strength of the PC market (mobiles in particular) which sold well despite the recession.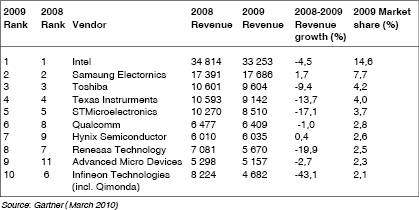 Table 1. Top 10 semiconductor vendors by revenue estimates, 2009 (millions of US dollars)
Samsung Electronics was one of the few companies to see a revenue increase in 2009. Part of the reason for this was that its main product lines, DRAM and NAND Flash, had already seen strong declines in 2008, causing the vendors to quickly react to 2009 conditions by adjusting supply. This forced up pricing substantially through the year for both product areas and, combined with Samsung's technology lead and strong financial position, resulted in revenue growth.
Hynix Semiconductor, like its rival Samsung, saw revenue growth. For Hynix, the growth came from the DRAM market, where it was able to gain share and increase revenue in a market that saw revenue decline.
Infineon had the largest decline, with its overall revenue down 43,1%, due to the bankruptcy of its Qimonda memory business and the divestiture of its wireline communications unit. When these two business units are removed from the equation, the remainder of Infineon declined 16,1% overall, which was roughly in line with its direct peers.
Vendor relative industry performance
Market share tables by themselves give a good indication of which vendors did well or badly during a year, but they do not tell the whole story. More often than not, a strong or weak performance by a vendor is a result of the overall market growth of the device areas that the vendor participates in. Gartner's relative industry performance (RIP) index measures the difference between industry-specific growth for a company and actual growth, showing which are transforming their businesses by growing share or moving into new markets and choosing their customers wisely.
MediaTek led the RIP index in 2009, and its impressive performance was achieved almost entirely based on its performance in the wireless market, though it also performed relatively well in the consumer area. MediaTek (No. 18 overall) was the strongest-performing wireless semiconductor vendor with 42,5% growth compared with 2008. The company benefited from strong unit growth in the Chinese grey market but also expanded its design wins with Tier 1 vendors, including LG and Motorola.
Elpida (No. 16 overall) was once again the No. 2 vendor in Gartner's RIP ranking. It was able to gain share in the DRAM market because its capacity growth was almost twice that of the industry as it took more production from its joint venture production company, Rexchip, as its partner Powerchip struggled for survival. This additional capacity allowed Elpida to pick up market share from the bankrupt Qimonda.
For more information visit www.gartner.com
Further reading:
Government and ICASA commended for temporary spectrum
25 November 2020 , News
MTN has recognised the Department of Communication and Digital Technologies (DCDT), as well as the industry regulator ICASA, for the important actions these two bodies have taken to advance the release 
...
Read more...
---
On-the-ground sales support for South African Farnell customers
25 November 2020, EBV Electrolink , News
Farnell, an Avnet company and global distributor of electronic components, products and solutions, has enhanced its service to customers in South Africa through a new partnership with sister company EBV, 
...
Read more...
---
Better than Moore: A new way to measure semiconductor progress
25 November 2020 , News
One of the most famous maxims in technology is, of course, Moore's Law. For more than 55 years, the 'Law' has described and predicted the shrinkage of transistors, as denoted by a set of roughly biennial 
...
Read more...
---
Technology trends that will shape 2021
25 November 2020 , News
In preparing to turn the corner on one of the most tumultuous years we have ever seen, 2021 will require that organisations put a finger on what will stimulate market responses and what the fabric of 
...
Read more...
---
Altron appoints new company secretary
25 November 2020, Altron Arrow , News
Nicole Morgan has been appointed as company secretary of Altron with effect from 1 January 2021. An admitted attorney of the High Court with 11 years of corporate law and company secretarial experience, 
...
Read more...
---
Technical high school gets new multimedia centre for 100% pass rate
25 November 2020 , News
The MTN SA Foundation continues to bring digital education closer to SA's youth with the recent handover of a state-of-the-art multimedia centre to a deserving Bokgoni Technical High School in Atteridgeville, 
...
Read more...
---
Unrealistic deadlines hamper independent power producers
25 November 2020 , News
The Independent Power Producers Programme Office (IPPPO), which is run by the South African Department of Mineral Resources and Energy (DMRE), aims to procure 2000 megawatts of electricity in its latest 
...
Read more...
---
Buy a Fluke, get one free
28 October 2020, Comtest , News
Comtest, Fluke's official South African importer, is offering one free Fluke for every Fluke purchased from any South African-based, authorised Fluke dealer. Fluke is a world leader in the manufacture, 
...
Read more...
---
Online Ohm's law calculator from Mouser
28 October 2020 , News
The famous Ohm's law states that the current flowing through a circuit is proportional to the voltage applied across both points. Mouser Electronics' online Ohm's law calculator saves engineers time by 
...
Read more...
---
From the editor's desk: Where monsters, viruses and technology meet
25 November 2020, Technews Publishing , News
I clearly remember the moment it really sank in that the world as we know it has become almost unrecognisable from a year ago. It would be hard not to remember really, because it happened only two days 
...
Read more...
---