printer friendly version
Mantech Electronics sails smoothly through rough seas
9 June 2010
News

Despite the well chronicled and oft cited economic crisis of recent times, of which the electronics industry has been a major victim, Mantech Electronics has not only survived the hard times, but has in fact managed to achieve continuous growth throughout.
This remarkable feat can be attributed to the company's somewhat unique business model that has seen it become one of the country's leading suppliers of electronic components.
It all began in 1987, when founder and CEO Manny Moutinho, then in his twenties, spotted an opening in the market that was begging to be filled by a distributor that could supply a wide range of components in small volumes. This demand was driven primarily by what was, in those days, a very robust market targeting the service and repair of not only industrial electronics but also consumer products. Thus was Mantech Electronics born, and the company has grown from its initial offering of a limited number of niche products, to today's current range of over thirty thousand line items.
Following its inception at premises in the Johannesburg area, new branches were opened in Durban and Cape Town during the mid 1990s to serve growing demand in those regions, and the Johannesburg operation was moved to its current, larger premises in New Centre around the same time. A small branch was also opened as far afield as Hong Kong, in what proved to be a fateful move in the context of Mantech's future growth, as it led to a relationship with the global Mobicon Group of component distributors. Headquartered in Hong Kong, Mobicon was looking to spread its wings overseas at the time, which ultimately led it to acquire a 51% stake in Mantech in 2001, in order to leverage the latter's established presence in the South African marketplace. This merger proved highly beneficial for Mantech by providing it with key resources in terms of marketing, logistics and buying, and set the course for the company's growth in the years to come.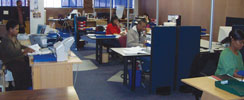 Challenging times
Mantech certainly has not been immune to the effects of the difficult economic times, one of which has been longer lead times in obtaining parts from the manufacturers, a problem which runs the gamut from semiconductors to passive and electromechanical components and which has been experienced by all distributors the world over. This has necessitated tighter inventory controls than normal, but Mantech believes that it has an advantage over many of its competitors in this regard, in that the nature of the products it sells means that customers are more tolerant of using replacement parts if the particular brand they are seeking is not immediately available. This benefit is enhanced by the fact that Mantech is also not restricted in terms of its agencies as to what products it is allowed to sell.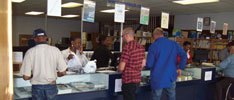 Another challenge facing the company is one that affects the whole industry, and that is the fact that many global manufacturers are able to make products very competitively, which leads to a lot of local companies importing rather than manufacturing. Many customers are thus buying product internationally, even at the component level, which is particularly challenging given the type of products that Mantech sells, where customers are not very loyal to one specific brand. But buying from overseas means that they must maintain their own inventories – and this is where Mantech adds value, with a very high hit rate selling components from the shelves. The company therefore considers it a top priority to make sure that stock of every line item is kept and can be delivered within 24 hours, as failure to do so would cause customers to consider importing components as a viable option.

Looking ahead
In terms of its growth strategy, Mantech is not content to rest on its laurels. The company already has a very wide product range serving a large variety of market segments, and is focused on pushing hard in those areas where growth is still seen to exist. This strategy also relies on the introduction of new brands and new product lines, taking customers from competitors, as well as exploring niche markets where Mantech's products have not been extensively used previously. The company's relationship with Mobicon is invaluable in identifying desirable new product lines to support. This allows Mantech to tap into various product lines that it normally wouldn't be able to because of restricted volumes that are required to deal directly with the factory, and by combining orders throughout the Mobicon group, Mantech gains access to products that might not otherwise have been accessible.
Mantech's vision, driven by Moutinho and current national sales manager Chris van der Merwe, is to be at the forefront of the local electronic component industry and to entrench itself as a 'household' name by focusing on its core values of service, delivery and product availability. The company's main strength lies in its ability to supply all of its products directly from the shelves at all times, and this attribute provides exposure to a wide customer base including research and development, maintenance and repair, as well as a healthy proportion of sales to the manufacturing sector. Economies of scale also mean that the company can import large volumes at competitive prices and pass these benefits on to its wide network of resellers.
Credit(s)
Further reading:
Plan your media strategy with Technews Publishing
23 October 2019, Technews Publishing , News
Dear Marketer, Have you ever looked back on a year and wondered how you survived it? For the majority of South Africans, 2019 started benignly enough, cosily wrapped in the blanket of Ramaphoria that 
...
Read more...
---
From the editor's desk: Getting charged up for the new year
25 November 2019, Technews Publishing , News
The Springboks' Rugby World Cup triumph in Japan couldn't have come at a better time for South Africa, as the country was in desperate need of a jolt of positive energy going into the festive season. 
...
Read more...
---
Battery Technologies Conference 2019
25 November 2019 , News, Editor's Choice
Batteries are a critical enabler of the Fourth Industrial Revolution, powering technology in products from laptops and handheld devices to electric vehicles and renewable energy storage.
Read more...
---
Boom, doom and gloom, or something completely different?
25 November 2019, Technews Publishing , News, Editor's Choice
As the end of 2019 looms, it's time to look ahead to what next year might have in store, and reflect on the year gone by. And what a year it's been.
Read more...
---
Actum Group remains resilient and optimistic for 2020
25 November 2019, Actum Electronics , News
Running a profitable business in South Africa is not for the fainthearted. With the national treasury downgrading this year's growth forecast from 1,5% to 0,5%, and state-owned entities like Eskom negotiating 
...
Read more...
---
Additional renewable energy development zones proposed
25 November 2019 , News
The second phase of the Strategic Environmental Assessment (SEA) for wind and solar photovoltaic (PV) energy in South Africa proposes three additional Renewable Energy Development Zones (REDZs) for wind 
...
Read more...
---
Locally developed electronic circuit builder for students
25 November 2019, K Measure , News, Editor's Choice
K Measure, creator of the award-winning Seebox engineering education solution, has created a new innovation to enable quick and easy electronic circuit-building. The SeeBlocks electronic circuit creator 
...
Read more...
---
Clearing the Static:Topic 9: Time to audit your ESD environment
25 November 2019, Actum Electronics , News
Now that we are nearing the end of the year, it is a good time to audit your existing static control products and procedures. The first line of defence should be your antistatic floor, since this is the 
...
Read more...
---
Winning hackathon entry curbs cell tower battery theft
25 November 2019 , News
The fourth annual TADHackJHB was held at MTN's head office in Fairland, Johannesburg, on 12 and 13 October, with a cell tower protection app emerging as the winner. The theme for the 2019 global TADHack 
...
Read more...
---
Products of the Year 2019
25 November 2019 , News
SmartServer IoT by Adesto
BAW-based chips for comms infrastructure
Cellular modules for LPWA applications
SoCs and software for smart home and IIoT
Secure element for IoT authentication
MPU for embedded 
...
Read more...
---