printer friendly version
RF MEMS devices gain in importance
10 November 2010 News Telecoms, Datacoms, Wireless, IoT
Help may be on the way for Apple iPhone 4 users frustrated by dropped calls with the arrival of radio frequency micro-electromechanical systems (RF MEMS) switches and varactors, semiconductor devices set to undergo rapid shipment growth in the coming years because of their capability to improve the performance of antennas in mobile phones, according to market research firm iSuppli.
Long plagued by technological hurdles and other disappointing setbacks, RF MEMS switches and varactors are finally ready for the big time, with revenues projected to rise dramatically and grow almost fourfold in 2011. From slightly less than $4 million in 2006, global revenue for RF MEMS switches and varactors is anticipated to climb to $8,1 million this year – and then surge to $27,9 million in 2011, iSuppli data shows. By 2014, revenue will reach a whopping $223,2 million – a far cry from the industry's very modest beginnings.
Like filters, resonators and inductors, switches and varactors are among the devices categorised as RF MEMS. Used in modest volumes in instrumentation for their small form factor and excellent RF performance, RF MEMS switches and varactors nonetheless have failed to take off on a large scale despite initial promise, sinking many companies unable to resolve the myriad commercialisation and technological obstacles.
All that is about to change, market intelligence from iSuppli indicates, as RF MEMS technology reaches a plateau of productivity via strong product offerings from a number of credible companies. Already six firms are sampling. Targeting high-end applications for testing and instrumentation are US entities such as Analog Devices, Radant Technologies and X-COM in cooperation with the relay manufacturer Teledyne Technologies, as well as Japanese-based Omron. On another front, California-based WiSpry and Japan's TDK-Epcos are aiming for high-volume cellphone applications.
In particular, interest is growing among mobile handset manufacturers on how RF MEMS can be used for the front-end tuning of cellphones to improve antenna performance, given the advent of new wireless standards like LTE for 4G technology. The first mobile handset with tuneable antenna or antenna matching is expected to arrive sometime in the second half of this year, while WiSpry – which has several design wins under its belt with MEMS varactors – is expected to head into serial production by the fourth quarter this year.
By 2014, more than 50% of mobile handsets will feature some level of front-end module tuning, according to iSuppli MEMS research. The implementation of RF MEMS switches and varactors in mobile phones could help boost the performance of smart phones like the iPhone 4, which made news headlines recently because of a problematic antenna that resulted in dropped signal strength.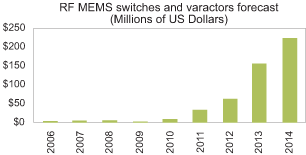 A couple of smaller – but untapped – opportunities also exist for RF MEMS switches and varactors in the foreseeable future. One area lies in wireless infrastructure (eg, for femtocells) and cellular base stations, where the current switches being used could be outperformed in cost and performance by the new RF MEMS devices. A second area is in defence and aerospace applications – including radio systems – especially after 2014 for phased array antennas, which offer the best high-volume opportunity numbering in the millions of units.
For more information visit www.isuppli.com
Further reading:
On-the-ground sales support for South African Farnell customers
25 November 2020, EBV Electrolink , News
Farnell, an Avnet company and global distributor of electronic components, products and solutions, has enhanced its service to customers in South Africa through a new partnership with sister company EBV, 
...
Read more...
---
Better than Moore: A new way to measure semiconductor progress
25 November 2020 , News
One of the most famous maxims in technology is, of course, Moore's Law. For more than 55 years, the 'Law' has described and predicted the shrinkage of transistors, as denoted by a set of roughly biennial 
...
Read more...
---
Technology trends that will shape 2021
25 November 2020 , News
In preparing to turn the corner on one of the most tumultuous years we have ever seen, 2021 will require that organisations put a finger on what will stimulate market responses and what the fabric of 
...
Read more...
---
Altron appoints new company secretary
25 November 2020, Altron Arrow , News
Nicole Morgan has been appointed as company secretary of Altron with effect from 1 January 2021. An admitted attorney of the High Court with 11 years of corporate law and company secretarial experience, 
...
Read more...
---
Technical high school gets new multimedia centre for 100% pass rate
25 November 2020 , News
The MTN SA Foundation continues to bring digital education closer to SA's youth with the recent handover of a state-of-the-art multimedia centre to a deserving Bokgoni Technical High School in Atteridgeville, 
...
Read more...
---
Unrealistic deadlines hamper independent power producers
25 November 2020 , News
The Independent Power Producers Programme Office (IPPPO), which is run by the South African Department of Mineral Resources and Energy (DMRE), aims to procure 2000 megawatts of electricity in its latest 
...
Read more...
---
Buy a Fluke, get one free
28 October 2020, Comtest , News
Comtest, Fluke's official South African importer, is offering one free Fluke for every Fluke purchased from any South African-based, authorised Fluke dealer. Fluke is a world leader in the manufacture, 
...
Read more...
---
Online Ohm's law calculator from Mouser
28 October 2020 , News
The famous Ohm's law states that the current flowing through a circuit is proportional to the voltage applied across both points. Mouser Electronics' online Ohm's law calculator saves engineers time by 
...
Read more...
---
What is device management and why should you care?
25 November 2020, Trinity IoT , Editor's Choice, Telecoms, Datacoms, Wireless, IoT
When device management is implemented alongside a centralised interface, companies can update firmware or software, without the need to manually perform each update in the field.
Read more...
---
The A to Z of A2B applications
25 November 2020, Altron Arrow , Editor's Choice, Telecoms, Datacoms, Wireless, IoT
An A
2
B device's support for up to 32 channels of downstream audio and upstream audio on the network facilitate the distribution of multiple channels of different audio content within a single system.
Read more...
---