printer friendly version
Graphene's electronic behaviour probed
10 November 2010
News
Using a one-of-a-kind instrument designed and built at the National Institute of Standards and Technology (NIST) in the US, an international team of researchers has unveiled a quartet of graphene's electron states and discovered that electrons in graphene can split up into an unexpected and tantalising set of energy levels when exposed to extremely low temperatures and extremely high magnetic fields.
Published in the 9 September 2010 issue of Nature, this new research raises several intriguing questions about the fundamental physics of this exciting material and reveals new effects that may make graphene even more powerful than previously expected for practical electronic applications.
Graphene is one of the simplest materials – a single-atom-thick sheet of carbon atoms arranged in a honeycomb-like lattice – yet it has many remarkable and surprisingly complex properties. Measuring and understanding how electrons carry current through the sheet is important to realising its technological promise in wide-ranging applications, including high-speed electronics and sensors. For example, the electrons in graphene act as if they have no mass and are almost 100 times more mobile than in silicon. Moreover, the speed with which electrons move through graphene is not related to their energy, unlike materials such as silicon where more voltage must be applied to increase their speed, which creates heat that is detrimental to most applications.
NIST recently constructed the world's most powerful and stable scanning probe microscope, with an unprecedented combination of low temperature (as low as 10 millikelvin, or 10 thousandths of a degree above absolute zero), ultra-high vacuum and high magnetic field. In the first measurements made with this instrument, the team has used its power to resolve the finest differences in the electron energies in graphene, atom by atom.
Because of the geometry and electromagnetic properties of graphene's structure, an electron in any given energy level populates four possible sublevels, called a 'quartet.' Theorists have predicted that this quartet of levels would split into different energies when immersed in a magnetic field, but until recently there had not been an instrument sensitive enough to resolve these differences. The experiment, according to the research team, revealed unexpected complex quantum behaviour of the electrons in a high magnetic field at extremely low temperatures. The electrons apparently interact strongly with one another in ways that affect their energy levels.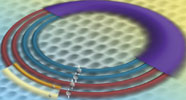 This artist's rendition illustrates the electron energy levels in graphene as revealed by a unique NIST instrument. Because of graphene's properties, an electron in any given energy level (the wide, purple band) comprises four quantum states (the four rings), called a 'quartet.' This quartet of levels split into different energies when immersed in a magnetic field. The two smaller bands on the outermost ring represent the further splitting of a graphene electronic state
One possible explanation for this behaviour, the team says, is that the electrons have formed a 'condensate' in which they cease moving independently of one another and act as a single coordinated unit. If so, the work could point the way to the creation of smaller, highly energy efficient electronic devices based upon graphene which produce very little heat.
Further reading:
On-the-ground sales support for South African Farnell customers
25 November 2020, EBV Electrolink , News
Farnell, an Avnet company and global distributor of electronic components, products and solutions, has enhanced its service to customers in South Africa through a new partnership with sister company EBV, 
...
Read more...
---
Better than Moore: A new way to measure semiconductor progress
25 November 2020 , News
One of the most famous maxims in technology is, of course, Moore's Law. For more than 55 years, the 'Law' has described and predicted the shrinkage of transistors, as denoted by a set of roughly biennial 
...
Read more...
---
Technology trends that will shape 2021
25 November 2020 , News
In preparing to turn the corner on one of the most tumultuous years we have ever seen, 2021 will require that organisations put a finger on what will stimulate market responses and what the fabric of 
...
Read more...
---
Altron appoints new company secretary
25 November 2020, Altron Arrow , News
Nicole Morgan has been appointed as company secretary of Altron with effect from 1 January 2021. An admitted attorney of the High Court with 11 years of corporate law and company secretarial experience, 
...
Read more...
---
Technical high school gets new multimedia centre for 100% pass rate
25 November 2020 , News
The MTN SA Foundation continues to bring digital education closer to SA's youth with the recent handover of a state-of-the-art multimedia centre to a deserving Bokgoni Technical High School in Atteridgeville, 
...
Read more...
---
Unrealistic deadlines hamper independent power producers
25 November 2020 , News
The Independent Power Producers Programme Office (IPPPO), which is run by the South African Department of Mineral Resources and Energy (DMRE), aims to procure 2000 megawatts of electricity in its latest 
...
Read more...
---
Buy a Fluke, get one free
28 October 2020, Comtest , News
Comtest, Fluke's official South African importer, is offering one free Fluke for every Fluke purchased from any South African-based, authorised Fluke dealer. Fluke is a world leader in the manufacture, 
...
Read more...
---
Online Ohm's law calculator from Mouser
28 October 2020 , News
The famous Ohm's law states that the current flowing through a circuit is proportional to the voltage applied across both points. Mouser Electronics' online Ohm's law calculator saves engineers time by 
...
Read more...
---
From the editor's desk: Where monsters, viruses and technology meet
25 November 2020, Technews Publishing , News
I clearly remember the moment it really sank in that the world as we know it has become almost unrecognisable from a year ago. It would be hard not to remember really, because it happened only two days 
...
Read more...
---
Clearing the Static: ESD training and compliance
25 November 2020, Actum Group , News
According to Desco Industries, electrostatic discharge (ESD) can change the electrical characteristics of a semiconductor device, degrading or destroying it entirely. ESD could also potentially damage 
...
Read more...
---