Dataweek spoke to a number of industry players about the current trends and technologies prevalent in
automotive electronics.
A number of local innovations are set to take the world by storm as South African engineers up the ante.
According to Barlow Manilal, CEO of the Automotive Industry Development Centre (AIDC), South Africa's automotive industry is built on an export strategy. "The local consumption of motor vehicles does not unfortunately warrant the volumes required to make it sustainable solely on local demand. In 2006 we saw a peak in motor vehicle sales of close to 700 000 units. Sadly this dropped to 450 000 units in 2009 but is now slowly showing recovery.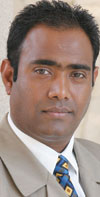 Barlow Manilal, CEO of the AIDC
"In South Africa we adopt production standards to ISO 9000, ISO/TS16949, ISO 14 000 and ISO 18000 specifications," Manilal pointed out. "However, where the design of those vehicles originates in a foreign country, the EU and American quality standards are applicable to all motor vehicles manufactured for both export and local sale. Each vehicle is imprinted with a special code which identifies for the local assemblers/manufacturers the country of destination. This in turn also indicates to them what specification levels are necessary on the componentry."
With regard to electronic componentry specifically, the TUV standards would apply. "This is not difficult to achieve since a large percentage of these components are imported from countries where this is the norm. In fact, over 70% of all the components (by value) in a motor vehicle are currently imported," said Manilal.
Manilal added that large componentry, such as the seats and axles, are generally locally developed and manufactured since from a technical perspective they are fairly simple in design. Conversely, the smaller, more complex items, such as electronic components, are imported. "Economy of scale does not justify that we produce larger volumes necessary for local manufacture. Consider that South Africa supplies less than 1% of the world's total vehicle sales, which adds impetus to the argument around economies of scale."
Manilal said that for some time now we have played 'catch up' with regard to motor vehicle technology. "Pre-1994 we operated in isolation from the rest of the world and hence, when the doors opened to us, we became the 'dumping ground' for old automotive technology which we adopted and altered slightly. However, this soon changed with the incorporation of the Motor Industry Development Programme (MIDP) in 1995."
Manilal believes that this was an extremely bold endeavour by the Government and its adoption has led to the country rapidly reaching a stage where local vehicle manufacture is on a par with its overseas counterparts. "We must not, however, confuse this progress with us being capable of producing the volumes exhibited elsewhere around the world," he clarified. "Our R&D and skills are both sorely lacking and need serious attention for us to remain active players."
Manilal admits that there are a couple of companies in the local electronics components field however, who have maintained global standards due to the fact that they were granted licences to manufacture components in the pre-1994 era. "Honestly though, unless local players in the electronics components field are prepared to invest serious time and money into R&D and skills training, they will never reach global manufacturing status. Because we have not demonstrated a proven capability to the rest of the world, we are not considered to be contenders.
"On a different note, I am often asked why we do not design and build our own South African vehicle. My simple answer to this is that firstly, we have much bigger social issues to sort out and secondly, where do you find a vehicle that can truly be said to originate solely from one country? There is no longer a 'German' vehicle or an 'Italian' vehicle since many of their components are derived from other countries. Why then would it warrant us developing a purely South African vehicle? Let us sort out the skills and training issues, then tackle other, more complex issues," Manilal said.
Manilal is keen to see coercion of people into the automotive design sector through educational incentives for prospective students and tax breaks and deduction for companies supporting these initiatives. "Examples would be a 100% bursary for students studying for jobs in the scarce skills table and guaranteed job placement after they finalise their studies."
The AIDC runs a Talent Pipeline Project that involves identifying the top-performing Grade 10 science and maths pupils and channelling them into university engineering courses through bursaries. The successful pupils spend two weeks during school holidays doing on-site training at participating companies and receiving guidance from the AIDC.
"I would like to see Government encouraging incubation of R&D and innovation. We see many exciting and promising innovations but only 10% of them make it past the starting gate. In all instances, the necessary R&D is expensive and time consuming, and is often the major obstacle. Having said that, however, with the adoption of the MIDP's successor – the Automotive Production Development Plan (APDP) – there is a light at the end of the tunnel and we are hoping for a turnaround in the ratio of component imports, with 30% being imported and 70% being sourced locally," Manilal said.
(Im)mobilising or alarming the industry?
Sanji Security Systems MD, Steve Easton, said that we must always bear in mind that technology is in direct competition to car thieves, who find ever more inventive ways of stealing vehicles. Sanji's focus and specialty is staying ahead of the car thieves. "Currently topical is the use of garage door remote controls to 'jam' the signal which locks your vehicle. While they cannot actually steal your vehicle, they can remove the contents of your vehicle."

Sanji automotive security system
Easton added that another scam is the stealing of car keys from gym locker rooms. In this instance however, the thief can remove your vehicle. So what can one do to prevent this happening? Easton said that it is important to remove the nuisance factor from arming your alarm and/or immobiliser. "The ideal system is one that, if you have not manually armed your anti-theft system, automatically arms itself after a few seconds once the doors are closed. This does not necessarily mean that your doors will lock, but it will mean that the audible alarm will go off if someone enters the vehicle, thus alerting you to the invasion."
Easton said that most systems today have a sensor override system or a selective door unlock system. The former is ideal for when passengers remain in the car but you desire the alarm to be armed for door opening, while the latter allows the driver to open their door without the other doors automatically unlocking.
"Another system that has had a mixed response from the SA market in terms of convenience factor is the personalised keypad immobiliser. This would prevent an unauthorised user from stealing your vehicle in spite of them having your keys," Easton said.
PFK specialises in alarms, immobilisers, SVR (stolen vehicle recovery) and fleet management tracking systems as well as breathalyser-based immobilisers, also called Alcolocks. Colin Snyman, the company's group marketing and sales director, said that the global alarm/immobiliser market is stable, so the company has concentrated its efforts on developing new opportunities in tracking and Alcolocks.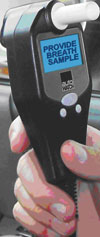 Breathalyser immobiliser (Alcolock) unit
"We find that countries like Russia, from which we derive our biggest sales in SVR and fleet management systems, seek the so-called black box whereas the local market wants a full service provision. PFK has therefore launched Autowatch Tracking with a full service SVR tracking and recovery offering with insurance and VESA approvals in place," said Snyman.
"The European insurance market in turn is more interested in monitoring driver behaviour and the classification of drivers into specific categories. Monitoring how a person drives allows reckless drivers to be penalised with higher premiums and in turn safe drivers could get rebates.
"In addition, fleet managers want to monitor the driving actions of their drivers and if the system provides immediate feedback via onboard LEDs or buzzers, the driver is alerted that he is driving outside the norm and can correct immediately. This immediate correction reduces the wear and tear on the vehicle (tyres, brakes, etc) and saves fuel, reduces accidents and saves lives," Snyman continued. Other features of the company's tracking system include a crash sensor with a time and date stamp that would prevent insurance fraud and an eCall unit that would automatically call an emergency number in the event of an accident.
Perhaps one of the most topical products developed by the company is the breathalyser immobiliser (Alcolock) unit. "This is a huge growth area in the Nordic countries where stringent drunken driver rules apply," said Snyman. "The Alcolock can be fitted to any vehicle and would require a (sober) breath sample in order to start the vehicle. The system also asks for random samples en route to ensure the sober driver is in fact driving the vehicle because alcohol is often consumed en route.
"All attempts (that is, pass or fail events) are recorded in memory and can be downloaded via USB or RF. The event information can also be relayed via GSM to a supervisor or the control room and the Alcolocks can be directly integrated into any existing fleet management system," said Snyman. PFK has two systems currently being exported: the wireless system which is extremely popular with taxi drivers as it is unobtrusive, while the tethered system is normally fitted to larger trucks and buses.
"Most leading countries have implanted an offender programme where drivers caught drinking and driving are compelled, as part of their sentence, to have an Alcolock installed for a set period, or else have their drivers licence revoked. We are lobbying the South African Government to implement the system in South Africa for known drunken driving offenders. In addition, we are promoting the benefit to fleet managers of ensuring that their drivers remain sober while operating their trucks," Snyman concluded.
Tracking the trends
Stuart Aberdein, MD of DigiCore Electronics, relates the huge pressure on price performance to the downturn in the European industry during 2008. "The market started slowly climbing back to normality during 2009 but the push to keep pricing as low as possible in order to move overstocked items, continues to prevail."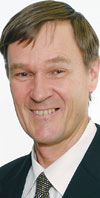 Stuart Aberdein, MD of DigiCore Electronics
DigiCore is a South African company that has seen major growth in its export market over the past few years. "Our products were initially geared for the South African market which wanted a combination of fleet management and stolen vehicle recovery. More recently we have launched dedicated SVR products and greatly improved the flexibility and capabilities of our fleet management systems. In some parts of the world, such as Pakistan, the main requirement was for SVR, whereas in First World countries, the main requirement was for fleet management. Although this still forms a major portion of our product base, other product lines and technologies have come to the forefront in terms of demand, both locally and globally," Aberdein explained.
"Presently, our UK market comprises mainly the large corporate clients and utilities, while the European market centres on smaller companies. The trend in First World countries is towards fleet management as opposed to SVR whilst the local market has also now latched on to the benefits that fleet management can bring to companies in terms of decreased running costs and improved productivity. The percentage of local versus global customer market varies as demand in certain areas increases, but currently approximately 60% of our sales are in South Africa with our biggest South African customer being the SA Police Services, with over 40 000 units," Aberdein said. "However this does vary on a monthly basis."
In terms of local component manufacture feasibility, Aberdein pointed out that the company is currently moving to a more simplified approach in terms of PC board manufacture. "For all our tracking products going forward, we intend to use the same basic board, coupled to varying firmware for different applications. We will also add on daughter boards for more functionality on high-end applications. This translates into less diversity of components." This change will not affect the percentage of local content as few electronic components are made in SA.
According to Aberdein, South Africa is very quick to adopt new technology and, due to the safety and security issues in South Africa in the 1980s and 90s, was forced into a situation of being innovative in its product design and engineering. "From this perspective we have had a headstart on the rest of the world and we have managed to keep the momentum going so that we stay ahead of the pack in terms of technological advances."
Although the majority of SVR and fleet management technology originated in South Africa, the driving force behind ensuring momentum in terms of flexibility of application comes from overseas, according to Aberdein. "This refers to both functionality of the products, as well as social issues such as environmental compliance to carbon footprint reduction." Aberdein cited the Royal Mail in the UK and Thames Water as solid examples of encouraging the 'green' tendency.
"By using our fleet management system, Thames Water were able to cut fuel usage by 10% on their 2500 vehicles; they saved 161 000 litres of diesel and reduced their CO2 output by a phenomenal 429 tonnes. Likewise, Royal Mail cut fuel usage by 10% on their 8d000 vehicles; saved £4,4 million; reduced accidents by 20% and had a 60% decline in the incidents of speeding," Aberdein said.
Aberdein said that one of the latest trends in the market is the move towards completely automated testing of systems. "In the past there was a certain degree of automated testing but it is now more prevalent across the board. In addition, we are seeing a reduction in the physical size of products. This has had a positive knock-on effect in terms of reductions in terms of costs and power requirements."
Aberdein said that the technology in terms of componentry continues to accelerate at a rapid pace to meet the requirements of an ever-growing market.
Altech Netstar MD, Harry Louw, said that the SVR industry has become somewhat saturated in recent years, so companies are forced to decide if they are black box manufacturers or value-add suppliers. "We have chosen to follow the latter route since it is not economically viable to compete with mass production foreign companies from an economy of scale perspective."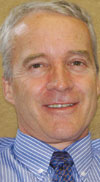 Harry Louw, Altech Netstar's MD
Louw cited the 'connected car' as an example of an upcoming value-add for car owners. BMW was one of the first carmakers to merge information technology in vehicles when it installed an integrated navigation system back in 1994. Connected Drive now has 50 high-tech functions from voice-activated Facebook and Twitter to a night-vision camera and display to warn of nearby pedestrians.
Other companies are also investing heavily in new telematics. Ford, General Motors and Volvo offer similar iPhone applications to 'My BMW Remote'. At the 81st Geneva Motor Show in early March, Ford showed off its Sync in-car information and entertainment system, in partnership with Microsoft, which it plans to launch in Europe in 2012. Other contenders on the connected car platform include Saab, Volkswagen and Hyundai. Some of the features on offer from developers are navigation, remote door-locking and unlocking and hands-free voice-text messaging.
Another noteworthy product Louw mentioned is the module which live streams traffic information into a handset (portable navigation device) or car navigation system, to provide meaningful updates on problems on the road ahead. "This presumes of course that one is travelling in an area of high traffic density where road users would benefit from knowing in advance about accidents, faulty traffic lights and the like. We have found that the system is not really applicable to small towns with light vehicular traffic," Louw said.
The system has found a ready market with Garmin and Navigon and is centred on improving the driving experience and comfort, while enhancing safety. "What I must point out is that any telematics system is only as good as the accuracy of the road data mapped into it. It is crucial that the software is properly programmed and that the components are unquestionably reliable," Louw added. "We constantly look for new and imaginative ways of improving productivity, decreasing risk and enhancing cost effectiveness for our customers, so a number of new initiatives are underway."
Altech Netstar was recently appointed as the exclusive service provider for Africa for Octo Telematics. According to Louw, insurance telematics is an alternative insurance risk rating model that uses driver behaviour to determine risk. This model has become very popular with insurers in Europe, where Octo Telematics currently has more than one million active clients. Telematics allows the interaction between the insurer and the insured to be redesigned by enabling a transparent exchange of driving behaviour data. This exchange provides mutual benefits, including premium discounts, improved safety and security, lower risks and costs, increased loyalty, and innovative new revenue streams.
"We also recently designed a system for forklift truck monitoring and management. In another first for the industry, we entered into a project with the NSRI to track its craft when they are out at sea. By remaining flexible and open to change we can adapt quickly to the needs of the market," Louw said.
Chris Viveiros, sales and marketing manager at Otto Wireless Solutions, the local distributor for SIMCom GSM modules and GTOP GPS modules, said that the company's client base is experiencing an increased demand for their products overseas. "With the current political instability in the international community, there is a call for security products that will allow the tracking of people and vehicles. With the advent of GSM, this has become a particularly successful area of operation for our clients, and by extension for us and, together with our clients, we continue to strengthen in terms of our market dominance."
Viveiros said that locally, the recession has forced many of their customers to become creative in order to remain in business. "The recession has sparked an unprecedented call for redesign of products in order to reduce system cost, and this has put us in a strong position, since we are in the fortunate position where we represent one of the cheapest, reliable, low-cost GSM module suppliers on the market. We are addressing over 150 active designs using just one of the products in our extensive product line, and we continually seek ways to provide our customers with cost-effectiveness, coupled with high levels of performance."
Imports dominate
The majority (98%) of electronic components used in the automotive sector (OEM and aftermarket) are imported.
Udo Petry – manager for marketing and distribution for terminal and connector supplier, Tyco Electronics – said that opportunities are limited in South Africa for local component manufacture. "Economy of scale is a huge issue in South Africa since we do not have a large enough demand for volume of product. We are, in fact, generally perceived as the extended 'workbench' for Europe and other global automotive designers and developers."

Tyco Electronics fusebox
Petry pointed out though, that there is a large market for harness manufacturing in South Africa. "This is a labour-intensive field since the assembly is manually undertaken. However, as the OEMs operate globally, usually the design of a model is done at the mother company, and they partner with globally operating harness makers. This complicates the entry into this market by local firms."
According to Petry, European quality standards seem to be the norm in terms of the actual component quality and the automotive industry's own standards apply in terms of whole vehicle manufacture.
Petry said that one of the major issues within the automotive industry that contributes towards South Africa not being a contender in terms of terminal and connector component manufacturing, is the use of specialised and customised components throughout the industry. "Each manufacturer uses different components in each and every model of motor vehicle they produce, which means that the number of components required for the industry as a whole is staggering. As a result of this, to become a manufacturing base, we need larger volumes of the same model cars to be produced as this could open up opportunities for South Africa to enter the equation."
Programmes have been initiated to assist or incentivise local motor vehicle manufacturers – the Motor Industry Development Programme (MIDP); the Automotive Production Development Plan (APDP), which will replace the MIDP in 2013; and the Automotive Investment Scheme (AIS), which forms part of the APDP.
The aim of the MIDP and subsequently the APDP, is to encourage and increase the volume of local manufacture and assembly of motor vehicles. The intention of the AIS is to grow and develop the automotive sector and component industry through investment in new plant and machinery. The objective is to increase plant production volumes, sustain employment and strengthen the automotive value chain. "This naturally could be of major benefit to the market and could open up the gap for local electronic component manufacture," Petry said.
Joule – taking energy efficiency to new levels
Dataweek reported on the first prototype for the locally developed Joule electric vehicle in March 2010. The developers, Optimal Energy, have since produced a further three prototypes which are currently undergoing extensive on-road testing.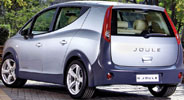 Joule electric vehicle prototype
"Each vehicle has currently driven in excess of 2000 km and our aim is to run them until they have reached the test goal of 20 000 km, which we anticipate will be at the end of 2011," said the company's Jaco van Loggerenberg.
Van Loggerenberg said that the company has, as far as possible, sourced components for the vehicle locally. "There are some components that we have had to import, but as we gear up for full production of the Joule at the end of 2014, we are encouraging local component manufacturers to become more proactive in becoming suppliers." Van Loggerenberg also pointed out that there is a huge opportunity for local battery manufacturers to become involved in the supply of batteries to power electric vehicles. He said that the IDC is currently conducting a feasibility study into this prospect.
The vehicle, which reaches a maximum speed of 140 km/h, is being touted as an electric equivalent in looks, style and features to the A Class Mercedes Benz. The obvious difference, of course, is the greatly reduced carbon footprint the vehicle offers over both fuel driven and hybrid vehicles.
Van Loggerenberg said the company is currently undertaking negotiations for the manufacture and assembly of the Joule at the East London IDZ. "At this stage we anticipate projected output of 50 000 units annually for both local and export consumption."
UKZN steps up to the plate
Dataweek reported on the initiatives of the University of KwaZulu-Natal (UKZN) within the automotive sector in late 2009. According to Charles Freeman – Technology Transfer Officer for UKZN's IP & Technology Transfer Office – much progress has been made on the issues discussed previously, as well as new initiatives that have been added to the Office's portfolio.
Freeman said that, in particular, the early warning brake light system has made substantial headway. This 'rapid braking' warning device was designed to reduce the severity and probability of rear-end collisions in motor vehicles. The invention uses a micro-electromechanical (MEMS)-based accelerometer to measure the deceleration of the vehicle in which it is installed. When the brake pedal is pressed and the brake lights are powered, the device is also powered, continually measuring the deceleration of the vehicle.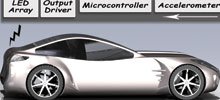 Physical diagram for implementation of the Early Warning Brake Light. This rendering shows the general construction of the device. An accelerometer measures the deceleration of the vehicle, the microcontroller has a complex and unique algorithm that then determines the braking condition. This is then output to the LEDs
A provisional patent has been issued for the system and negotiations with a number of parties, via the AIDC (Automotive Industry Development Centre), are currently underway. "Unfortunately the homologation process can take between six and nine months to conclude so we are currently in the throes of waiting for finalisation on this," said the AIDC's Grant Minnie. "This is a great product and we would love to see it approved for use, especially in the taxi industry, where many accidents could be avoided with its use."
Tony Martin – sales manager at TR Tec, the company that manufactures AC Cobra replicas – said that his company is currently undertaking an economic feasibility study in an effort to commercialise the system within its vehicles. "This is a fantastic development and we are doing some number crunching to ascertain the viability of using the system."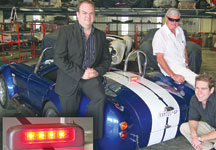 (From left to right) Charles Freeman with Tony Martin (TR Tec) and Ryan Lipke (involved with the traction enhancing and engine projects at UKZN), in front of the Cobra
Freeman said that it has not all been plain sailing. "I have contacted over 400 companies and to date have had feedback from 20 of these, of which 18 were smaller operations. We believe though that we have a definite winner and we will continue to push the benefits of the product. We will shortly be holding a customer and press event day to introduce and explain the concept to a wider audience and we welcome visitors." If you wish to find out more about the event, e-mail Charles Freeman on charles.l.freeman@gmail.com
"We have also been involved in the design of a hybrid compressed air engine for use in vehicles," said Freeman. Essentially this engine operates on the same basic principles of regenerative braking as the common electric hybrid engine, but with some significant improvements.

A rendering of the CAD model for the head of the compressed air hybrid engine, which contains the valves
Freeman said that the major problems with electric hybrid engines include:
* Low regenerative braking cycle efficiency. The electric generator has to charge a battery, which then at a later stage has to drive that same generator, operating as a motor. The total cycle efficiency is quite low.
* Battery materials. Typically some form of Lithium-based battery is used. Lithium is a hazardous material and is expensive to produce and recycle.
* The large battery pack is relatively heavy. While denser in terms of energy than the older Ni-MH batteries used in hybrid engines, they are still relatively heavy.
"Our system replaces the electric motor with a compressed air hybrid engine. This device is electronically controlled between operating as an engine where it assists in driving the vehicle, and as an air compressor, during braking of the vehicle, to store energy that would otherwise have been lost. The battery pack is replaced with a small air tank, used to store the compressed air. With our current design, we do not anticipate the storage volume to be more than 30 litres and it does not operate at a pressure higher than 5 bar," said Freeman.

The electronics for controlling one valve of the compressed air hybrid engine. The valve actuation position is controlled with a stepper motor. The PCB has a magnetic shaft encoder built in, with electronics to detect the shaft position and drive the stepper motor. This controller communicates with a main ECU
Essentially, when the driver of the vehicle presses the brakes, an electronic control unit (ECU) controls the valve operation of the compressed air engine to compress ambient air into the storage tank, storing the kinetic energy that would have otherwise been lost during braking. "When the driver wishes to pull away again and accelerate, the ECU monitors the accelerator pedal position and adjusts the valves of the compressed air engine such that it uses the stored, pressurised air in the tank to drive the engine, reducing the amount of fuel needed for the primary internal combustion engine," explained Freeman.
"This air passes through a heat exchanger with the exhaust pipe, increasing the efficiency of the overall system. This is a feature that electric hybrid engines do not have and the heat energy from the exhaust gasses are normally completely lost. Our system recovers some of that energy to drive the vehicle. We are anticipating a 25-35% increase in overall efficiency to the wheels, which is quite substantial," he added.
"We have over the last two years developed an innovative and novel valve actuation technology for this application. We have a proof of principle and have a PCT patent application in place. The International Search Report has found that the technology is indeed new and innovative. We also have a collaboration with TR Tec whereby they will not only be making a vehicle available to us for fitting and testing the technology, but also allowing us to use their facilities," said Freeman. "The only thing holding us back at present is funding, so we would welcome any potential investors."
The third project being developed by UKZN is the Traction Enhancing System. "We have a proof of principle and are developing the commercial prototype with a PCT application in place. This product is an addition to the ABS system (but would not require licensing from them) in order to reduce braking distance in emergency situations," said Freeman.
The proposed system, when triggered, sprays a stream of biodegradable traction-enhancing liquid onto the front tyres from a module within the car's engine bay. Doing the same for the rear tyres would improve the system, however, for a lower cost just the front tyres may be considered as they bear most of the strain while braking.
"Lab tests have shown that we can achieve up to a 32% increase in braking deceleration with this product, breaking the 1 g deceleration threshold. This is a dramatic improvement over what currently exists and it is a system that only initiates in an emergency situation, so the driver cannot get used to the increased performance and push their vehicle to its limits," Freeman explained.
"To realise its benefit just locally, we analysed the South African Department of Transport's Accident Report, and a loss to the economy of R727 million annually was identified, which this product could have severely reduced," he said.