K Measure was recently selected to supply Samsung South Africa with oscilloscopes and multimeters for its training labs in Boksburg on Gauteng's East Rand, which were opened on 7 March.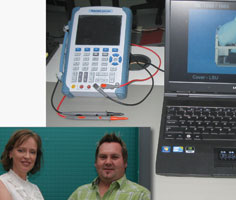 Mardine Kok, general manager of K Measure, handed over test equipment to Samsung's technical training manager, Danie de Bruyn
They will be used to train selected students from Grade 10 onwards in all theoretical and practical aspects of technical support on electronic equipment, producing fully trained technicians ready for the field.
Samsung will be using the DSO1200 handheld digital storage oscilloscope/spectrum analyser/multimeter and the DMM8061 digital multimeter during the practical training phase of the course.
The DSO1200 was chosen for its intuitive user-interface as well as its specifications. It has a sampling speed of 500 MSps and can be AC or battery powered with a 6-hour battery-life. It supports a total of 23 measurements and can do a spectrum analysis (FFT) on the input signal. The DSO1200 also has a USB port for connection to a PC, which makes it especially suitable for training purposes: the instructor can use a screen in the front of the classroom to project what he is doing on his oscilloscope via the PC, and the students can follow on their own units.
The DMM6061 was chosen because, in addition to all the standard multimeter measurements like voltage, current and resistance, it can also measure capacitance, frequency, duty cycle and temperature up to 1000°C. Once again, its PC interface was of special interest to Samsung and made it a good choice for the training environment.
Both the DSO1200 and DMM8061 are also very popular with many other industries ranging from electronic development to automotive and mining for the same reasons mentioned above.
Over the past two years, K Measure has been chosen as a supplier of test equipment to many tertiary institutions in South Africa and, indeed, the rest of Africa as far as Ethiopia. Some of these institutions include the University of Johannesburg, Rhodes University, Vaal University of Technology, University of Cape Town, University of Swaziland, University of Stellenbosch and Cape Peninsula University of Technology.