printer friendly version
Suicide by price cutting for SA electronics manufacturing
13 April 2011
News
Aggressive price-cutting as a sole source to secure business has severe effects on an entire industry and if not addressed could ultimately be the death of that industry as a whole.
It is very concerning to see how certain role players are approaching what is now a difficult and aggressively competitive industry. There are three factors that electronic manufacturers should always be cognisant of and should make a priority when applying commercial strategy to their organisations:
1. Constant improvement in machinery and buffer funding for upgrading and future renewal of capital equipment.
2. Constant improvements to match global standards in quality processes and procedures and capital expenditure for new innovation to support such.
3. Allowing a sustainable profit margin for shareholders to make the industry attractive enough for investment and growth, to counterbalance the very negative aspects of capital risk and an unattractive labour market.
If one looks at successful manufacturing industries on a global scale, price is one sales strategy applied and is usually applied as a last resort, but is always applied with a level of financial viability and commercial sustainability. China has an aggressive pricing strategy and even though they have the low operating costs to justify this, it has still led to actual and perceived 'bad' quality. The 'made in China' branding is synonymous with poor quality and is never boasted by brand conscious products. The focus for South Africa should be on quality and service first and foremost, with a weighted price application to accommodate both the needs of the customer and the manufacturer.
In reviewing sales strategies of some of the industry at the moment one can only assume that the three factors above are not being applied, to the future detriment of the industry's quality and status of the customers' brand. Customers need to be cognisant that South Africa cannot currently compete head to head with Asia on pricing. Applying our base costs for labour and operating space alone as a comparative indicator shows that it cannot be achieved in the short term or on a sustainable basis.
The effect on the customer short term will be a lowering in quality and service as the price can not substantiate effective spending in these areas. Long term, it could negatively affect the industry as a whole, as generally accepted pricing will be at a level too low to maintain or grow the industry. What is worse, we will ultimately fall way behind global growth and improvement and will become highly unattractive regardless of price. Eventually design will overtake manufacturing capabilities due to lack of growth and investment. This is where the culprits are heading and ultimately, if allowed to happen, they will force the rest of the industry in the same direction.
How then do we meet the needs of all role-players and assure the future of an industry which hosts a fairly substantial employment offering?
Apply the principles of best-in-class, cutting-edge and manufacturing excellence as an industry; focus on quality processes and branding. Swiss watch manufacturers come to mind as an extremely successful industry in this regard. Imagine one of their major role players decided to start selling watches at half the market accepted price to secure a substantial increase in market share. Not to say that we are Swiss when it comes to best in class, but surely that's where we want to be and should be striving towards. When one thinks of Switzerland or Germany one thinks of quality; when one thinks of China and India one thinks of price – which category do we want to be in? And why are we applying the incorrect strategies to get there?
The industry has finally organised itself through its own federation to lobby government to assist in protecting local trade. Although this is a very positive and future focused approach in itself, certain role players, in complete contradiction to this, are completely negating the efforts being made through unsustainable pricing strategies. This is like selling global competitors your product at less than your cost. In short: commercial suicide.
Both manufactures and customers alike should be partnering on the issue of pricing to ensure long-term sustainability of both role players to the joint benefit of both. Softer issues include building long-term IP in the manufacturer relating to the customer's product range, building best-in-class and assisting the customer in building their brand through a globally approached, cutting edge quality system and the investment in the correct technology to achieve it.
The buzz-word for all strategists, business leaders, academics and intellectuals, is sustainability. Sustainability extends to all facets of business. Sustainable planning is essential for strategic success; it must be applied especially in difficult industries and challenging macroeconomic environments. Having recently done some large volume work for a globally-recognised, tier-one brand, it is very apparent that what is required to bridge the divide between South African 'best-in-class' and global 'best-in-class' is investment.
In conclusion, the industry must be wary of the path they are cutting and customers should be aware of the future environment they will be creating by supporting such. As a product owner and brand proprietor, what connotations do you want attached to your brand in the future? 'Made in Switzerland' or 'Made in China'? The decisions we make now as stake-holders holistically will affect what category we will ultimately belong to.
Price is nice, quality is sustainable!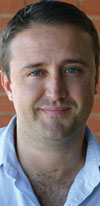 Mike Goodyer, founder and owner of Microtronix, has appointed Jason Wilford (pictured) as the company's CEO. According to Goodyer, "Jason's commercial and corporate experience will be a valuable asset to spearhead Microtronix into what is planned to be a very interesting future." Goodyer has assumed the role of executive chairman. The stated reason for this move is to allow him the ability to spend more time developing the industry and market hand-in-hand with Microtronix' long-standing and dedicated customer base, as well as to spend more time in the factory making sure that Microtronix maintains its market position as a manufacturer of high-quality products
For more information contact Jason Wilford, Microtronix, +27 (0)11 792 5322, www.microtronix.co.za
Credit(s)
Further reading:
Locked down but not knocked out
25 March 2020, ExecuKit , News
As a business, we are facing extremely hard times with the current worldwide pandemic and isolation. We are all maintaining social distancing and must learn how to do business with an enforced lockdown 
...
Read more...
---
From the editor's desk: A new era – after mourning comes rebuilding
29 April 2020, Technews Publishing , News
When I sit down to write these columns once a month, even if the topic I decide to write about is not all sunshine and roses, I always try and look for a silver lining. I'm simply not able to do that 
...
Read more...
---
Personality profile: Chris Viveiros
29 April 2020, Otto Wireless , News
The operations director of Otto Wireless Solutions shares his background, experience, advice and thoughts on the future.
Read more...
---
Locked down but not knocked out
29 April 2020, ExecuKit , News
We as a company salute the component suppliers who have supported us and are there to assist during this time even if the requests we pose are not always realistic.
Read more...
---
Electronics industry tackling the coronavirus
29 April 2020 , News
2020 has been a crazy year already. From Australian bushfires to climate emergencies to US trade tariffs, the start of the decade hasn't been very positive. Not only this, within the last few months there 
...
Read more...
---
SqwidNet becomes first Sigfox-accredited lab in southern hemisphere
29 April 2020, iSERT , News
iSERT (Safety, EMC, RF, Testing), a leader in the provision of turnkey testing solutions for EMC, RF and safety testing, has collaborated with SqwidNet, the only licenced Sigfox operator in South Africa, 
...
Read more...
---
Clearing the Static: ESD cleaning and hygiene products
29 April 2020, Altico Static Control Solutions , News
In light of the current COVID-19 pandemic, Actum Group would like to remind electronics manufacturers of our range of antistatic cleaning agents, cleanroom materials and PPE.      
Cleanroom garments and 
...
Read more...
---
Jemstech continuing its growth path
29 April 2020, Jemstech , News
Since its inception in 2005 and especially during the past five years, Jemstech has grown from a medium-sized electronic manufacturing services (EMS) provider into one of the major players for electronics 
...
Read more...
---
Company profile: Phoenix Contact
29 April 2020, Phoenix Contact , News
Phoenix Contact was founded in 1923 in Essen, Germany, by Hugo Knümann. It entered the South African market in 1969 through a local distributor, and was later established as a wholly owned subsidiary 
...
Read more...
---
In memoriam: Vivienne Caroline Dorrington - 19 June 1958 – 21 April 2020
29 April 2020, Technews Publishing , News
It is with great sadness that we announce the death of our CEO, Vivienne Dorrington, after a long and brave battle with cancer. Like her father, Ray Beaumont, who founded Technews Publishing in 1985, 
...
Read more...
---