printer friendly version
Microtronix tapped to make audio players
8 June 2011
News
An international group, Davar Partners International, has developed a multipurpose audio player and has selected local electronic contract manufacturing firm, Microtronix, to run the production.
In today's world there is a vast selection of audio players available, ranging from the low-cost, open-source variety, to top-end, sleek audio devices. But these do not address the audio content needs of those in areas where there is limited access to easy electricity. Davar has developed a multipurpose audio player designed to provide an answer to these needs, as well as issues such as secure content delivery.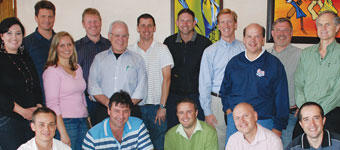 Davar executives from across the globe joined the Microtronix team for a recent review meeting
The Audibible is a solar-rechargeable, water-resistant audio player in a ruggedised package about the size of a mobile phone, capable of holding hundreds of hours of high-quality audio content. The solidly built, pocket sized player has the solar panel on the back and the controls and speakers on the front of the unit, with brail navigation markings to assist the blind or visually impaired with easy navigation. Its battery is a long-lasting Lithium polymer type. It weighs in at around 100 grams, which makes it easy to store in a shirt pocket. Charging can be done by the sun or with a normal 5 V d.c. input from the mains with an optional charger.

Audibible
The device boasts a clever way of providing both security and ease of content transfer. The audio content is stored on a Micro SD card which can be removed and inserted into a PC's memory card reader to change the content. All files on the Micro SD card must be in an encrypted format, which are produced with the supplied software using a user-specific password. The Audibible can hold a vast amount of audio, only limited by the size of the Micro SD memory card in use. With the standard 2 GB micro SD card it can hold up to 200 hours of content, but can currently be upgraded to a 32 GB card.
A group of around 20 people should be able to listen to the Audibible. It is sufficiently loud for small groups and can be used indoors as well as outdoors. Using the 3,5 mm headphone socket, it can also be plugged into external speakers or an amplifier for larger groups.
Microtronix invests in youth skill development
As part of the manufacturing process, Microtronix has introduced an internal trainee programme to assist South African youth who have finished their final school year. The programme aims to afford these trainees with basic skills which will prepare them to enter the workforce. Currently, one of South Africa's biggest challenges is unemployment, and according to Masiteng statistics, unemployment is highest among those aged 15 to 24 years of age. After completion of the three-year training programme, the trainees may have the opportunity to be appointed in the factory if they have excelled in their specialised area, or enter the industry towards a sustainable future.
In the manufacturing of the Audibible, 30 full-time trainees have been employed. Davar assisted Microtronix by helping these young South African men and women with tuition and training in an electronic manufacturing environment. Both companies hope to increase the number of trainees as more and more Audibibles are produced.
Credit(s)
Further reading:
From the editor's desk: Are electromagnetic waves culpable in making us sick?
30 June 2020, Technews Publishing , News
When I started writing my column for this issue, I was determined to come up with a topic and a way to avoid mentioning the 'C' word. I came close – you will only find 'COVID-19' mentioned once or twice 
...
Read more...
---
To fake or not to fake
30 June 2020 , News
Prof. Johan Meyer explores the complex and controversial topic of the potential link between the global rollout of 5G networks and the COVID-19 pandemic.
Read more...
---
Clearing the Static: Curb the spread of COVID-19 with stringent floor hygiene
30 June 2020, Actum Electronics , News
According to the World Health Organisation (WHO), COVID-19 is primarily transmitted from person to person through respiratory droplets that emerge from the nose and mouth when an infected person speaks, 
...
Read more...
---
Personality profile: Warren Mande
30 June 2020, Altron Arrow , News
"It is said that "culture eats strategy for breakfast". Look to join companies whose culture fits your personal belief system."
Read more...
---
Not the end, but a journey
30 June 2020, ExecuKit , News
ExecuKit's Renita Fleischer and Elizna Classen offer local companies a route to help them navigate their way through what has become the 'new normal.'
Read more...
---
Elmatica CEO to vice chair IPC cybersecurity task group
30 June 2020, Elmatica , News
Didrik Bech, CEO of printed circuit broker Elmatica, has been appointed to serve as vice chair for IPC's new cybersecurity task group. The 2-12c Task Group leadership is a representation of IPC as an 
...
Read more...
---
From the editor's desk: Making and sending things to space
29 May 2020, Technews Publishing , News
In this issue, one of the topics we are featuring is the aerospace and military/defence sector. The feature includes an analysis of what it takes to successfully design and manufacture products in this 
...
Read more...
---
Electronics news digest
29 May 2020, Technews Publishing , News
South Africa
• Acting minister of communications and digital technologies, Jackson Mthembu, joined the world in observing World Telecommunication and Information Society Day (WTISD). Proclaimed by the 
...
Read more...
---
Personality profile: David Power
29 May 2020, Cadshop , News
"Aspire to work for a company that you admire, and for a boss that you want to serve, that shares your passion and motivation."
Read more...
---
Designing for military and defence applications
29 May 2020, Omnigo, Kreon Technology , News
No business can stand on its own without strong partnerships and stakeholder relationships. In this regard the military and defence industry is no exception.
Read more...
---