printer friendly version
Microtronix tapped to make audio players
8 June 2011
News
An international group, Davar Partners International, has developed a multipurpose audio player and has selected local electronic contract manufacturing firm, Microtronix, to run the production.
In today's world there is a vast selection of audio players available, ranging from the low-cost, open-source variety, to top-end, sleek audio devices. But these do not address the audio content needs of those in areas where there is limited access to easy electricity. Davar has developed a multipurpose audio player designed to provide an answer to these needs, as well as issues such as secure content delivery.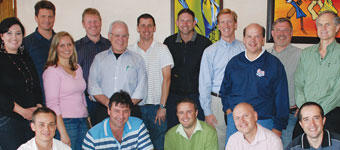 Davar executives from across the globe joined the Microtronix team for a recent review meeting
The Audibible is a solar-rechargeable, water-resistant audio player in a ruggedised package about the size of a mobile phone, capable of holding hundreds of hours of high-quality audio content. The solidly built, pocket sized player has the solar panel on the back and the controls and speakers on the front of the unit, with brail navigation markings to assist the blind or visually impaired with easy navigation. Its battery is a long-lasting Lithium polymer type. It weighs in at around 100 grams, which makes it easy to store in a shirt pocket. Charging can be done by the sun or with a normal 5 V d.c. input from the mains with an optional charger.

Audibible
The device boasts a clever way of providing both security and ease of content transfer. The audio content is stored on a Micro SD card which can be removed and inserted into a PC's memory card reader to change the content. All files on the Micro SD card must be in an encrypted format, which are produced with the supplied software using a user-specific password. The Audibible can hold a vast amount of audio, only limited by the size of the Micro SD memory card in use. With the standard 2 GB micro SD card it can hold up to 200 hours of content, but can currently be upgraded to a 32 GB card.
A group of around 20 people should be able to listen to the Audibible. It is sufficiently loud for small groups and can be used indoors as well as outdoors. Using the 3,5 mm headphone socket, it can also be plugged into external speakers or an amplifier for larger groups.
Microtronix invests in youth skill development
As part of the manufacturing process, Microtronix has introduced an internal trainee programme to assist South African youth who have finished their final school year. The programme aims to afford these trainees with basic skills which will prepare them to enter the workforce. Currently, one of South Africa's biggest challenges is unemployment, and according to Masiteng statistics, unemployment is highest among those aged 15 to 24 years of age. After completion of the three-year training programme, the trainees may have the opportunity to be appointed in the factory if they have excelled in their specialised area, or enter the industry towards a sustainable future.
In the manufacturing of the Audibible, 30 full-time trainees have been employed. Davar assisted Microtronix by helping these young South African men and women with tuition and training in an electronic manufacturing environment. Both companies hope to increase the number of trainees as more and more Audibibles are produced.
Credit(s)
Further reading:
Plan your media strategy with Technews Publishing
23 October 2019, Technews Publishing , News
Dear Marketer, Have you ever looked back on a year and wondered how you survived it? For the majority of South Africans, 2019 started benignly enough, cosily wrapped in the blanket of Ramaphoria that 
...
Read more...
---
Electronics news digest
29 January 2020 , News
South Africa
• More than 2400 people braved pouring rain in Gauteng to attend the 5th Science Forum South Africa (SFSA) at the CSIR International Convention Centre in December. The annual Department 
...
Read more...
---
Appointment: ExecuKit
29 January 2020, ExecuKit , News
ExecuKit has appointed Marshant Benadie in a technical support role.    His duties will include developing business with clients within the electronics distribution and manufacturing industry; managing 
...
Read more...
---
Repro installs new SMT production line
29 January 2020 , News
The company is actively seeking business for this new assembly line, which promises extensive flexibility and high accuracy, and can easily be expanded for higher production volumes.
Read more...
---
AREI's plans for 2020
29 January 2020 , Editor's Choice, News
Erich Nast, chairman of AREI, discusses what the association's plans are to tackle the challenges and opportunities that lie ahead.
Read more...
---
Check out Dataweek's new-look website
29 January 2020, Technews Publishing , Editor's Choice, News
Our technical design elves have been locked away in our basement for months, improving the visual design and functionality of the Dataweek website.
Read more...
---
From the editor's desk: A fresh start, but a sad farewell?
29 January 2020, Technews Publishing , News
A couple of years ago, not many people had heard of Yekani. The company bought a stake in the well-known East London-based satellite decoder maker, Vektronix, and subsequently acquired it in its entirety. When 
...
Read more...
---
From the editor's desk: Getting charged up for the new year
25 November 2019, Technews Publishing , News
The Springboks' Rugby World Cup triumph in Japan couldn't have come at a better time for South Africa, as the country was in desperate need of a jolt of positive energy going into the festive season. 
...
Read more...
---
Battery Technologies Conference 2019
25 November 2019 , News, Editor's Choice
Batteries are a critical enabler of the Fourth Industrial Revolution, powering technology in products from laptops and handheld devices to electric vehicles and renewable energy storage.
Read more...
---
Boom, doom and gloom, or something completely different?
25 November 2019, Technews Publishing , News, Editor's Choice
As the end of 2019 looms, it's time to look ahead to what next year might have in store, and reflect on the year gone by. And what a year it's been.
Read more...
---