Mateq Systems is a privately owned company, established during 2005 and based in Centurion. Ownership changes during the latter part of last year resulted in Hennie Bosch taking over as managing director.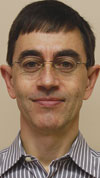 Hennie Bosch
The company was formed to give wings to the initial concept of creating a single test environment for engineers that would allow for quick turnaround times when developing tests for a variety of devices, as well as provide ease of maintenance, short training cycles and cost effectiveness over the long term. This resulted in a product called MultiMac (multimeasurement and control), a generic test bench designed for use in testing electronic equipment at PCB and system level over the entire life cycle of a product.
MultiMac provides users with one test bench plus a variety of simple interfaces, one for each device under test and with its menu driven test script setup, various devices can be tested while results are saved in a secure database and are ready for analysis via detailed or summary reports. Various users may have access to the secure database and simultaneously review progress on tested devices and analyse results while testing is still in progress.
Although the company was only established six years ago, the MultiMac has been under continuous development for the past 10 years and has evolved to what is now a third generation product. Being tested and tried in the military environment especially, it has proven itself in terms of flexibility and reliability with consistent results. In fact, some of Mateq's customers have, as part of their product offering to the end customer, included MultiMac as the total test solution. As a result, the company's generic automated test equipment has been shipped and implemented overseas with equally successful results.
As part of its growth strategy and to keep abreast of today's ever changing industrial test, measurement and control requirements, Mateq also develops and supplies completely customised test systems using industry standard building blocks as well as customised hardware and software for customer specific requirements.
Although the company's core business is to provide the electronics industry with automated test solutions, the company has been expanding its business as of late, to offer services in electronic design and development, as well as embedded and Windows application software development. This decision was based on the fact that, with many years of involvement in the field of electronics, the expanded offering complements the core business.
By continuously concentrating on keeping its business model simple, Mateq has managed to build its success on a relatively small staff complement thanks to a focus on design, development, assembly and calibration. The requisite hardware and PCBs are sourced from reliable suppliers, and when the need arises the company makes use of specialised contract labour to help deal with sudden peaks in demand.
Ultimately, Mateq's objective is to meet the challenges faced by engineering companies when producing automated test equipment for use during the lifecycle of their products and thereby help them meet the stringent deadlines of developing a new product.
For more information contact Mateq Systems, 0861 373 777.