printer friendly version
Microtronix boosts production capacity
23 November 2011
News
In order to further its ambitions for growth, Microtronix has added substantial capacity to its facility over the past seven months, according to CEO Jason Wilford. "Microtronix has always been run as an aggressively entrepreneurial entity with substantial year-on-year growth driven predominately by the gutsy approach of 'we can' applied by Mike Goodyer, our owner and current chairman.
The last seven months have been no different and we have added a small arsenal of capacity to our facility."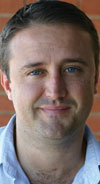 Jason Wilford
The company's new placement capacity includes 10 lines amounting to 23 SMD machines. The latest addition is a Universal line to accommodate the company's high-volume consumer electronic customers that are now manufacturing locally. "Our capacity output at the beginning of the year was 40 million placements per month; we are now forecasting our capacity at close to double that," says Wilford.
Microtronix has invested close to R20 million in capital machinery to accommodate its clients' demand in this financial year. In addition, it has spent over R3 million in quality-related and production support equipment such as AOI and X-ray equipment to maintain the standard of quality aligned to its substantial growth.
The company has added 63 members of staff in a seven-month period, bringing its total head count to over 300. It also managed to offer 10 experienced operators from Cape Town a home and job in Johannesburg. All told, the company currently contributes to the livelihoods of over 300 families and 1000 people, according to Wilford, and is proud to be playing its small part in the country's job creation efforts.
Companies that supply to Microtronix will also be beneficiaries of the company's growth, as Wilford expects a substantial rise in orders and volumes for everything from consumables to components. "Our clients will be the ones to benefit the most and this falls into 2 main categories: flexibility and capacity," says Wilford.
"As we are currently running orders from 50 to 50 000 boards, we are able to custom design the production path, pricing and associated service to accommodate all customer levels.
Microtronix has truly become a master of all, being able to accommodate high-level, low-volume military projects to 2000 a day, consumer electronic orders."
The decision to take these aggressive investment steps has primarily been in the interest of accommodating Microtronix' existing customers' requirements as they have grown, as well as to accommodate new customers. Wilford believes that "innovation and advancement are concepts that need to transcend design and be accommodated by the manufacturing equipment assembling the products.
"With components becoming smaller and smaller, designs becoming more and more complicated and compact, and the tolerances for errors becoming narrower, one must provide the correct machinery as part and parcel of the service level offered to customers. This means constant and vigorous reinvestment in machinery processes and people. The executive team at Microtronix believes that we are and will always be the market leaders in applying the 'correct tool for the job' – our focus is and will always be to apply an elevated level of capacity and quality controls to release our customers' boards right, first time, every time."
The company has also identified a need for substantially more space and is in the process of negotiating occupation of two premises in near proximity to its current location in Strijdom Park, for occupation in the next 16 months.
Credit(s)
Further reading:
From the editor's desk: Are electromagnetic waves culpable in making us sick?
30 June 2020, Technews Publishing , News
When I started writing my column for this issue, I was determined to come up with a topic and a way to avoid mentioning the 'C' word. I came close – you will only find 'COVID-19' mentioned once or twice 
...
Read more...
---
To fake or not to fake
30 June 2020 , News
Prof. Johan Meyer explores the complex and controversial topic of the potential link between the global rollout of 5G networks and the COVID-19 pandemic.
Read more...
---
Clearing the Static: Curb the spread of COVID-19 with stringent floor hygiene
30 June 2020, Actum Electronics , News
According to the World Health Organisation (WHO), COVID-19 is primarily transmitted from person to person through respiratory droplets that emerge from the nose and mouth when an infected person speaks, 
...
Read more...
---
Personality profile: Warren Mande
30 June 2020, Altron Arrow , News
"It is said that "culture eats strategy for breakfast". Look to join companies whose culture fits your personal belief system."
Read more...
---
Not the end, but a journey
30 June 2020, ExecuKit , News
ExecuKit's Renita Fleischer and Elizna Classen offer local companies a route to help them navigate their way through what has become the 'new normal.'
Read more...
---
Elmatica CEO to vice chair IPC cybersecurity task group
30 June 2020, Elmatica , News
Didrik Bech, CEO of printed circuit broker Elmatica, has been appointed to serve as vice chair for IPC's new cybersecurity task group. The 2-12c Task Group leadership is a representation of IPC as an 
...
Read more...
---
From the editor's desk: Making and sending things to space
29 May 2020, Technews Publishing , News
In this issue, one of the topics we are featuring is the aerospace and military/defence sector. The feature includes an analysis of what it takes to successfully design and manufacture products in this 
...
Read more...
---
Electronics news digest
29 May 2020, Technews Publishing , News
South Africa
• Acting minister of communications and digital technologies, Jackson Mthembu, joined the world in observing World Telecommunication and Information Society Day (WTISD). Proclaimed by the 
...
Read more...
---
Personality profile: David Power
29 May 2020, Cadshop , News
"Aspire to work for a company that you admire, and for a boss that you want to serve, that shares your passion and motivation."
Read more...
---
Designing for military and defence applications
29 May 2020, Omnigo, Kreon Technology , News
No business can stand on its own without strong partnerships and stakeholder relationships. In this regard the military and defence industry is no exception.
Read more...
---