printer friendly version
Testerion joins the Million Dollar Club
22 February 2012
News
At the latest Productronica electronics exhibition in Munich last November, Testerion was awarded membership to the elite 'TRI Million Dollar Club' in recognition by Test Research Incorporated (TRI) for new representative companies who sell more than 1 Million US Dollars of equipment within their first year of representing TRI. Testerion achieved this milestone within 11 months.
Peter Vichos, MD of Testerion, dedicated this award to Les Watts, the company's process engineer, whose task it is to ensure that after installation these systems are fine tuned to run automatically in-line with various SMD pick and place machines, and sort good boards from bad without operator intervention.
TRI is a Taiwanese company which ranks number two in the world in the field of automatic optical inspection (AOI) and solder paste inspection (SPI) with annual sales in excess of $170 million.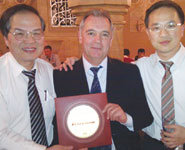 Testerion MD Peter Vichos (middle) holding the Million Dollar presentation. To the left is Jim Lin, TRI's vice president of global sales and to the right is Jonathan Lin, TRI vice president of international business development
Testerion was a late comer to the AOI market in South Africa. The reason was mainly because the company decided to focus exclusively on the high-end in-line AOI market, as compared to dozens of other AOI companies which supply off-line AOI systems, but which, in Vichos' opinion "are nothing more than glorified comparators, and if they were to be placed in line, they would fail every single board. This is not necessarily because every board is faulty, but more because these low-end AOI systems do not have the sophistication of systems like TRI to enable them to cut down on false errors.
"All too often I will walk into an assembler who has an AOI (or several AOI systems) working off-line and the operator simply sits there and each board has about 10 'fails' and the operator will press the 'pass' or 'accept' button every time a so-called fault is flagged by the AOI," says Vichos. "What is the point in this? And they are not cheap anyway, at about $50 000 per off-line system."
According to Vichos, the average TRI AOI is well over $160 000 but guarantees a reliable in-line system. Where he believes Testerion leads its competition is that, "once the AOI or SPI system has been installed, Les Watts literally moves in with the customer for a few weeks and assists with programming of the AOI, thereafter analysing the fault data that comes from the equipment and then assisting with process control to reduce these faults."
As an example, at Vektronix in East London, which assembles over 1000 Samsung Plasma flat screen TVs per day, TRI and Watts' experience have been employed to run at less than 2 defects per million (dpm) on soldered joints, measured after reflow, in-line. "In 2012 we will be working on those last two parts per million," says a smiling Watts.
Vektronix also use the TRI in-line SPI system to ensure that each board has perfect solder paste coverage before it enters the Fuji NXT II placement line. The decision to put an in-line SPI system came after analysing data from AOI which indicated that the majority of faults were originating from printing, and this resulted in Vektronix investing in an SPI system, plus a new MPM 125 solder paste printer. This setup now ensures that each board is 100% right from a solder paste point of view before it enters the placement system.
Vektronix is producing one fully assembled board about every 30 seconds, and at this speed the company cannot afford to produce scrap, as placing over 100 000 SMD components per hour means there is no time for rework.
Another happy TRI user in South Africa is Conlog, which also uses AOI in-line and completely tests an average of three boards per minute. According to Vichos, the reject rack hardly ever gets a board in it, thanks to correct process control and TRI AOI keeping the entire system under control.
Testerion has also sold and installed AOI and SPI machines at a major LCD TV manufacturer in Egypt, which is using them in a Fuji NXT II SMD placement line to produce 2,2 million TVs per year. Vichos believes that the experience Testerion has gained working in international markets, for prestigious Japanese companies, has given it a marked advantage over local representative companies at the top end of high-speed SMD placement.
Vichos is honest enough to admit that these machines are definitely not 'plug-and-play' and require some intensive in-house training. To this end, Les Watts has been trained extensively both in South Africa as well as at TRI headquarters in Taiwan. This has benefitted Testerion in being able to provide genuine local support for its systems.
"If you consider what you get for $50 000 vs. $160 000, from Testerion you get a system that includes this advanced level of operator training, which is the key to successful in-line AOI and SPI," says Vichos. "With the $50 000 system the company drops off the AOI, plugs it in and switches it on and thereafter expects its cheque, but the customer lives with every board having a long list of so-called faults, that require a high degree of operator intervention to decide if they are in fact faults or not. But hey, they can tell their customers that they have an AOI system in place."
Vichos insists that those wanting to start with AOI should first invest in an SPI system, because just about any AOI reveals that between 60% and 85% of detected faults start in screen printing. No AOI is going to fix this problem; at best it can reliably show where the faults lie, and it still takes engineering intervention to fix the printing issues. In addition, if problems are discovered at the SPI stage, most boards can still be recovered.
For more information contact Peter Vichos, Testerion, +27 (0)11 704 3020, info@testerion.co.za
Credit(s)
Further reading:
Personality profile: Jean Mearns
29 July 2020, WH Circuit , News
"No one works for me, they only work with me, for without each other our team will fail to exceed the expectations of our customers."
Read more...
---
Letter to the editor
29 July 2020 , News
I take exception to the article 'To fake or not to fake' published in the June edition of Dataweek that is clearly based on the principle 'guilty until proven innocent'. I am by no means an expert 
...
Read more...
---
Q&A with Brandon Kuhn and Steve Stafford
29 July 2020 , News
Q: What is the rationale behind the reorganisation? What impact will it have on Avnet's customers in South Africa?    A (Kuhn):
Since 2009, our shared front-end model in South Africa has differed from the 
...
Read more...
---
Avnet EMEA names two new leaders to SA operation
29 July 2020 , News
Avnet has named Steve Stafford and Brandon Kuhn as new leaders in South Africa following the completion of a reorganisation in the region.
Read more...
---
UCT chooses Tektronix instruments for training lab
29 July 2020, Comtest , News
Comtest, local partner to Tektronix, recently assisted the University of Cape Town (UCT) physics department in refurbishing its electrical training laboratory. All of the existing analog oscilloscopes 
...
Read more...
---
New electromagnetic solutions range from Accutronics
29 July 2020, Accutronics , News
Accutronics has been appointed as the reseller for the Electromagnetic Integrated Solutions (EIS) range of products from API Technologies. APITech offers a complete line of coaxial EMI solutions, 
...
Read more...
---
Fighting COVID-19 using TV white space spectrum
29 July 2020 , News
The CSIR has partnered with the Technology Innovation Agency (TIA) to enable local Internet service providers to deploy Television White Space (TVWS) networks, using the CSIR-developed Secondary Geo-Location 
...
Read more...
---
Clearing the Static: ESD wrist straps
29 July 2020, Actum Electronics , News
The human body is the primary source of electrostatic charge generation. In order to control and reduce static charge build-up and prevent electrostatic discharges (ESD), we use grounding systems to ensure 
...
Read more...
---
From the editor's desk: This too shall pass
29 July 2020, Technews Publishing , News
Things were tough enough for the South African electronics manufacturing industry before, but this year has thrown up unprecedented challenges that nobody could have foreseen and which are outside of 
...
Read more...
---
Electronics news digest
29 July 2020 , News
South Africa
• As part of the national data-driven approach to countering COVID-19, the CSIR has developed a platform that monitors human mobility to better understand movement patterns across specific 
...
Read more...
---