printer friendly version
How Foxconn investigation will affect electronics contract manufacturing landscape
2 May 2012
News
For the footwear and apparel industry, the moment of reckoning came in the 1990s, when companies including Nike faced damaging revelations over use of its sweatshop manufacturing – an event that led to the creation of the Fair Labour Association (FLA). For the electronics industry, the moment arrived in 2010, as an FLA investigation has revealed serious workers' issues at contract manufacturer Foxconn, famous for its relationship with Apple.
The investigation underscores the serious risk to the public image of electronics brands lying in their $360 billion relationship with the global contract manufacturing industry. The result of the investigation is likely an increased focus on compliance, as well as rising costs for electronics brands.
"Much of the press coverage of the FLA investigation has focused on the impact it will have on Apple's margins or on prices that consumers will pay for iPhones or iPads," said Thomas Dinges, senior principal analyst, electronics contract manufacturing for IHS. "However, the real impact is on the overall relationship of electronic brands with contract manufacturers like Foxconn. Brands now realise that the biggest risk in dealing with contract manufacturers lies in the potential public relations disasters that can arise from workers' rights issues."
Foxconn is the world's largest maker of electronic components, headquartered in Taiwan but operating a number of large manufacturing facilities in China.
The $360 billion question
For electronics brands, the implications of labour issues are massive, given their fundamental reliance on the outsourcing of production to contract manufacturers.
The global electronics manufacturing business, consisting of electronics manufacturing services (EMS) and original design manufacturing (ODM) firms, generated an astounding $359,8 billion in revenue in 2011. As brands have increasingly outsourced production, the contract manufacturing industry has undergone enormous growth in recent years, with revenue rising from $264,0 billion in 2006.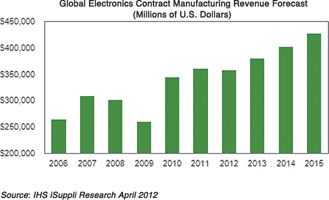 While revenue is expected to dip in 2012, the industry will continue its expansion trajectory in the coming years, with revenue expanding to $426,1 billion in 2015, as presented in the accompanying graph. Contract manufacturing is now an essential part of the electronics industry, accounting for 20,2% of all manufacturing revenue in 2011.
"While the recent focus has been on Apple and Foxconn, the fact is that nearly all electronics brands make use of contract manufacturers,"
Dinges said. "Because of this, nearly all brands are at risk from negative headlines in their local newspapers that could arise from news of worker issues."
The time is now
For electronics brands, the moment has arrived to ensure that the contract manufacturing partners of brands are in compliance with FLA rules. IHS expects more audits will take place that will uncover further issues. Brand original equipment manufacturers (OEM) will be forced to expand their operations that focus on supplier responsibility and compliance.
As contract manufacturers move to ensure compliance, they will expand their workforces and increase their pay scales in China, causing manufacturing costs to climb. Even so, given the small proportion of manufacturing costs compared to component expenses, this is unlikely to have a major impact on company margins or consumer prices.
Rising costs in China likely will spur contract manufacturers to seek alternative, lower-cost locations for manufacturing. But because of the already extensive established supply chains and infrastructure in the country, China will remain the manufacturing engine of the global electronics industry.
For more information visit www.isuppli.com
Further reading:
From the editor's desk: Are electromagnetic waves culpable in making us sick?
30 June 2020, Technews Publishing , News
When I started writing my column for this issue, I was determined to come up with a topic and a way to avoid mentioning the 'C' word. I came close – you will only find 'COVID-19' mentioned once or twice 
...
Read more...
---
To fake or not to fake
30 June 2020 , News
Prof. Johan Meyer explores the complex and controversial topic of the potential link between the global rollout of 5G networks and the COVID-19 pandemic.
Read more...
---
Clearing the Static: Curb the spread of COVID-19 with stringent floor hygiene
30 June 2020, Actum Electronics , News
According to the World Health Organisation (WHO), COVID-19 is primarily transmitted from person to person through respiratory droplets that emerge from the nose and mouth when an infected person speaks, 
...
Read more...
---
Personality profile: Warren Mande
30 June 2020, Altron Arrow , News
"It is said that "culture eats strategy for breakfast". Look to join companies whose culture fits your personal belief system."
Read more...
---
Not the end, but a journey
30 June 2020, ExecuKit , News
ExecuKit's Renita Fleischer and Elizna Classen offer local companies a route to help them navigate their way through what has become the 'new normal.'
Read more...
---
Elmatica CEO to vice chair IPC cybersecurity task group
30 June 2020, Elmatica , News
Didrik Bech, CEO of printed circuit broker Elmatica, has been appointed to serve as vice chair for IPC's new cybersecurity task group. The 2-12c Task Group leadership is a representation of IPC as an 
...
Read more...
---
From the editor's desk: Making and sending things to space
29 May 2020, Technews Publishing , News
In this issue, one of the topics we are featuring is the aerospace and military/defence sector. The feature includes an analysis of what it takes to successfully design and manufacture products in this 
...
Read more...
---
Electronics news digest
29 May 2020, Technews Publishing , News
South Africa
• Acting minister of communications and digital technologies, Jackson Mthembu, joined the world in observing World Telecommunication and Information Society Day (WTISD). Proclaimed by the 
...
Read more...
---
Personality profile: David Power
29 May 2020, Cadshop , News
"Aspire to work for a company that you admire, and for a boss that you want to serve, that shares your passion and motivation."
Read more...
---
Designing for military and defence applications
29 May 2020, Omnigo, Kreon Technology , News
No business can stand on its own without strong partnerships and stakeholder relationships. In this regard the military and defence industry is no exception.
Read more...
---