printer friendly version
How Foxconn investigation will affect electronics contract manufacturing landscape
2 May 2012
News
For the footwear and apparel industry, the moment of reckoning came in the 1990s, when companies including Nike faced damaging revelations over use of its sweatshop manufacturing – an event that led to the creation of the Fair Labour Association (FLA). For the electronics industry, the moment arrived in 2010, as an FLA investigation has revealed serious workers' issues at contract manufacturer Foxconn, famous for its relationship with Apple.
The investigation underscores the serious risk to the public image of electronics brands lying in their $360 billion relationship with the global contract manufacturing industry. The result of the investigation is likely an increased focus on compliance, as well as rising costs for electronics brands.
"Much of the press coverage of the FLA investigation has focused on the impact it will have on Apple's margins or on prices that consumers will pay for iPhones or iPads," said Thomas Dinges, senior principal analyst, electronics contract manufacturing for IHS. "However, the real impact is on the overall relationship of electronic brands with contract manufacturers like Foxconn. Brands now realise that the biggest risk in dealing with contract manufacturers lies in the potential public relations disasters that can arise from workers' rights issues."
Foxconn is the world's largest maker of electronic components, headquartered in Taiwan but operating a number of large manufacturing facilities in China.
The $360 billion question
For electronics brands, the implications of labour issues are massive, given their fundamental reliance on the outsourcing of production to contract manufacturers.
The global electronics manufacturing business, consisting of electronics manufacturing services (EMS) and original design manufacturing (ODM) firms, generated an astounding $359,8 billion in revenue in 2011. As brands have increasingly outsourced production, the contract manufacturing industry has undergone enormous growth in recent years, with revenue rising from $264,0 billion in 2006.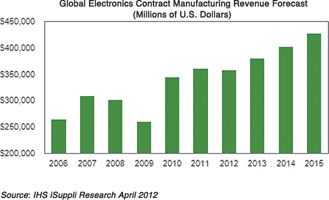 While revenue is expected to dip in 2012, the industry will continue its expansion trajectory in the coming years, with revenue expanding to $426,1 billion in 2015, as presented in the accompanying graph. Contract manufacturing is now an essential part of the electronics industry, accounting for 20,2% of all manufacturing revenue in 2011.
"While the recent focus has been on Apple and Foxconn, the fact is that nearly all electronics brands make use of contract manufacturers,"
Dinges said. "Because of this, nearly all brands are at risk from negative headlines in their local newspapers that could arise from news of worker issues."
The time is now
For electronics brands, the moment has arrived to ensure that the contract manufacturing partners of brands are in compliance with FLA rules. IHS expects more audits will take place that will uncover further issues. Brand original equipment manufacturers (OEM) will be forced to expand their operations that focus on supplier responsibility and compliance.
As contract manufacturers move to ensure compliance, they will expand their workforces and increase their pay scales in China, causing manufacturing costs to climb. Even so, given the small proportion of manufacturing costs compared to component expenses, this is unlikely to have a major impact on company margins or consumer prices.
Rising costs in China likely will spur contract manufacturers to seek alternative, lower-cost locations for manufacturing. But because of the already extensive established supply chains and infrastructure in the country, China will remain the manufacturing engine of the global electronics industry.
For more information visit www.isuppli.com
Further reading:
Plan your media strategy with Technews Publishing
23 October 2019, Technews Publishing , News
Dear Marketer, Have you ever looked back on a year and wondered how you survived it? For the majority of South Africans, 2019 started benignly enough, cosily wrapped in the blanket of Ramaphoria that 
...
Read more...
---
From the editor's desk: Getting charged up for the new year
25 November 2019, Technews Publishing , News
The Springboks' Rugby World Cup triumph in Japan couldn't have come at a better time for South Africa, as the country was in desperate need of a jolt of positive energy going into the festive season. 
...
Read more...
---
Battery Technologies Conference 2019
25 November 2019 , News, Editor's Choice
Batteries are a critical enabler of the Fourth Industrial Revolution, powering technology in products from laptops and handheld devices to electric vehicles and renewable energy storage.
Read more...
---
Boom, doom and gloom, or something completely different?
25 November 2019, Technews Publishing , News, Editor's Choice
As the end of 2019 looms, it's time to look ahead to what next year might have in store, and reflect on the year gone by. And what a year it's been.
Read more...
---
Actum Group remains resilient and optimistic for 2020
25 November 2019, Actum Electronics , News
Running a profitable business in South Africa is not for the fainthearted. With the national treasury downgrading this year's growth forecast from 1,5% to 0,5%, and state-owned entities like Eskom negotiating 
...
Read more...
---
Additional renewable energy development zones proposed
25 November 2019 , News
The second phase of the Strategic Environmental Assessment (SEA) for wind and solar photovoltaic (PV) energy in South Africa proposes three additional Renewable Energy Development Zones (REDZs) for wind 
...
Read more...
---
Locally developed electronic circuit builder for students
25 November 2019, K Measure , News, Editor's Choice
K Measure, creator of the award-winning Seebox engineering education solution, has created a new innovation to enable quick and easy electronic circuit-building. The SeeBlocks electronic circuit creator 
...
Read more...
---
Clearing the Static:Topic 9: Time to audit your ESD environment
25 November 2019, Actum Electronics , News
Now that we are nearing the end of the year, it is a good time to audit your existing static control products and procedures. The first line of defence should be your antistatic floor, since this is the 
...
Read more...
---
Winning hackathon entry curbs cell tower battery theft
25 November 2019 , News
The fourth annual TADHackJHB was held at MTN's head office in Fairland, Johannesburg, on 12 and 13 October, with a cell tower protection app emerging as the winner. The theme for the 2019 global TADHack 
...
Read more...
---
Products of the Year 2019
25 November 2019 , News
SmartServer IoT by Adesto
BAW-based chips for comms infrastructure
Cellular modules for LPWA applications
SoCs and software for smart home and IIoT
Secure element for IoT authentication
MPU for embedded 
...
Read more...
---