printer friendly version
Comtest hosts Fluke's SA visit
2 May 2012
News
The Comtest Group, sole distributors of Fluke test and measurement equipment in southern Africa, recently held a series of gatherings for its dealers in Johannesburg, Durban and Cape Town. Steve Hood, Fluke's general manager for the Middle East and Africa, delivered the keynote address to around 50 guests at Comtest's Linbro Park headquarters.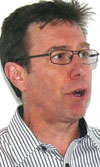 Steve Hood, Fluke's general manager for the Middle East and Africa.
"Fluke's mission is to be the leading worldwide supplier of portable test tools and related equipment for the service, installation and maintenance of electrical and electronic equipment," said Hood, "and our goal is to delight and empower our customers with robust, intuitive tools that help them quickly solve their toughest problems."
To this end, Fluke has strengthened its footprint worldwide with offices in more than 25 countries staffed by over 3000 employees.
"Sales and service subsidiaries are in place in 100 countries and there are Fluke manufacturing facilities in the United States, Europe and China. A recent development in the emerging market arena was Fluke's acquisition of Channel in India and South Korea," adds Hood.
An indication of the brand's success is the fact that Fluke has won numerous product awards in the last two years: 17 for multimeters, 21 for thermal imagers and 16 for clamp meters.
According to Hood, "Fluke's growth focus is in the emerging markets. Customers' cost structures are under pressure and this drives Fluke to analyse its productivity. Thankfully, the Fluke brand enjoys one of the highest unaided awareness and preference in its category. This, coupled with high product vitality and the perception that the brand is synonymous with innovation, is brand-marketing gold and makes our job a good deal easier than some others out there."
Fluke continues to enjoy a mutually beneficial relationship with the Comtest Group, which has shown an overall growth of 9% against its 2010 results, with the strongest growth mainly in the hi-touch products, e.g. thermography, process calibration, scopemeter, power quality and the electrical products.
In conclusion, Hood said, "Fluke believes that the South African operation has a 50% growth potential over the next few years, and we are very excited at that prospect."
For more information contact Comtest, +27 (0)11 608 8520, info@comtest.co.za, www.comtest.co.za
Credit(s)
Further reading:
SAAB Avionics approves Elmatica auditor for PCB subcontractors
29 January 2020, Elmatica , News
Expanding on its international relationship with SAAB Avionics, printed circuit board supplier Elmatica's Jan Pedersen successfully completed the Part 21, Subpart G training, regarding auditing of printed 
...
Read more...
---
Electronics news digest
29 January 2020 , News
South Africa
• More than 2400 people braved pouring rain in Gauteng to attend the 5th Science Forum South Africa (SFSA) at the CSIR International Convention Centre in December. The annual Department 
...
Read more...
---
Appointment: ExecuKit
29 January 2020, ExecuKit , News
ExecuKit has appointed Marshant Benadie in a technical support role.    His duties will include developing business with clients within the electronics distribution and manufacturing industry; managing 
...
Read more...
---
Repro installs new SMT production line
29 January 2020 , News
The company is actively seeking business for this new assembly line, which promises extensive flexibility and high accuracy, and can easily be expanded for higher production volumes.
Read more...
---
AREI's plans for 2020
29 January 2020 , Editor's Choice, News
Erich Nast, chairman of AREI, discusses what the association's plans are to tackle the challenges and opportunities that lie ahead.
Read more...
---
Check out Dataweek's new-look website
29 January 2020, Technews Publishing , Editor's Choice, News
Our technical design elves have been locked away in our basement for months, improving the visual design and functionality of the Dataweek website.
Read more...
---
Double pulse test software for Tektronix AFG
29 January 2020, Comtest , Test & Measurement
Comtest announced the availability of Tektronix' new software plugin for its AFG31000 arbitrary function generator (AFG), making it possible to perform crucial double pulse testing in less than a minute, 
...
Read more...
---
From the editor's desk: A fresh start, but a sad farewell?
29 January 2020, Technews Publishing , News
A couple of years ago, not many people had heard of Yekani. The company bought a stake in the well-known East London-based satellite decoder maker, Vektronix, and subsequently acquired it in its entirety. When 
...
Read more...
---
Oil-dielectric RF termination loads
29 January 2020, Comtest , Telecoms, Datacoms, Wireless, IoT
For maximum process repeatability and consistency, modern plasma applications require precise RF power regulation and control. A key component in ensuring accurate and repeatable RF power delivery to 
...
Read more...
---
Actum Group merges its brands under one roof
29 January 2020, Actum Electronics , News
Over the years, Actum Group has been built through partnerships, collaborations and acquisitions of leading companies with a long history and rich legacy in the industry. These companies include Actum 
...
Read more...
---