printer friendly version
National Electronics Week 2012 review
2 May 2012
News
The second iteration of the biennial National Electronics Week South Africa took place at the Sandton Convention Centre on the 13th and 14th March.
The show once again attracted the majority of the country's high-profile exhibitors from amongst component and equipment distributors and service providers. Also present were several overseas exhibitors eager to explore the opportunities our local market has to offer. As with the last show, not only products were featured, as there were also free seminars, panel discussions, training and workshops.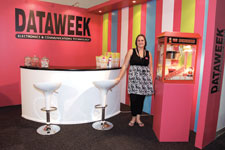 Yet again, the organisers did a fantastic job of staging a world-class event, and the exhibitors I spoke to were unanimous in their praise of the organisational quality. Even the overseas exhibitors, who one would imagine are accustomed to bigger events, had nothing but good things to say. "We are a PCB manufacturer from England working in partnership with Central Circuits in Centurion," said Trevor Sanders from Graphic PLC.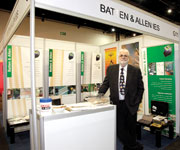 "We found the show to be well organised and with a good layout," he continued. "Whilst it may have been slightly smaller than the previous show I think the attendance seemed good with serious potential viewing the latest technologies on offer. I also came to the first exhibition and have seen a big interest towards new developing technologies which we are able to offer out of our facilities in the UK and China.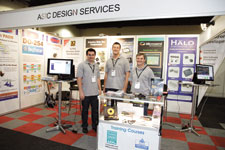 "While the exhibition gave us a chance to meet our existing customers it also provided new opportunities from companies looking to develop new products and needing higher-technology solutions. I think every two years is about right and we will be back in two years time for the exhibition but also before to support our customers."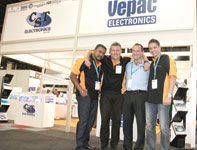 As far as attendance goes, there is no getting around the fact that the numbers were disappointing: 1168 visitors attended the exhibition over the two days, a 10% drop compared to the 2010 edition. And it is difficult to see why. Sure, the macroeconomic situation might not be all that great at the moment, but then things were not all that rosy back in '10 either.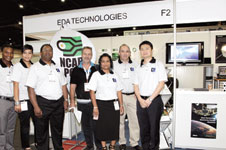 Perhaps we are seeing the effects of a shrinking engineering base in the country. Or maybe people just do not go to shows as much anymore. I do feel that exhibitions have their place in our industry and it is worrying that we may be entering a downward spiral where less companies exhibit at shows expecting poor attendance, and consequently less people visit them because there is not as much to see.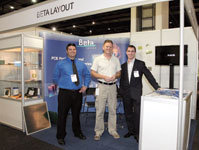 Whatever the case may be, the overwhelming sentiment among exhibitors was, unsurprisingly, disappointment at the relatively poor attendance. I genuinely feel for them too, because many would have blown most, if not all, of their annual marketing budgets on their stands, not to mention the lost man hours from employees manning the stand instead of being in the office, working.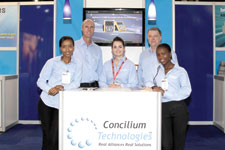 The only way that they can get a return on this investment is by maximising their exposure and that, simply put, means getting more feet through the doors.
So what can be done? Opinions are varied, but most agree that a different venue would be an improvement. Thanks to the Gautrain, Sandton is certainly more convenient for people arriving via O.R. Tambo airport than it used to be, but the vast majority of attendees were from Johannesburg, Pretoria and surrounding areas, making this a moot point.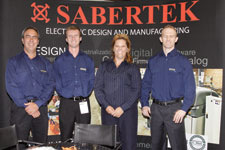 Because of this, and the fact that so many potential visitors are nowadays based outside Johannesburg and towards Centurion, many feel that Midrand or Centurion would be better venues for future exhibitions.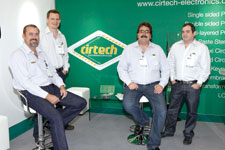 According to Tony Dal Maso from ASIC Design Services, the timing of the show is not ideal, since February and March are the worst months for customers involved in the military sector, meaning that April through June would be a better time of year. Or perhaps, as Don Jeffrey from Laser Stencil Technology suggests, in order to be exposed to a larger spectrum of industry, National Electronics Week should co-exhibit with other associated industries.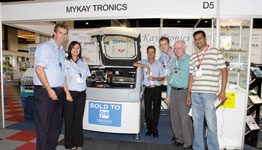 Steve Alves of Concilium Technologies believes that this year's show was not as well organised, as well marketed or as well attended as the last one (bear in mind that the following comments were made before the exhibitors had access to actual attendance figures). "Although we did receive a good response to the products that we exhibited," he said, "my impression was that there were fewer people attending the show this year.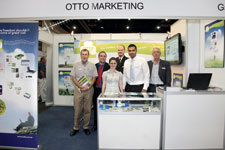 "I do not believe that this sort of show could currently be supported more than every two years, and I would like to see it expand into more than a component and component assembly show, into one that covers the other aspects of the lifecycle of an electronic product, such as R&D, production test etc.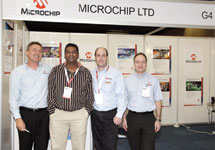 "Our impressions were that there was significant roll-off of visitors after 16:00 in the afternoons, which may indicate that most visitors want to get out of Sandton before they get stuck in the traffic, so I am not sure if the location or the timing should be considered. Will we be exhibiting again? The jury is out on that one at the moment until we have analysed the leads we received, and have had some feedback on the actual attendance (not registrations) at the show."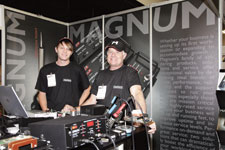 One thing is certain: the organisers of National Electronics Week are no mugs; they have organised many successful exhibitions not only in South Africa but also the UK and elsewhere. They have listened to feedback and are now considering holding smaller, regional events in engineering centres such as Durban and Cape Town, in addition to Johannesburg, with a focus on strong seminar and conference programmes to attract visitors.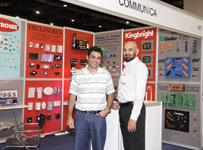 In order to offer maximum cost-effectiveness to exhibitors, the organisers have suggested they might offer set stand sizes and low-cost stand prices, although nothing is finalised as yet.
One can only hope that these measures, coupled with the improving economic outlook and easing of supply chain problems, will lead to successful and better attended exhibitions in the years to come.
Credit(s)
Further reading:
SAAB Avionics approves Elmatica auditor for PCB subcontractors
29 January 2020, Elmatica , News
Expanding on its international relationship with SAAB Avionics, printed circuit board supplier Elmatica's Jan Pedersen successfully completed the Part 21, Subpart G training, regarding auditing of printed 
...
Read more...
---
Electronics news digest
29 January 2020 , News
South Africa
• More than 2400 people braved pouring rain in Gauteng to attend the 5th Science Forum South Africa (SFSA) at the CSIR International Convention Centre in December. The annual Department 
...
Read more...
---
Appointment: ExecuKit
29 January 2020, ExecuKit , News
ExecuKit has appointed Marshant Benadie in a technical support role.    His duties will include developing business with clients within the electronics distribution and manufacturing industry; managing 
...
Read more...
---
Repro installs new SMT production line
29 January 2020 , News
The company is actively seeking business for this new assembly line, which promises extensive flexibility and high accuracy, and can easily be expanded for higher production volumes.
Read more...
---
AREI's plans for 2020
29 January 2020 , Editor's Choice, News
Erich Nast, chairman of AREI, discusses what the association's plans are to tackle the challenges and opportunities that lie ahead.
Read more...
---
Check out Dataweek's new-look website
29 January 2020, Technews Publishing , Editor's Choice, News
Our technical design elves have been locked away in our basement for months, improving the visual design and functionality of the Dataweek website.
Read more...
---
From the editor's desk: A fresh start, but a sad farewell?
29 January 2020, Technews Publishing , News
A couple of years ago, not many people had heard of Yekani. The company bought a stake in the well-known East London-based satellite decoder maker, Vektronix, and subsequently acquired it in its entirety. When 
...
Read more...
---
Company profile: ETION Create
EMP 2020 Electronics Manufacturing & Production Handbook, ETION Create , News
ETION Create is an original design manufacturer (ODM) that has been in operation for more than 25 years. Originally known as Parsec, the company was founded in 1993, focusing on the design, development 
...
Read more...
---
Company profile: Laser Stencil Technology
EMP 2020 Electronics Manufacturing & Production Handbook, Laser Stencil Technology , News
Since its inception in 2004, Laser Stencil Technology has grown into a prominent figure in the South African electronics manufacturing industry. Having been involved in circuit board manufacturing using 
...
Read more...
---
Company profile: Repro Supplies
EMP 2020 Electronics Manufacturing & Production Handbook , News
Repro Supplies is a systems integration company that specialises in turnkey systems for the mining industry, industrial, traffic and LED markets, both locally as well as internationally. The company was 
...
Read more...
---