printer friendly version
Top 25 semiconductor companies in 2011
16 May 2012
News
Although only 2% growth was registered in the worldwide semiconductor market (including ICs and optoelectronics, sensors and discretes; O-S-D) in 2011, several companies posted results that were far different, as shown in Table 1.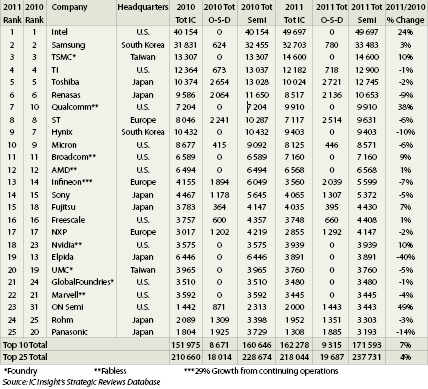 Table 1. 2011 top 25 semiconductor sales leaders ($M, including foundries).
Boosted by its acquisition of Sanyo's semiconductor business, ON Semiconductor registered a 49% sales increase last year and moved into the top 25 ranking for the first time. Qualcomm, spurred by a 73% increase in smartphone unit shipments last year, logged a strong 38% increase in semiconductor sales in 2011. At the other end of the spectrum was Elpida, which registered a steep sales drop of 40% (45% when expressed in yen).
Although 15 of the top 25 semiconductor sales leaders posted negative results last year, in total, the top 10 and top 25 semiconductor suppliers grew 7% and 4%, respectively, in 2011 as compared to 2010. These growth rates were much better than the 2% increase shown in the worldwide 2011/2010 semiconductor market.
As shown, Intel remained firmly in control of the number one spot in the ranking last year. In fact, helped by its acquisition of Infineon's wireless IC business, it extended its lead over second-ranked Samsung by registering 48% more in semiconductor sales than Samsung in 2011 as compared to a 24% margin in 2010.
Healthy growth in its graphics and communications processor business helped Nvidia jump five positions and move the company to 18th place in the top 25 ranking. In contrast, Elpida fell six spots in the ranking last year (from 13th to 19th) as the collapse in the DRAM market had a disastrous effect on the company. In fact, Elpida lost almost $1,2 billion in the second half of calendar 2011 and filed for bankruptcy in 1Q12.
In contrast to 2010, memory companies did not secure the top growth rate positions in the ranking in 2011 (Table 2). In fact, non-memory suppliers logged the top six growth rate increases last year. Moreover, in the case of ON, Qualcomm and Intel, 2011 semiconductor sales growth rates were significantly boosted by company and/or business segment acquisitions.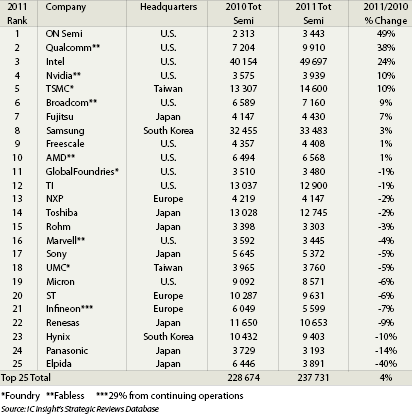 Table 2. 2011 top 25 semiconductor sales leaders ranked by growth rate ($M).
Of the big five memory suppliers in the top 25 ranking (i.e., Samsung, Toshiba, Hynix, Micron and Elpida), only Samsung registered 2011/2010 growth. In total, only nine of the top 25 suppliers (including Infineon's 29% sales growth from continuing operations) outperformed the total worldwide semiconductor industry 2011/2010 growth rate of 2%.
Further reading:
Obituary: Steven James Meyer
January 1957 - January 2022
Technews Publishing News
It is with deep sadness and shock that we announce the sudden death of SA Instrumentation & Control Editor, Steven Meyer. Steven joined Technews in October 2007 in the position of Deputy Editor. His 
...
Read more...
---
ICASA doles out provisional RF spectrum
News
The Independent Communications Authority of South Africa (ICASA) has concluded its analysis of applications for provisional assignment of radio frequency spectrum under the new ICT Covid-19 National State 
...
Read more...
---
productronica's hybrid format a success despite restrictions
News
Following its tried and trusted biennial scheduling, productronica 2021 was held on the fairgrounds of Messe München on 16-19 November. Strict hygiene rules were observed in accordance with Covid-19 protocols, 
...
Read more...
---
Report evaluates market for Li-ion battery recycling
News
In the past, the lack of end-of-life batteries meant that the Li-ion (lithium-ion) recycling market had little opportunity to prosper. The transition to electric vehicles (EVs) is changing this. Recycling 
...
Read more...
---
RFID market research explores 2021 and what to expect for the future
News
Despite a 5% drop in the global RFID market in 2020 compared to 2019 due to the impact of Covid-19, the market has recovered well in 2021. According to the newly released RFID market research report from 
...
Read more...
---
SABS launches local content verification scheme
News
A new certification and grading scheme launched by the South African Bureau of Standards (SABS) intends to harmonise local content and local production for producers and manufacturers, levelling the playing 
...
Read more...
---
DesignSpark to host new activist engineering programme
RS Components (SA) News
RS Components has launched its DesignSpark #ActivistEngineering programme, further strengthening the company's commitment to engage and inspire design engineers across the globe to 'make amazing happen 
...
Read more...
---
October semiconductor sales up 24% over 2020
News
Global sales of semiconductors were $48,8 billion in October 2021, an increase of 24,0% from the October 2020 total of $39,4 billion and 1,1% more than the September 2021 total of $48,3 billion. Announced 
...
Read more...
---
CSIR Learning Factory supports skills development and innovation in 4IR
News
The CSIR has established a Learning Factory to support South African industries in acquiring the skills needed to maximise the benefits of the Fourth Industrial Revolution (4IR). The first online course 
...
Read more...
---
RS Components SA partners with Engineers Without Borders
RS Components (SA) News
The annual Engineering for People Design Challenge as well as the Inspiring and Building Community Leaders programmes kicked off earlier this year. The competition, now in its 10th year, is a year-long 
...
Read more...
---