William R. Hewlett, co-founder and former president of Hewlett-Packard, died at home in his sleep on 12 January. He was 87 years old.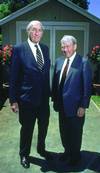 The picture shows Dave Packard (left) and Bill Hewlett in front of the legendary garage – designated the birthplace of Silicon Valley – which in 1989 became a California state historical landmark
Hewlett, who retired from active management of HP in 1978, made important contributions throughout his career in technology, science and business. Together with David Packard, who died 26 March 1996, he founded Hewlett-Packard in a one-car garage in 1939.
Their original company now consists of two multinational enterprises: Hewlett-Packard and Agilent Technologies.