printer friendly version
Advanced lithium ion battery charger features µP status interface
5 November 2003
Power Electronics / Power Management
Charging Lithium Ion (or Polymer) batteries can be a hazardous and difficult challenge. At any time during the battery's discharge cycle, a charger may be applied and unless the correct method and level of charge is applied, damage to the battery may occur. To avoid this, any charge scheme must first monitor several battery and charger parameters before determining the correct charging mode to apply.
One such charger is the AAT3680 Battery Manager from Advanced Analogic Technologies. Packaged in a small MSOP8 package, the AAT3680, with a minimal number of external components (Figure 1), provides the control and interface to correctly charge either a single cell or a two cell Lithium Ion battery pack with a single cell voltage of 4,2 V.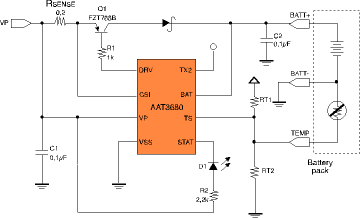 Figure 1
The charge cycle
The charge and discharge cycle of a Lithium Ion battery is shown in Figure 2. As can be seen, fully discharged, the battery voltage can be as low as 2,6 V and fully charged as high as 4,2 V. To maximise the battery lifetime and to replenish the charge as quickly as possible, a typical charging scheme will employ both constant current and constant voltage techniques and apply them at the optimum point on the discharge curve. To achieve this battery voltage, charging current, charger voltage and battery temperature must be continuously monitored. In the event of battery over-charge, over-temperature, short circuit, charger over-voltage, or charger chip over-temperature, the AAT3680 will shutdown, therefore protecting the system.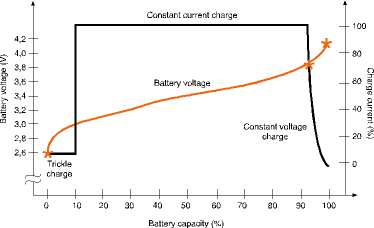 Figure 2
Operation
A typical charging sequence is as follows: Starting with a fully discharged battery, the terminal voltage can be significantly below 3 V. Charging at the full rate of charge at low battery voltages can significantly reduce the lifetime of the battery. Therefore, below 3,1 V the battery must be preconditioned and the AAT3680 applies a charging current equal to approximately 10% of the full charging current (Trickle Charge Mode). To increase the rate of conditioning, therefore reducing the charge time, the AAT3680 has an option to increase the trickle charge current by a factor of two. This will slightly increase the battery temperature, but the battery temperature monitor will ensure that accelerated conditioning will not damage the battery. Once the battery voltage reaches the 3,1 V threshold the AAT3680 will now move into constant current mode and charge the battery via an external PNP transistor at a current defined by a current sense resistor. Charging will continue in constant current mode until the battery reaches the charge regulation voltage. Here the AAT3680 moves into constant voltage mode and will continue until the charging current falls to the charge termination threshold (4,1 or 4,2 V). During this time the voltage is maintained within 1% of its final value. Charging will now cease and will not restart unless the battery voltage falls below the battery recharge voltage threshold. In either a fully charged state or when the charger is not connected, the AAT3680 will go into sleep mode consuming typically less than 3 µA. In operating mode the AAT3680 consumes a miserly 2 mA.
One of the unique features of the AAT3680 is its status pin. An open drain serial output is capable of displaying five distinct status functions with one external LED connected between the drain and charger voltage. These functions are: Sleep/Charge Complete, Over-temperature, Battery conditioning, Constant Current Mode and, Constant Voltage Mode. There are four time periods to determine a status word and with one period equal to one second, a complete word will take four seconds to display through a LED. During the power up sequence, this time period can be decreased to 40 µs allowing this status to be read by a system µcontroller in 160 µs.
Summary
The AAT3680 is an advanced Lithium Ion battery charge and management IC, specifically designed for low cost compact portable applications. Its small size and minimal external parts count make charging Lithium Ion batteries both safe and reliable. Its unique output status pin coupled with an almost negligible current drain makes it an ideal component for use in portable appliances where size, efficiency and functionality are key design parameters.
Credit(s)
Further reading:
Miniature 4,4 A boost converter
28 October 2020, iCorp Technologies , Power Electronics / Power Management
The SGM6623 from SG Micro is a general-purpose, miniature boost DC-DC switching regulator with high efficiency for battery backup and standby power systems. The acceptable input voltage range is between 
...
Read more...
---
Double the power output from new Tadiran battery
25 November 2020, Altron Arrow , Power Electronics / Power Management
Tadiran has developed the latest in its PulsesPlus HLC battery range, doubling the power output of its previous offering. Recently the company launched the C-type HLC which represented a huge improvement 
...
Read more...
---
High power-density TVS diodes
25 November 2020, Hi-Q Electronics , Circuit & System Protection
Today's modern high power-density electronics are more vulnerable to electrical stresses than ever due to component miniaturisation. High-demand, scalable electronics such as smart meters require highly 
...
Read more...
---
DIN-rail power supplies for harsh conditions
25 November 2020 , Power Electronics / Power Management
Available from Traco Power is a dedicated series of DIN-rail power solutions for harsh industrial applications. The TSP series' high immunity against electrical disturbances and rugged metal casing 
...
Read more...
---
SiC diodes for electric vehicles
25 November 2020, Altron Arrow , Power Electronics / Power Management
As vehicle electrification continues rapid growth worldwide, innovative power technologies such as silicon carbide (SiC) are required for high-voltage automotive systems ranging from motors to on-board 
...
Read more...
---
Single-cell battery charger
25 November 2020, iCorp Technologies , Power Electronics / Power Management
The SGM41511 is a battery charger and system power path management device with integrated converter and power switches for use with single-cell Li-ion or Li-polymer batteries. This highly integrated 3 A 
...
Read more...
---
Locally designed gang battery charger
25 November 2020, Seven Labs Technology , Power Electronics / Power Management
Made by Seven Labs Technology, the JuiceBar has 10 individually configurable chargers, each of which can be configured to charge the battery with a charge current of up to 2 A. What really makes the JuiceBar 
...
Read more...
---
Regenerative power system integrating two instruments
25 November 2020, Conical Technologies , Power Electronics / Power Management
The IT-M3600 regenerative power system from ITECH integrates two instruments in one, those being a bidirectional power supply and a regenerative electronic load. When used as a load, its energy recovery 
...
Read more...
---
Battery manufacturer enters South African market
25 November 2020 , Power Electronics / Power Management
Energon, a leading battery manufacturer based in Russia, has expanded its global presence to include new subsidiaries in Turkey (as the centre of a new cluster for eastern Europe, the Middle East and 
...
Read more...
---
Li-MnO2 and Li-ion batteries
25 November 2020, Surn Technologies , Power Electronics / Power Management
COROS Battery, which is located in Korea, has launched new 3,6 V Li-SOCl
2
(lithium thionyl chloride) and 3,0 V Li-MnO
2
(lithium manganese) batteries. The company's key members have extensive experience 
...
Read more...
---