printer friendly version
Advanced lithium ion battery charger features µP status interface
5 November 2003
Power Electronics / Power Management
Charging Lithium Ion (or Polymer) batteries can be a hazardous and difficult challenge. At any time during the battery's discharge cycle, a charger may be applied and unless the correct method and level of charge is applied, damage to the battery may occur. To avoid this, any charge scheme must first monitor several battery and charger parameters before determining the correct charging mode to apply.
One such charger is the AAT3680 Battery Manager from Advanced Analogic Technologies. Packaged in a small MSOP8 package, the AAT3680, with a minimal number of external components (Figure 1), provides the control and interface to correctly charge either a single cell or a two cell Lithium Ion battery pack with a single cell voltage of 4,2 V.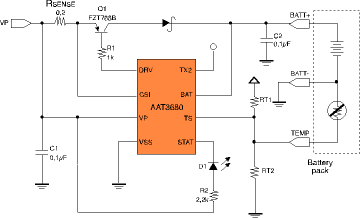 Figure 1
The charge cycle
The charge and discharge cycle of a Lithium Ion battery is shown in Figure 2. As can be seen, fully discharged, the battery voltage can be as low as 2,6 V and fully charged as high as 4,2 V. To maximise the battery lifetime and to replenish the charge as quickly as possible, a typical charging scheme will employ both constant current and constant voltage techniques and apply them at the optimum point on the discharge curve. To achieve this battery voltage, charging current, charger voltage and battery temperature must be continuously monitored. In the event of battery over-charge, over-temperature, short circuit, charger over-voltage, or charger chip over-temperature, the AAT3680 will shutdown, therefore protecting the system.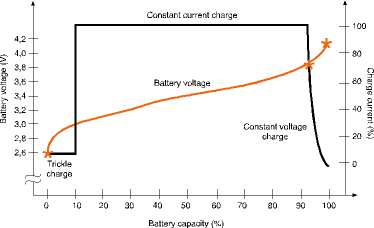 Figure 2
Operation
A typical charging sequence is as follows: Starting with a fully discharged battery, the terminal voltage can be significantly below 3 V. Charging at the full rate of charge at low battery voltages can significantly reduce the lifetime of the battery. Therefore, below 3,1 V the battery must be preconditioned and the AAT3680 applies a charging current equal to approximately 10% of the full charging current (Trickle Charge Mode). To increase the rate of conditioning, therefore reducing the charge time, the AAT3680 has an option to increase the trickle charge current by a factor of two. This will slightly increase the battery temperature, but the battery temperature monitor will ensure that accelerated conditioning will not damage the battery. Once the battery voltage reaches the 3,1 V threshold the AAT3680 will now move into constant current mode and charge the battery via an external PNP transistor at a current defined by a current sense resistor. Charging will continue in constant current mode until the battery reaches the charge regulation voltage. Here the AAT3680 moves into constant voltage mode and will continue until the charging current falls to the charge termination threshold (4,1 or 4,2 V). During this time the voltage is maintained within 1% of its final value. Charging will now cease and will not restart unless the battery voltage falls below the battery recharge voltage threshold. In either a fully charged state or when the charger is not connected, the AAT3680 will go into sleep mode consuming typically less than 3 µA. In operating mode the AAT3680 consumes a miserly 2 mA.
One of the unique features of the AAT3680 is its status pin. An open drain serial output is capable of displaying five distinct status functions with one external LED connected between the drain and charger voltage. These functions are: Sleep/Charge Complete, Over-temperature, Battery conditioning, Constant Current Mode and, Constant Voltage Mode. There are four time periods to determine a status word and with one period equal to one second, a complete word will take four seconds to display through a LED. During the power up sequence, this time period can be decreased to 40 µs allowing this status to be read by a system µcontroller in 160 µs.
Summary
The AAT3680 is an advanced Lithium Ion battery charge and management IC, specifically designed for low cost compact portable applications. Its small size and minimal external parts count make charging Lithium Ion batteries both safe and reliable. Its unique output status pin coupled with an almost negligible current drain makes it an ideal component for use in portable appliances where size, efficiency and functionality are key design parameters.
Credit(s)
Further reading:
Automotive MOSFETs in a variety of packages
29 April 2020, Altron Arrow , Power Electronics / Power Management
Reducing CO
2
emissions of passenger cars is accelerating 48 V board net adoption. For this emerging 48 V market, Infineon Technologies offers a broad portfolio of automotive 80 V and 100 V MOSFETs as 
...
Read more...
---
DC-DC converter for aerospace/defence
25 March 2020, Future Electronics , Power Electronics / Power Management
Vicor announced the DCM5614, an isolated, regulated 270 V-28 V DC-DC converter with an output power rating of 1300 W in a 142,2 x 35,6 x 9,4 mm VIA package. Providing power density of 27,52 W/cm
3
at a 
...
Read more...
---
Switchers for high-power LED displays
25 March 2020, EBV Electrolink , Power Electronics / Power Management
Power Integrations' InnoSwitch3-MX isolated switcher IC family has been expanded with the addition of three new PowiGaN devices. As part of a chipset with Power Integrations' InnoMux controller IC, the 
...
Read more...
---
Synchronous buck converter
29 April 2020, Altron Arrow , Power Electronics / Power Management
Diodes Incorporated introduced the AP62600 synchronous DC-DC buck converter for point-of-load (POL) conversion in applications such as TVs, monitors, white goods, home appliances, consumer electronics 
...
Read more...
---
Tiny step-down regulator
29 April 2020, Altron Arrow , Power Electronics / Power Management
The LTM4657 is part of Analog Devices' family of tiny, high-efficiency, identical pin-out, step-down µModule devices. The LTM4657 is designed to operate at lower switching frequencies than the LTM4626 
...
Read more...
---
Stackable DC-DC buck converter
29 April 2020, Avnet South Africa , Power Electronics / Power Management
Texas Instruments introduced a new 40 A SWIFT DC-DC buck converter, offering first-of-its-kind stackability of up to four ICs. The TPS546D24A PMBus buck converter can deliver up to 160 A of output current 
...
Read more...
---
Open-frame configurable power supplies
29 April 2020, Vepac Electronics , Power Electronics / Power Management
The RB series of configurable open-frame power supplies has been expanded. Based on a unique concept, the Cosel RB series offers three configurable isolated outputs, with one having a reinforced isolation 
...
Read more...
---
Why low quiescent current matters for longer battery life
29 April 2020, Avnet South Africa , Power Electronics / Power Management
From healthcare and biosensing to wearables and environmental sensing, nearly all IoT devices rely on batteries that must perform reliably and over an extended period of time in a variety of conditions.
Read more...
---
Bipolar DC-DC supply design sources and sinks current
29 April 2020, Altron Arrow , Power Electronics / Power Management
Most electronic systems depend on power voltage rails that are either positive or negative, but a few applications require individual rails that can be both. In these situations, positive or negative 
...
Read more...
---
DC-DC converter adds 80 W output
29 April 2020, Vepac Electronics , Power Electronics / Power Management
The popular MG series, with its 10 year warranty, has been extended again by Cosel with the addition of 80 W output models in the MGFS and MGFW family. Offering 4:1 input voltage ranges of 9-36 V or 18-76 V, 
...
Read more...
---