An active antenna is an antenna with a built in LNA (low noise amplifier) used to amplify a very weak signal. A DC voltage, somewhere between 3 and 5 V, typically feed these antennas with a current consumption usually below 50 mA.
Active antennas will be used in satellite receivers, GSM phones, and mobile GPS units and in combination antennas applications, combining for example, both GPS and GSM functions in a common aerial.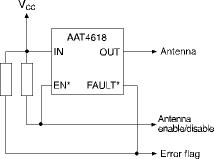 Implementation for a satellite receiver
For both satellite and GSM receivers AATI has been designed in with the SmartSwitch family from Advanced Analogic Technologies. The engineer requires a switch that powers the antenna while at the same time limiting the current in short circuit conditions. Active antennas are usually external devices making the system more vulnerable to damage in connectors, etc, and hence protection is needed. The AAT4610A and AAT4618 devices are examples of products suited to this application. The very low RDS (on) of the SmartSwitch ensures that full power is delivered to the antenna and not wasted in the switch, while the current limit protects both the antenna and the power supply from damage.
The AAT4610A has the advantage that the current limit can be programmed with an external resistor to very low values down to 130 mA. The AAT4618 provides a fault flag that indicates to the system if the antenna is short-circuited. Several other product options are also available.
As an alternative to a SmartSwitch one could use a low noise LDO, such as the AAT3215. With a built in current limit, the antennas will be protected from short-circuits and the enable pin could be used to control the power to the antenna.