printer friendly version
MCU for portable medical devices draws very low power
19 May 2004 DSP, Micros & Memory Products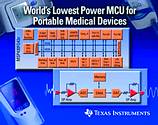 Designers of portable medical applications can now simplify their designs and reduce time to market using a new chip from Texas Instruments. Said to be the industry's first single-chip, ultra-low power microcontroller for these applications, the MSP430FG43x family, optimised for portable medical devices, can help designers meet application requirements without having to rely on multichip solutions.
Three precision operational amplifiers make the signal-chain-on-chip (SCoC) MSP430FG43x family highly suited for applications such as personal blood pressure monitors and pulsoxy, pH and glucose meters. The family offers MCU configurations with nine timer channels, a 200 kSaps high performance 12 bit ADC, dual 12 bit DAC, three configurable precision op-amps, one universal sync/async comms interface (USART), 48 I/O pins, a 128-segment LCD driver, with memory configurations of up to 60 KB of Flash and 2 KB of RAM.
To ensure the robustness of an application, a zero-power brown-out reset function, supply voltage supervisor and fail-safe clock system are provided. An integrated direct memory access (DMA) controller increases the signal processing capabilities. The expanded DMA, with triggers from all peripherals, accelerates mixed-signal processing by providing sophisticated data transfer without CPU interaction. With a flexible clock system with five low-power modes, ultra-low-power performance is achieved. The MSP430FG43x family features a typical standby current consumption as low as 1,1 µA with a realtime-clock function active.
The MSP430FG43x devices are fully compatible with the MSP-FET430P430 toolkit, which includes a JTAG interface, target board, Flash devices and a complete integrated development environment including a debugger, assembler/linker and limited C-compiler. The tool supports realtime in-system development, accessing the Flash device's embedded emulation including programming, full-speed, breakpoint and trace capabilities.
Further reading:
Fujitsu FRAM and ReRAM now available from Mouser
TRX Electronics DSP, Micros & Memory
Fujitsu Semiconductor Memory Solution's ferroelectric random access memory (FRAM) and large-density resistive random access memory (ReRAM) products are now being distributed by Mouser Electronics. Fujitsu 
...
Read more...
---
Functional safety packages for Microchip MCUs and DSCs
EBV Electrolink DSP, Micros & Memory
Safety is a primary concern in automotive applications to ensure reliable operation and end users' wellbeing. Microchip Technology is offering newly certified functional safety packages to enable engineers 
...
Read more...
---
MCU with enhanced security and innovative sensing features
EBV Electrolink DSP, Micros & Memory
Enabled with Bluetooth Low Energy wireless connectivity, onsemi's new low-power RSL15 microcontroller (MCU) addresses the growing demand of connected industrial applications for security without sacrificing 
...
Read more...
---
Turnstar ramps up countermeasures
Turnstar Systems Editor's Choice Access Control & Identity Management News Products
Turnstar has developed and patented an early warning and deterrent system which will alert security, and anyone nearby, of any attempt to place ramps over the raised spikes.
Read more...
---
Discovery kit for IoT nodes using STM32U5 MCU
Altron Arrow DSP, Micros & Memory
The B-U585I-IOT02A Discovery kit provides a complete demonstration and development platform for STMicroelectronics' STM32U585AI microcontroller, featuring an Arm Cortex-M33 core with Arm TrustZone and 
...
Read more...
---
200 MHz MCUs backed by TrustZone security
Hi-Q Electronics DSP, Micros & Memory
Renesas Electronics now offers a 200 MHz RA6E1 microcontroller (MCU) which uses a high-performance Arm Cortex M33 core and TrustZone. The device is built on a highly efficient 40 nm process and supported 
...
Read more...
---
32-bit MCU for IoT edge applications
NuVision Electronics DSP, Micros & Memory
Silicon Labs launched the EFM32PG22 (PG22) 32-bit microcontroller (MCU), a low-cost, high-performance solution with an optimised combination of energy efficiency, performance and security. With easy-to-use, 
...
Read more...
---
Crossover MCU with 3D camera
EBV Electrolink DSP, Micros & Memory
NXP Semiconductors has announced the expansion of its NXP EdgeReady solution portfolio, adding a solution for secure face recognition that leverages a high-performance 3D structured light module (SLM) 
...
Read more...
---
The Genius electronic advertising barrier
BoomGate Systems Access Control & Identity Management Products
The Genius Electronic Advertising Vehicle Barrier does not only protect and control access of shopping centres across South Africa, but it also offers advertising space for the retail sector.
Read more...
---
Object monitoring technology
Dahua Technology South Africa Government and Parastatal (Industry) CCTV, Surveillance & Remote Monitoring Integrated Solutions Products
Powered by deep learning algorithms, the WizMind 5 Series can accurately detect six types of objects: luggage bag, backpack, box, shopping bag, bicycle and motorbike.
Read more...
---