printer friendly version
GPS survey system uses wireless modem to get centimetre-precise position
19 May 2004
Telecoms, Datacoms, Wireless, IoT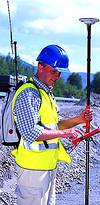 The Global Positioning System (GPS) is funded by and controlled by the US Department of Defense (DoD). While there are many thousands of civil users of GPSs worldwide, the system was designed for and is operated by the US military. The GPS provides specially coded satellite signals that can be processed in a GPS receiver, enabling the computing of the object's position, velocity and time.
The nominal GPS constellation consists of 24 satellites that orbit the earth in 12 hours. There are often more than 24 operational satellites as new ones are launched to replace older satellites.
The Leica Geosystems GPS receiver SR530 is a 24-channel, dual-frequency receiver with Satelline-3AS modems from Satel for highest accuracy and on-board RTK. RTK (RealTimeKinematic) means measuring the position with centimetre accuracy in realtime. The system includes a reference station and a rover. The reference (base) station sends position corrections data to the rover. Because the base is set at a known point, it calculates corrections (positioning errors) from satellite data. The rover is normally a few kilometres away from the base, so corrections are the same to the base and rover.

The Satelline modem is a good choice for datalink between the base (Satelline-3AS Epic, 10 W) and rover (Satelline-3AS). The Base datalink transmits data at one second intervals. The Satelline modems are included in the menu so the operator can use them as the default datalink. The surveyor can also change the frequency using the SR530 sensors software.
The Finnish Communications Regulatory Authority provides frequencies for use in the Satelline. If customers have stationary reference stations at the Satelline frequency they must request and get permission from FCRA. Sometimes it happens that there are other systems at the same or almost same frequency near the surveying area. This could cause misunderstanding or errors in the field. Leica's software can handle this problem. The surveyor can change the frequency temporarily from the control panel. This is a great help to engineering and consulting companies who survey all over the country using GPS.
The rover calculates the position with an accuracy of one centimetre. Leica uses the ClearTrack technology in System500 receivers. This means fast and reliable positioning, with high accuracy. In normal conditions it takes only a few seconds to get accurate 3D coordinates. Leica Geosystems has made a housing for the Satelline-3AS modem. There are no cables or wires, the housing is fixed directly to the sensor's port. Although it may sound unimportant that there are no wires, those who have measured in a forest or some other difficult area know that cables are usually the first to break and if there is no extra cable available, it costs a lot to find a new one and to go surveying again. Difficult measuring areas are normally the places where GPS is needed the most.
One large customer, the National Board of Survey (NLS), has 60 System500 GPS and Satelline modems. Many municipal surveying departments use Leica with Satelline. One customer surveys up to 30 km from base with Leica GPS and a Satelline modem.
For more information contact Satel SA, 011 887 2898.
Further reading:
Connectivity for IoT devices with SoftSIM
Otto Wireless Solutions Telecoms, Datacoms, Wireless, IoT
IoT device vendors are facing more and more complex cellular connectivity issues these days. Manufacturing is often outsourced to third-party factories and finished devices are being distributed to many 
...
Read more...
---
High-power GaN RF amplifier
RFiber Solutions Telecoms, Datacoms, Wireless, IoT
The CHA7618-99F is a three-stage GaN high-power amplifier (HPA) in the frequency band 5,5-18 GHz. This United Monolithic Semiconductors HPA typically provides 10 W of output power allied with 20% of power-added 
...
Read more...
---
ExpressLink modules for secure connectivity to AWS Cloud
RF Design Telecoms, Datacoms, Wireless, IoT
u-blox has announced two new modules designed to enable Amazon Web Services (AWS) cloud services for device and fleet management out of the box: the NORA-W2 AWS IoT ExpressLink Wi-Fi module and the SARA-R5 
...
Read more...
---
Cellular antenna for 4G/LTE and 5G NR
iCorp Technologies Telecoms, Datacoms, Wireless, IoT
Antenova's new 'Affini' (part number SRFL064) is a flexible printed circuit (FPC) antenna for the LTE, 4G and 5G NR networks in global markets. This antenna covers all main 4G bands plus 617-698 MHz which 
...
Read more...
---
Passive MMIC diplexer
RF Design Telecoms, Datacoms, Wireless, IoT
The MDPX-0710 from Marki Microwave is a passive MMIC diplexer with passbands from DC to 7 GHz (low band) and 10 to 26,5 GHz (high band). It has an insertion loss of less than 0,9 dB within its passbands 
...
Read more...
---
Automotive-grade GNSS signal splitter
RF Design Telecoms, Datacoms, Wireless, IoT
Tallysman Wireless has added the TW162A automotive-grade 'Smart Power' GNSS signal splitter to its line of GNSS accessories. The device supports the full GNSS spectrum: GPS/QZSS-L1/L2/L5, QZSS-L6, GLONASS-G1/G2/G3, 
...
Read more...
---
u-blox extends 'bring your own SIM' approach to MQTT
RF Design Telecoms, Datacoms, Wireless, IoT
u-blox has introduced a service that gives IoT sensor network developers the flexibility to combine any cellular connectivity with all the benefits of MQTT communication. The u-blox MQTT Flex service 
...
Read more...
---
GNSS correction service receivers for cm-level accuracy
RF Design Telecoms, Datacoms, Wireless, IoT
For designers who require reliable centimetre-level positioning accuracy, e.g. for the industrial navigation and robotics markets, a new suite of products and feature additions have been rolled out by 
...
Read more...
---
4xMIMO cross-polarised antenna
RF Design Telecoms, Datacoms, Wireless, IoT
The TGX.04 from Taoglas is a 5G/4G 4xMIMO dipole antenna that operates from 450 to 6000 MHz. It supports worldwide sub-6 GHz cellular bands including 5G NR, LTE, NB-IoT, etc. This cross-polarised 
...
Read more...
---
High-linearity, multi-octave RF mixers for up to 40 GHz
RF Design Telecoms, Datacoms, Wireless, IoT
Two new SMT-packaged multi-octave RF mixers featuring high linearity and broad bandwidths have been added to Marki Microwave's stable of products. The MM1-1040HPSM is an ideal choice for 5G signal 
...
Read more...
---