printer friendly version
Voice tagger wire tracing system
19 May 2004
Test & Measurement

The Tempo Voice Tagger is a wire tracing system that can be used to identify eight to 16 wires at a time. This is especially useful when working with groups of wires that fan out to various locations. An example is cable TV drops in an apartment building. The Voice Tagger uses human voice numbering to 'tag' the traced wires, making it easy to distinguish them using any standard pair tracing probe.
In the example (pictured) the Voice Tagger is used to identify the drops to six different apartments from a group of coax cables in the entrance room. The cables were not marked when they were pulled through the walls. Voice Tagger leads 1 through 6 are connected to the centre conductors of cables labelled 1 through 6, and the green ground lead is connected to a nearby ground. When touching the cable end in each apartment with a standard tone probe (like the Tempo 200EP or 200FP) the cable number will be heard. In the case shown, Apartment E corresponds to cable 5, and the words '... five, five, five ...' can be heard from the probe speaker. Though it is possible to trace by putting the signal on unterminated shields, the best results are obtained by using the centre conductors.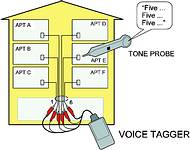 The Voice Tagger also provides a standard warble tone trace signal 460/920 Hz. The signals are compatible with voice twisted pair, Category 5 or 6 data cable, coaxial cable and non-energised electrical wiring. Powered by one 9 V battery, the 140 mm long device is 70 mm wide and 32 mm high.
For more information contact Powertel Telecom & Trade, 011 271 0232.
Further reading:
Approval for industry-first 3GPP Release 16 protocol conformance test
Coral-i Solutions Test & Measurement
The Conformance Agreement Group (CAG) operated by the Global Certification Forum (GCF) approved the industry's first Release 16 Protocol Conformance tests for 5G New Radio (NR) at the CAG#68 meetings 
...
Read more...
---
Keysight delivers easily accessible e-learning content
Concilium Technologies Test & Measurement
Recently premiered by Keysight Technologies, Keysight University is an interactive online platform for engineers to learn about test and measurement fundamentals, engineering design tips and best practices 
...
Read more...
---
Modular, portable 5G RF spectrum analyser
Test & Measurement
EXFO recently introduced the 5GPro spectrum analyser, representing what it claims is the only modular, field-focused RF testing solution providing accurate visibility into 4G/LTE and 5G NR environments 
...
Read more...
---
New Microchip in-circuit emulator
Altron Arrow Test & Measurement
Embedded engineers seeking complete analysis of projects for rapid development require easy-to-use yet powerful emulation hardware. Microchip Technology has accordingly announced the MPLAB ICE 4 next-generation 
...
Read more...
---
RF receiver for spectrum regulators
Measuretest Test & Measurement
CRFS announced the launch of a new high-performance RF receiver, the RFeye Node 40-8, specifically designed to meet the needs of communications regulators. With a 40 MHz instantaneous bandwidth and 9 kHz 
...
Read more...
---
Single-instrument test solution for 5G IoT verification
Coral-i Solutions Test & Measurement
Anritsu has introduced the radio communication test station MT8000A 5G entry model, a single-instrument solution that supports multiple radio access technologies (RATs) of LTE through 5G NR. The 5G entry 
...
Read more...
---
Mixed-signal oscilloscopes with flexible resolutions
Comtest Test & Measurement
Pico Technology released the PicoScope 6000E Series FlexRes oscilloscopes, featuring eight channels with 500 MHz bandwidth, 16 digital channels and resolution of 8, 10 or 12 bits. The products work with 
...
Read more...
---
Critical airborne system testing from a single device
Measuretest Test & Measurement
New from Viavi Solutions is the AVX-10K flight line test set, enabling comprehensive performance verification testing of critical airborne systems from a simple-to-use device. The instrument helps avionics 
...
Read more...
---
PTP wander measurement for improved 5G network synchronisation
Coral-i Solutions Test & Measurement
Anritsu has added a function for PTP wander – a metric for evaluating frequency variations as low as 10 Hz with respect to the PTP (precision time protocol) network time synchronisation error – to the 
...
Read more...
---
IO Ninja adds flexibility with capabilities and subscriptions
RF Design Test & Measurement
The release of IO Ninja version 5.0 marks an opportune point for embedded designers to join the scores of professionals who have already adopted IO Ninja at Facebook, Siemens, Mitsubishi and many other 
...
Read more...
---