printer friendly version
High altitude platforms to provide broadband for all
19 May 2004
News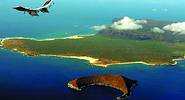 An international project led by York University aims to make broadband available to remote rural areas and even moving trains, thanks to high altitude platforms (HAPs).
These HAPs will be airships or solar-powered aircraft that are permanently located in the skies at an altitude of 20 km, above the altitudes at which aircraft normally operate but below that of satellites.
Said to promise lower cost and better efficiency than present technologies, HAPs do not require underground cabling or masts - which can be both expensive and inconvenient - to deliver broadband. They are also better able to serve mass markets with high-speed communications than satellites are. Ideal for rural, suburban and other hard-to-reach areas, the HAP technology will also benefit users who are on the move.
"The opportunities offered by HAPs are exciting," said York University's Dr David Grace, the project's principal scientific officer. "Demand for fast communication is increasing all over the world and this technology offers a unique way of delivering broadband inexpensively to people wherever they are."
Connections will be 2000 times faster than via a traditional modem and 200 times faster than today's wired ADSL broadband. The project, which is known as Capanina, is investigating the most effective way to operate wireless communication links via HAPs, including fast propagation and resource management. The systems will include steerable antennas and the latest digital signal processing.
York Electronics Centre is coordinating the international research. The other 13 European and Japanese partners specialise in various aspects, including the development and construction of equipment for trials, the creation of business models, and free-space optical communications. The first objective of the Capanina project is to deliver high-speed broadband connections to rural areas across Europe. The team hopes to achieve this in the next four years. Ultimately, they will look at delivering broadband to moving trains. This will involve the use of 'smart' antenna systems that link with access points on the train giving passengers with laptops high-speed Internet via 'Wi-Fi'.
For more information contact David Grace, University of York, dg@ohm.york.ac.uk, www.capanina.org
Further reading:
Obituary: Steven James Meyer
January 1957 - January 2022
Technews Publishing News
It is with deep sadness and shock that we announce the sudden death of SA Instrumentation & Control Editor, Steven Meyer. Steven joined Technews in October 2007 in the position of Deputy Editor. His 
...
Read more...
---
ICASA doles out provisional RF spectrum
News
The Independent Communications Authority of South Africa (ICASA) has concluded its analysis of applications for provisional assignment of radio frequency spectrum under the new ICT Covid-19 National State 
...
Read more...
---
productronica's hybrid format a success despite restrictions
News
Following its tried and trusted biennial scheduling, productronica 2021 was held on the fairgrounds of Messe München on 16-19 November. Strict hygiene rules were observed in accordance with Covid-19 protocols, 
...
Read more...
---
Report evaluates market for Li-ion battery recycling
News
In the past, the lack of end-of-life batteries meant that the Li-ion (lithium-ion) recycling market had little opportunity to prosper. The transition to electric vehicles (EVs) is changing this. Recycling 
...
Read more...
---
RFID market research explores 2021 and what to expect for the future
News
Despite a 5% drop in the global RFID market in 2020 compared to 2019 due to the impact of Covid-19, the market has recovered well in 2021. According to the newly released RFID market research report from 
...
Read more...
---
SABS launches local content verification scheme
News
A new certification and grading scheme launched by the South African Bureau of Standards (SABS) intends to harmonise local content and local production for producers and manufacturers, levelling the playing 
...
Read more...
---
DesignSpark to host new activist engineering programme
RS Components (SA) News
RS Components has launched its DesignSpark #ActivistEngineering programme, further strengthening the company's commitment to engage and inspire design engineers across the globe to 'make amazing happen 
...
Read more...
---
October semiconductor sales up 24% over 2020
News
Global sales of semiconductors were $48,8 billion in October 2021, an increase of 24,0% from the October 2020 total of $39,4 billion and 1,1% more than the September 2021 total of $48,3 billion. Announced 
...
Read more...
---
CSIR Learning Factory supports skills development and innovation in 4IR
News
The CSIR has established a Learning Factory to support South African industries in acquiring the skills needed to maximise the benefits of the Fourth Industrial Revolution (4IR). The first online course 
...
Read more...
---
RS Components SA partners with Engineers Without Borders
RS Components (SA) News
The annual Engineering for People Design Challenge as well as the Inspiring and Building Community Leaders programmes kicked off earlier this year. The competition, now in its 10th year, is a year-long 
...
Read more...
---