printer friendly version
Vehicle uses innovative new exterior lighting lamps
6 October 2004
Electronics Technology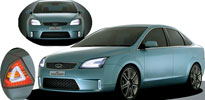 Ford Australia's new generation 'Focus Concept' car that was exhibited in Auto China Motor Show 2004 uses innovative exterior lighting lamps based on the latest LED products from Osram Opto Semiconductors.
High-power white LEDs in Osram's Golden Dragon series are implemented in a modern shape of headlights creating cool white light output. The LEDs provide a concentrated light at 20 to 40 lumens from an operating current of 350 mA. Depending on the application and ambient conditions, this white SMT LED will last up to 50 000 hours.
A distinct advantage of the Golden Dragon series is high light output from a small footprint which allowed Ford engineers to implement a front turn indicator lamp in a linear light shape produced by a number of yellow Golden Dragon LEDs. The futuristic rear combination lamp uses both Osram's Golden Dragon and Power Topled devices. These latest generation LEDs allowed Ford designers to realise 3-dimensional lamp design creating the image of technological innovation as well as increasing reliability and efficiency of the entire lighting solution.
An innovative delta shape reverse lamp is based on the White Power Topled creating a smooth white light operating at a relatively low current. The high light output brake light is produced from the Osram Golden Dragon devices in amber colour. The tail and indicator light with the high efficiency Power Topled (40 lm/W) have an even smaller footprint (3,4 x 3 mm) than the Golden Dragon (11,2 x 6,2 mm) and so give designers a lot of flexibility to express their creativity.
Credit(s)
Further reading:
maXTouch touchscreen controller for various aspect ratios
EBV Electrolink Analogue, Mixed Signal, LSI
As the automotive market continues to demand larger touchscreens with more flexibility in size and shape, Microchip Technology is announcing a new maXTouch touchscreen controller that allows automotive 
...
Read more...
---
Embedded vision development tool for RISC-V FPGA
EBV Electrolink Programmable Logic
Microchip Technology announced the second development tool offering in its Smart Embedded Vision initiative for designers using its PolarFire RISC-V system-on-chip (SoC) FPGA. The industry's lowest-power 
...
Read more...
---
Wireless asset tag supporting Quuppa RTLS
EBV Electrolink Telecoms, Datacoms, Wireless, IoT
onsemi unveiled a new system solution that overcomes the main challenges associated with developing asset tracking tags. Battery life has been a major obstacle to asset tag adoption, particularly within 
...
Read more...
---
Crossover MCU with 3D camera
EBV Electrolink DSP, Micros & Memory
NXP Semiconductors has announced the expansion of its NXP EdgeReady solution portfolio, adding a solution for secure face recognition that leverages a high-performance 3D structured light module (SLM) 
...
Read more...
---
Totem pole PFC controller
EBV Electrolink Power Electronics / Power Management
A new addition was made to ON Semiconductor's solution set for ultra-high density offline power supplies in the form of the NCP1680, a dedicated critical conduction mode totem pole PFC controller. It 
...
Read more...
---
Compact offline switcher ICs
EBV Electrolink Power Electronics / Power Management
Power Integrations introduced LinkSwitch-TNZ, a new switching power supply IC that combines offline power conversion, lossless zero-crossing detection and optionally, X-capacitor discharge functions in 
...
Read more...
---
Capacitive touchscreen controllers
EBV Electrolink Analogue, Mixed Signal, LSI
Microchip Technology is adding two new members to its family of IEC/UL 60730 Class B certified touchscreen controllers. The new MXT448UD-HA and MXT640UD-HA extend the Class B portfolio of devices beyond 
...
Read more...
---
LPWAN markets and applications
Avnet Silica EBV Electrolink Technews Publishing Telecoms, Datacoms, Wireless, IoT
In South Africa, the large installed base of IoT devices using legacy telecommunication protocols is a hindrance to the advancement of LPWAN and the continued kerfuffle over radio frequency spectrum is hampering this market.
Read more...
---
Time-of-flight multi-zone ranging sensor
EBV Electrolink Opto-Electronics
STMicroelectronics has announced the first multi-zone FlightSense time-of-flight sensor to be offered for general-purpose applications, bringing sophisticated distance sensing to the full spectrum of 
...
Read more...
---
Baseless power modules qualified for aerospace use
EBV Electrolink Power Electronics / Power Management
In the race to reduce aircraft emissions, developers are increasingly moving toward more efficient designs, including electrical systems that replace today's pneumatics and hydraulics powering everything 
...
Read more...
---