printer friendly version
Pin-in-paste connectors reduce applied cost
6 October 2004
Interconnection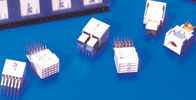 Designed to be compatible with standard pin-in-paste (PIP) SMT processes, Metral TINT back panel receptacles from FCI eliminate costly secondary assembly operations including heat staking, wave soldering or press fitting.
Available in 4-row (24 position) and 5-row (30 position) sizes, the Metral TINT receptacles are based on the popular standard Metral connector range, conforming to the 2 mm pitch IEC61076-4-104 specification.
PIP process compatible, the receptacles can be reflow soldered in the same operation as smaller active and passive SMT components.
The sharp and symmetrical nature of the receptacle's rigid tail tips and integral location and force retention pegs simplifies mounting.
To take account of the needs of standard pick-and-place machinery, Metral TINT receptacles feature a one piece rigid plastic housing that not only offers a large usable target area to a vacuum nozzle, but which also presents a front and rear surface for the use of mechanical grippers. Unlike smaller SM components, the weight of the receptacle and the complexity of its pinout requires its position to be better controlled during soldering. The location and retention pegs of the Metral TINT receptacle have therefore been designed to cope with a mounting force of 20 N, and to keep the connector in place after mounting and before soldering with a force of 5 N. In most cases, the locating pegs and the large diameter, round section solder tails of the receptacle are sufficient to carry handling, mating and unmating forces.
Certain product designs do, however, require additional retention force. FCI's PIP compatible receptacle therefore offers the option of a hold down feature plate for soldering to a corresponding pad on the board.
Further reading:
High-reliability power connector with 8,5 mm pitch
Avnet Abacus Interconnection
Allowing designers to specify high current and high quality for maximum power in extreme conditions, the Kona connector from Harwin features tough, resilient housings to protect connections from physical 
...
Read more...
---
Host of updates rolled out to Samtec's website
Spectrum Concepts Interconnection
Samtec added a slew of updates and new features to its website (www.samtec.com) in October, as several projects wrapped up and were pushed live to the site. These included a new design for its 'tech specs' 
...
Read more...
---
27 GHz SMA interconnect products
TRX Electronics Interconnection
Mouser Electronics is now stocking EP-SMA 27 GHz connectors, adaptors and cable assemblies from TE Connectivity. The portfolio provides engineers with increased bandwidth, power and performance that are 
...
Read more...
---
Ruggedised precision VNA test cables
Hiconnex Interconnection
The TestPro VNA series provides customers with a reliable, ruggedised solution for lab and production vector network analyser (VNA) testing. With options for 50 GHz and 67 GHz, these cables offer cost-leading 
...
Read more...
---
Adaptor sleeves for heavy-duty connectors
Phoenix Contact Interconnection
HC-CES adaptor sleeves from Phoenix Contact enable the easy and time-saving connection of a large range of conductors in the company's Heavycon heavy-duty connector series. The new adaptors replace 
...
Read more...
---
Ultra-miniature coaxial connectors
Otto Marketing Interconnection
Hirose Electric has released its X.FL coaxial wire-to-board and board-to-board series. The ultra-miniature wire-to-board versions offer a low profile of 0,94 mm combined with high performance to meet 
...
Read more...
---
Circular industrial Ethernet connectors
RS Components (SA) Interconnection
RS Components has announced availability of a complete series of circular connectors manufactured by Conec Elektronische Bauelemente, part of the Amphenol Group.    Featuring 0,8&nbps;mm diameter contact pins, 
...
Read more...
---
Additional pin counts for MicroSpeed connectors
Actum Group Interconnection
ERNI expanded its MicroSpeed product family in the signal area to include variants with the additional pin counts of 26, 32 and 44. Unshielded connectors were also added to the power supply group.  
...
Read more...
---
Interconnect system with 1,0 mm centreline
TRX Electronics Interconnection
Mouser Electronics is now stocking the AMPMODU 1,0 mm centreline interconnect system from TE Connectivity (TE). This interconnect system offers an 85% space saving on the board when compared to the 
...
Read more...
---
Connector search spits out mated connector set in seconds
Spectrum Concepts Interconnection
Samtec has a multitude of ways to stack two or more boards together, thanks to a manufacturing process that allows it to position the plastic body on the terminal pin in increments of 0,13 mm on standard 
...
Read more...
---