The Nedbank Golf Challenge at Sun City is one of the highlights of the world golfing circuit. Miro Distribution, a distributor of Poynting Antennas, installed the wireless networks that linked together the leaderboards placed at certain greens on the golf course.
The network consisted of 14 nodes, of which 12 were at the different leaderboards, one at the control room and at the 18th green, and all linked via the Telkom Tower overlooking Sun City.
According to Bertus van Jaarsveld, CEO of Miro, they decided to use the BridgePoynt WLAN units and the Poynting antennas in this installation as they are dependable and easy to use. A 2,4 GHz Yagi with 12 dBi gain were used at each of the 12 leader boards as well as the control room. These all pointed to a Sector antenna with 10 dBi gain that was placed on the Telkom Tower. The Sector was linked to a BridgePoynt with a short length of low loss cable. This BridgePoynt contained the SENAO electronics that Miro distributes. By placing the electronics close to the antenna, the losses through the cable are minimised and the antenna is used at its optimum. The electronics are linked to the rest of the network via CAT5 cable.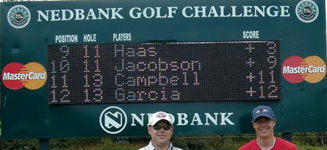 Bertus van Jaarsveld and Chris Sutherland of Miro in front of one of the leaderboards
Chris Sutherland of Miro was responsible for the installation at Sun City and said that the Sector and Yagi's easily communicated over the ±5 km between the Telkom Tower and the furthest leaderboard. As he only had one day to do the complete installation he said he was impressed with how easy it was to install the units. Their brackets made the alignment very quick and easy to deploy.
For more information contact Ylana Haarhoff, Poynting Antennas, +27 (0)11 262 5155, ylana.haarhoff@poynting.co.za