printer friendly version
Industrial keyboards
9 March 2005
Switches, Relays & Keypads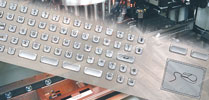 A range of very rugged keyboards and pointing devices that are suitable for machine controls in hostile industrial environments, is offered by EAO. Sealed to IP 67, they resist penetration by large volumes of dust and liquids, making them suitable for internal or external use. They are suited for industrial PCs, machinery and process control equipment in factory environments where they must withstand harsh treatment and regular sanitation procedures.
These keyboards can be used on exterior applications, such as fuel monitoring equipment, as well as portable or mobile machinery. They offer high levels of vibration resistance (5-200 Hz) and are protected against shock levels (3-axis, 150 m/s², 11 ms).
Despite its rugged stainless-steel and zinc-alloy build, the keyboard has a smooth, 1,5 mm short-travel key stroke which enhances high-speed typing; and strong, tactile feedback can be detected even through gloved hands. The keys cannot be pulled off and are non-flammable; they are finished in matt chrome and laser engraved for high-definition marking that will not corrode or wear off.
EAO offers a choice of pointing devices: trackballs or touchpads, which can either be supplied as separate modules or integrated within the keyboard.
Further reading:
Tactile switches for demanding applications
29 April 2020, Brabek , Interconnection, Switches, Relays & Keypads
The Multimec switch from APEM has been designed with the intention to manufacture the best possible switch. The company's automatic production lines have 100% in-line testing, but before the parts get 
...
Read more...
---
Waveguide electromechanical relay switches
26 February 2020, RF Design , Switches, Relays & Keypads
Pasternack has just launched a new series of double ridge waveguide electromechanical relay switches which perform over broader frequency bands, making them ideal for applications involved with electronic 
...
Read more...
---
Illuminated pushbutton switches
25 November 2019, TRX Electronics , Switches, Relays & Keypads
The KLS series expands C&K Switches' product offering in the LED pushbutton family. It meets the market requirements for haptics and sound with clear 'click' feedback. With various cap options and bright 
...
Read more...
---
Connectors for automotive electronics
31 July 2019, TRX Electronics , Switches, Relays & Keypads
TE Connectivity's HDSCS connector series is designed to meet the rigorous demands of the commercial vehicle industry and off-road applications that require high standards of performance. Made from a rugged 
...
Read more...
---
SP4T switch matrix
26 June 2019, Conical Technologies , Switches, Relays & Keypads
Mini-Circuits announced the release of the latest addition to its test system lineup, the RC-2SP4T-40 USB and Ethernet controlled single-pole four-throw switching matrix. This new device is fitted with 
...
Read more...
---
Wi-Fi microcontroller
29 May 2019, iCorp Technologies , DSP, Micros & Memory, Switches, Relays & Keypads
The ESP32-S2 from Espressif Systems is a highly integrated, low-power, 2,4 GHz Wi-Fi microcontroller SoC (system-on-chip) supporting Wi-Fi HT40 and 43 general-purpose I/Os. Based on an Xtensa single-core 
...
Read more...
---
Miniature slide switches
29 May 2019, Wiltron Agencies , Switches, Relays & Keypads
Hartmann Codier's new SR254 product range of slide switches provides variants in horizontal and vertical versions that can be used as on, off, or change-over switches with contact wiping on make and break. 
...
Read more...
---
DIN-rail mounted SSRs
30 April 2019, TRX Electronics , Switches, Relays & Keypads
Crydom's SeriesOne DIN-rail mounted AC and DC output solid state relays (SSRs) offer a cost-effective combination of size and ratings thanks to their patent-pending design. The product line includes single-channel 
...
Read more...
---
Dual-circuit tact switch
27 March 2019, TRX Electronics , Switches, Relays & Keypads
C&K has extended its KSC range of tactile switches with the addition of a new dual-circuit model. The new KSC-DCT tact switches offer single-pole double-throw, normally-closed normally-open dual-circuit 
...
Read more...
---
Multi-axis joystick
27 March 2019, Brabek , Switches, Relays & Keypads
New from APEM is the JC series multi-axis, Hall-effect joystick. Designed specifically for keyboard integration, the JC series measures just 26 mm below the panel, making it ideal where space is limited 
...
Read more...
---