printer friendly version
Concentrated power for variable installations
9 March 2005
Interconnection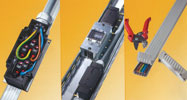 Wieland's flat cable system, the gesis NRG, can be described as a 'flexible power rail', which serves as a central supply bridge for efficient installations. It is compatible with the company's gesis CON connector system.
Usually, rigid power rails have often been the only solution for applications under high power. Their high mounting effort left little space for flexibility - both for installation changes and for power supply to additional consumer devices. Now, gesis NRG can offer fast lay-out and tapping in any place, even for later installation without any problems, says the company.
The 5x10 mm² or 5x16 mm² flat cables can be laid out fast and easily, eg, in existing cable ducts. In contrast to rigid power rails, the flat cable optimally adapts to the architectural design. Special adapters allow supply and tapping in any place without having to interrupt the line. The Wieland technology uses V-screws for the connection components, turning them in through the cable sheath and thus contacting the wires. This method avoids time-consuming cutting to length, stripping and clamping of the individual wires.
This flat cable system is specially valuable for complicated installations, as they can be implemented even more flexibly and economically. Its compatibility with the gesis CON connector system is beneficial too: power is led through the flexible power rail directly to the consumer devices, which are supplied by the pluggable gesis CON system. This saves on cable lengths and reduces the installation costs.
The Wieland system enables installations from 16 A through 63 A, which are implemented as one consistent pluggable system.
Credit(s)
Further reading:
Enabling cloud connectivity to all Microchip MCUs and MPUs
25 March 2020, Avnet South Africa , DSP, Micros & Memory
Due to the fragmented nature of the Internet of Things (IoT) marketplace, increasing project complexity and costs, today's developers face more challenges in design decisions than ever before. These challenges 
...
Read more...
---
High-density ZIF connectors
25 March 2020, IPD Electronics , Interconnection
Available from IPD Electronics through its distribution agreement with PEI-Genesis, ITT Cannon's DL connector family is a versatile, high-density zero insertion force (ZIF) connector series with up to 
...
Read more...
---
2 mm connectors for board signal transfers
29 April 2020, TRX Electronics , Interconnection
TE Connectivity is expanding its range of AMPMODU interconnection solutions with the introduction of 2 mm centreline board connectors. These new connectors occupy 38% less space than traditional 2,54 
...
Read more...
---
Stackable DC-DC buck converter
29 April 2020, Avnet South Africa , Power Electronics / Power Management
Texas Instruments introduced a new 40 A SWIFT DC-DC buck converter, offering first-of-its-kind stackability of up to four ICs. The TPS546D24A PMBus buck converter can deliver up to 160 A of output current 
...
Read more...
---
Tactile switches for demanding applications
29 April 2020, Brabek , Interconnection, Switches, Relays & Keypads
The Multimec switch from APEM has been designed with the intention to manufacture the best possible switch. The company's automatic production lines have 100% in-line testing, but before the parts get 
...
Read more...
---
RF connectors and cable assemblies
25 March 2020, IPD Electronics , Interconnection
Sure-Seal's RF connector series offers an excellent waterproof connector solution for harsh environment communication systems. Connectors and cable assemblies are available in a variety of permutations 
...
Read more...
---
High-temperature power connectors
29 April 2020, Otto Marketing , Interconnection
Hirose Electric has introduced the HVH-280 Series power connectors for automotive applications. They are low-profile connectors with a 3-point high-pressure female contact design that enables a high current 
...
Read more...
---
Guide for designing GUIs, for novices to experts
29 April 2020, Avnet South Africa , Design Automation
The TouchGFX team at STMicroelectronics recently published TouchGFX Documentation, a website that targets developers working on their first embedded graphical user interface (GUI) as well as those with 
...
Read more...
---
Why low quiescent current matters for longer battery life
29 April 2020, Avnet South Africa , Power Electronics / Power Management
From healthcare and biosensing to wearables and environmental sensing, nearly all IoT devices rely on batteries that must perform reliably and over an extended period of time in a variety of conditions.
Read more...
---
Temperature conditioned coaxial cable assemblies explained
29 April 2020, RF Design , Interconnection
There are many applications, some emerging, that require both phase and amplitude error to be minimised. These applications include synthetic aperture radar using antenna arrays, beamforming/MIMO antenna 
...
Read more...
---