printer friendly version
Concentrated power for variable installations
9 March 2005
Interconnection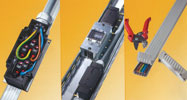 Wieland's flat cable system, the gesis NRG, can be described as a 'flexible power rail', which serves as a central supply bridge for efficient installations. It is compatible with the company's gesis CON connector system.
Usually, rigid power rails have often been the only solution for applications under high power. Their high mounting effort left little space for flexibility - both for installation changes and for power supply to additional consumer devices. Now, gesis NRG can offer fast lay-out and tapping in any place, even for later installation without any problems, says the company.
The 5x10 mm² or 5x16 mm² flat cables can be laid out fast and easily, eg, in existing cable ducts. In contrast to rigid power rails, the flat cable optimally adapts to the architectural design. Special adapters allow supply and tapping in any place without having to interrupt the line. The Wieland technology uses V-screws for the connection components, turning them in through the cable sheath and thus contacting the wires. This method avoids time-consuming cutting to length, stripping and clamping of the individual wires.
This flat cable system is specially valuable for complicated installations, as they can be implemented even more flexibly and economically. Its compatibility with the gesis CON connector system is beneficial too: power is led through the flexible power rail directly to the consumer devices, which are supplied by the pluggable gesis CON system. This saves on cable lengths and reduces the installation costs.
The Wieland system enables installations from 16 A through 63 A, which are implemented as one consistent pluggable system.
Further reading:
Micro connectors with backshells
25 August 2021, Hiconnex , Interconnection
At this year's DSEI exhibition, Nicomatic launched its new DBMM Series, a modification of the DMM 2 mm connectors to include fully integrated backshells. DBMM connectors save space, measuring only 15 mm 
...
Read more...
---
Terminal blocks for measuring transducers
25 August 2021, Phoenix Contact , Interconnection
The PTVME test-disconnect terminal blocks from Phoenix Contact are an extension to the PTV portfolio and can be used in all applications on the secondary wiring side of switching devices for transducers 
...
Read more...
---
Meeting the demands placed on connectors in automotive electronics
29 September 2021, TRX Electronics , Interconnection
A few decades ago, cars were purely mechanical machines, sophisticated in terms of their moving parts but simple in their electronics. This is no longer true.
Read more...
---
Millimetre-wave interconnect considerations
29 September 2021, RF Design , Interconnection
There has been a general trend of radio and sensing applications shifting to higher frequencies, either to avoid interference due to the growing use of RF and microwave spectrum or to take advantage of 
...
Read more...
---
Charging sockets with LED indicators and temperature measurement
29 September 2021, Phoenix Contact , Interconnection
The new generation of type-2 Charx connect charging sockets from Phoenix Contact offers AC home charger and charging station manufacturers and users simplified installation and maintenance, enhanced safety 
...
Read more...
---
Connector search spits out mated connector set in seconds
29 September 2021, Spectrum Concepts , Interconnection
Samtec has a multitude of ways to stack two or more boards together, thanks to a manufacturing process that allows it to position the plastic body on the terminal pin in increments of 0,13 mm on standard 
...
Read more...
---
Interconnect system with 1,0 mm centreline
29 September 2021, TRX Electronics , Interconnection
Mouser Electronics is now stocking the AMPMODU 1,0 mm centreline interconnect system from TE Connectivity (TE). This interconnect system offers an 85% space saving on the board when compared to the 
...
Read more...
---
EMC shields for lever-actuated PCB connectors
25 August 2021, Phoenix Contact , Interconnection
Shields with enhanced EMC properties are now available for the LPC 6/LPCH 6 lever-actuated PCB connectors from Phoenix Contact. With reliable protection against electromagnetic interference, the range 
...
Read more...
---
Circular connectors for signals, data and/or power
28 July 2021 , Interconnection
Farnell is now delivering Intercontec circular connectors from TE Connectivity – an innovative, plug-and-play connector concept that simplifies modular machine design by offering a wide range of variants 
...
Read more...
---
Modern trends are shaping new power connectors
25 August 2021 , Editor's Choice, Interconnection
While it may sound counter-intuitive to use smaller connectors, it is possible to obtain a better total current rating with connectors that use a larger number of smaller terminals.
Read more...
---