printer friendly version
Pluggable electrical installation for difficult environments
9 March 2005
Interconnection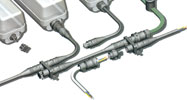 With the gesis IP+, Wieland Electric has continued the success story of its existing gesis CON system by offering a complete installation system with IP66/IP68 protection. For use in parking garages, underground garages, tunnels or industrial plants - wherever a high degree of protection is required, Wieland offers an overall system solution that has pre-assembled components and corresponding connections.
The user is offered a consistent pluggable installation system, from supply to distribution and further transmission to the end devices.
The pre-assembled parts are simply plugged into one another, which Wieland says reduces installation costs by around 25%, and time savings by almost 90%, compared to traditional installation methods. A high degree of safety is added: while in traditional wiring the degree of protection is often lost due to errors in assembly, the error rate of installations with gesis connectors is virtually non-existent, says the company.
In addition to the increased degree of protection, Wieland says the gesis IP+ offers further benefits: the entire system is designed for a rated current of 20 A; the distribution devices, device connections and cables are fully assembled; the contacts are all spring-loaded and offer two terminals per pole; spring technology makes the installation even more convenient; installation in the field is therefore easy and fast; any two components are interlocked by simply snapping the parts together; the male and female connectors can easily be separated again by means of a screwdriver.
Due to a current carrying capacity of 20 A, gesis IP+ also fulfils international criteria for use in countries outside Europe. Meeting international regulations and standard IEC 61535 guarantees that gesis IP+ can be used worldwide.
In the course of development, the focus was put on applications in lighting technology. Various device connections are available that make all common housing types for lighting equipment pluggable. In addition to the three-pole version, a five-pole version is currently being planned.
The three-pole distribution device is available as pre-assembled distribution unit, the standard version of which provides one input and three outputs and can be obtained with and without fasteners. Optional distribution facilities are available through fitted and wired standard installation boxes.
Further reading:
Micro connectors with backshells
25 August 2021, Hiconnex , Interconnection
At this year's DSEI exhibition, Nicomatic launched its new DBMM Series, a modification of the DMM 2 mm connectors to include fully integrated backshells. DBMM connectors save space, measuring only 15 mm 
...
Read more...
---
Terminal blocks for measuring transducers
25 August 2021, Phoenix Contact , Interconnection
The PTVME test-disconnect terminal blocks from Phoenix Contact are an extension to the PTV portfolio and can be used in all applications on the secondary wiring side of switching devices for transducers 
...
Read more...
---
Meeting the demands placed on connectors in automotive electronics
29 September 2021, TRX Electronics , Interconnection
A few decades ago, cars were purely mechanical machines, sophisticated in terms of their moving parts but simple in their electronics. This is no longer true.
Read more...
---
Millimetre-wave interconnect considerations
29 September 2021, RF Design , Interconnection
There has been a general trend of radio and sensing applications shifting to higher frequencies, either to avoid interference due to the growing use of RF and microwave spectrum or to take advantage of 
...
Read more...
---
Charging sockets with LED indicators and temperature measurement
29 September 2021, Phoenix Contact , Interconnection
The new generation of type-2 Charx connect charging sockets from Phoenix Contact offers AC home charger and charging station manufacturers and users simplified installation and maintenance, enhanced safety 
...
Read more...
---
Connector search spits out mated connector set in seconds
29 September 2021, Spectrum Concepts , Interconnection
Samtec has a multitude of ways to stack two or more boards together, thanks to a manufacturing process that allows it to position the plastic body on the terminal pin in increments of 0,13 mm on standard 
...
Read more...
---
Interconnect system with 1,0 mm centreline
29 September 2021, TRX Electronics , Interconnection
Mouser Electronics is now stocking the AMPMODU 1,0 mm centreline interconnect system from TE Connectivity (TE). This interconnect system offers an 85% space saving on the board when compared to the 
...
Read more...
---
EMC shields for lever-actuated PCB connectors
25 August 2021, Phoenix Contact , Interconnection
Shields with enhanced EMC properties are now available for the LPC 6/LPCH 6 lever-actuated PCB connectors from Phoenix Contact. With reliable protection against electromagnetic interference, the range 
...
Read more...
---
Circular connectors for signals, data and/or power
28 July 2021 , Interconnection
Farnell is now delivering Intercontec circular connectors from TE Connectivity – an innovative, plug-and-play connector concept that simplifies modular machine design by offering a wide range of variants 
...
Read more...
---
Modern trends are shaping new power connectors
25 August 2021 , Editor's Choice, Interconnection
While it may sound counter-intuitive to use smaller connectors, it is possible to obtain a better total current rating with connectors that use a larger number of smaller terminals.
Read more...
---