printer friendly version
Pluggable electrical installation for difficult environments
9 March 2005
Interconnection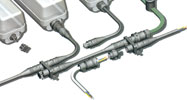 With the gesis IP+, Wieland Electric has continued the success story of its existing gesis CON system by offering a complete installation system with IP66/IP68 protection. For use in parking garages, underground garages, tunnels or industrial plants - wherever a high degree of protection is required, Wieland offers an overall system solution that has pre-assembled components and corresponding connections.
The user is offered a consistent pluggable installation system, from supply to distribution and further transmission to the end devices.
The pre-assembled parts are simply plugged into one another, which Wieland says reduces installation costs by around 25%, and time savings by almost 90%, compared to traditional installation methods. A high degree of safety is added: while in traditional wiring the degree of protection is often lost due to errors in assembly, the error rate of installations with gesis connectors is virtually non-existent, says the company.
In addition to the increased degree of protection, Wieland says the gesis IP+ offers further benefits: the entire system is designed for a rated current of 20 A; the distribution devices, device connections and cables are fully assembled; the contacts are all spring-loaded and offer two terminals per pole; spring technology makes the installation even more convenient; installation in the field is therefore easy and fast; any two components are interlocked by simply snapping the parts together; the male and female connectors can easily be separated again by means of a screwdriver.
Due to a current carrying capacity of 20 A, gesis IP+ also fulfils international criteria for use in countries outside Europe. Meeting international regulations and standard IEC 61535 guarantees that gesis IP+ can be used worldwide.
In the course of development, the focus was put on applications in lighting technology. Various device connections are available that make all common housing types for lighting equipment pluggable. In addition to the three-pole version, a five-pole version is currently being planned.
The three-pole distribution device is available as pre-assembled distribution unit, the standard version of which provides one input and three outputs and can be obtained with and without fasteners. Optional distribution facilities are available through fitted and wired standard installation boxes.
Credit(s)
Further reading:
Smallest automotive maXTouch controllers
29 July 2020, Altron Arrow, Avnet South Africa , DSP, Micros & Memory
To help enhance and ease today's driving experience, automotive manufacturers are implementing additional touch displays beyond the centre infotainment display (CID). Supporting the application of these 
...
Read more...
---
THT-configurable male connectors
30 June 2020, Würth Elektronik eiSos , Interconnection
WR-FAST Fast Connection is the name of a series of THT-configurable male connectors for accommodating single wires with blade receptacles – for example in household appliances. The new connectors are 
...
Read more...
---
Hybrid and pneumatic modules for modular connectors
30 June 2020, RF Design , Interconnection
Smiths Interconnect has extended its L modular connector series with the addition of two new module types that complete the company's wide offering of modular solutions. The L Series of modular connectors 
...
Read more...
---
High-speed backplane interconnect solutions
30 June 2020, IPD Electronics , Interconnection
TE Connectivity's high-speed backplane connectors offer the flexibility and performance needed for a range of datacom applications, including servers, switches, routers, and optical transport. The company's 
...
Read more...
---
High-density multicoax cable assemblies
30 June 2020, RFiber Solutions , Interconnection
Withwave's high-speed and high-density multicoax cable assemblies (WMX Series) provide a wide range of multiple coax connectors and flexible cable assemblies with a choice of 20, 40, 50 and 67 GHz configurations 
...
Read more...
---
3 kW TVS diode arrays
30 June 2020, Avnet South Africa , Circuit & System Protection
To ensure critical operations, aviation and space systems rely on digital and logic functionality and circuitry in engine control units, environmental controls, instruments and actuators. Data centres, 
...
Read more...
---
Circular connectors for power, signals and data
30 June 2020, TRX Electronics , Interconnection
Standardised circular connectors have become the industry standard across a wide range of applications. Customers can find the right option for their most innovative designs with Phoenix Contact's PLUSCON 
...
Read more...
---
Rugged fibre connectors
29 July 2020, TRX Electronics , Interconnection
TE Connectivity's ruggedised fibre optics bring the benefits of optical technology to challenging environments, providing more bandwidth, more distance and more performance. TE's offering includes 
...
Read more...
---
PCIe Gen 4 switches
30 June 2020, Avnet South Africa , Computer/Embedded Technology
To support cloud, data centre and hyperscale computing that facilitates advancements in artificial intelligence (AI) and machine learning (ML), Microchip Technology released to production its Switchtec 
...
Read more...
---
DIN-rail mounting DC-DC converters
30 June 2020, Avnet South Africa , Power Electronics / Power Management
Shortly after unveiling the brand-new DIN-rail mounting DC-DC converter family, the DDR-15/30/60/120/240 series, Mean Well has announced the DDR-480 series (480 W) to enable integration into higher-power 
...
Read more...
---