At electronica 2004 in Munich, Rittal showcased a range of climate control innovations for AdvancedTCA. Heat losses of up to 200 W per slot and up to 3,2 kW with fully loaded shelves necessitate highly dynamic climate control solutions for Advanced TCA (advanced telecom computing architecture), from board cooling to enclosure cooling.
Rittal's four high-capacity RiCool III fans, now available in a more powerful generation, provide reliable heat dissipation for the entire shelf up to 3,2 kW. With integration densities and clock frequencies rising, even higher heat losses can be expected in future. Innovations in climate control, such as liquid cooling of ATCA boards via CPU cooling or heat pipe concepts, are among Rittal's solutions for the effective cooling of hot spots, ensuring reliable dissipation of up to 70% of the heat loss.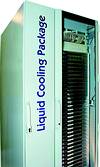 In order to ensure adequate cooling of enclosures fully loaded with ATCA shelves, the LCP (liquid cooling package) comprises one, two or three air/water heat exchangers with a cooling output of 4,0 kW each, which translates into a cooling output of 12 kW max. The climate control modules, which are housed in a side panel of the rack, convey the cold air directly in front of the shelves and create an optimum cooling effect inside the enclosure.