printer friendly version
High performing monolithic RF VGAs
18 May 2005
Analogue, Mixed Signal, LSI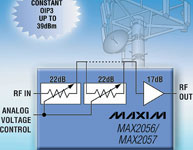 Maxim claims its MAX2056/MAX2057 are the industry's highest performing RF variable gain amplifiers (VGAs) in monolithic form. Designed specifically for 2,5 G/3 G wireless-infrastructure applications, the devices deliver over 40 dB of linearly-controlled dynamic range while maintaining up to 39 dBm of OIP3 and 64 dBm of OIP2 over all attenuation settings.
These VGAs are intended for 800 to 1000 MHz/1700 to 2500 MHz (respectively) WCDMA, GSM/DCS/PCS/EDGE, cdma2000, iDEN and WiMAX wireless infrastructure applications where high linearity and low noise figure are critical for maintaining high levels of ACLR and EVM transmitter performance. These capabilities also enhance receiver sensitivity and blocker immunity when the MAX2056/MAX2057 are used as IF VGAs within WiMAX and microwave terrestrial-link applications.
As complete SiGe VGAs, they integrate two state-of-the-art, voltage-variable attenuators with a low-noise, high-linearity two-stage RF amplifier. The analog attenuators yield infinite control and high attenuation accuracy over selectable 22 dB or 44 dB control ranges. Cascading one attenuator of the MAX2056 low-band VGA with the on-chip amplifier yields 15,5 dB of gain, a noise figure of 4,5 dB, an OP1 dB of 23,5 dBm, and an OIP3 level of 39 dBm. The MAX2057 high-band version similarly offers 15,5 dB of gain, a noise figure of 6 dB, an OP1 dB of 23,8 dBm, and an OIP3 level of 37 dBm.
For more information contact CST Electronics, +27 (0)11 452 0706 or Electrocomp (Value Added Distributor), +27 (0)11 458 9000.
Credit(s)
Further reading:
maXTouch touchscreen controller for various aspect ratios
EBV Electrolink Analogue, Mixed Signal, LSI
As the automotive market continues to demand larger touchscreens with more flexibility in size and shape, Microchip Technology is announcing a new maXTouch touchscreen controller that allows automotive 
...
Read more...
---
Braid tail swept elbow backshells
Electrocomp Interconnection
TE Connectivity is complementing its series of banding (BT) and Tinel ring (TXR) backshells with a braid tail backshell. The new 70 Series swept elbow backshells include a pre-terminated screenbraid sock 
...
Read more...
---
Field-installable mini industrial I/O connector
Electrocomp Interconnection
The Industrial Mini I/O connector system made by TE Connectivity is a compact, wire-to-wire and wire-to-board solution for reliable serial, bus and Ethernet connections in industrial applications. At 
...
Read more...
---
Precision wideband ADC advances data-acquisition performance
Analogue, Mixed Signal, LSI
Texas Instruments (TI) has introduced a very small 24-bit wideband analog-to-digital converter (ADC) that delivers tight signal-measurement precision. The ADS127L11 achieves ultra-precise data acquisition 
...
Read more...
---
K-band passivated VCO
RF Design Analogue, Mixed Signal, LSI
The K-VCO-2324 from Arralis is a GaAs PHEMT MMIC voltage-controlled oscillator (VCO) that operates from 23,25 to 24,25 GHz. It provides 15 dBm output power over tuning voltages between 0 V and 1 V and 
...
Read more...
---
QFN-packaged gain blocks covering various frequency ranges
RFiber Solutions Analogue, Mixed Signal, LSI
Four new gain blocks have been introduced by Atlanta Micro to serve the requirements of various applications, each covering a different range of frequencies. The AM1127 is a high dynamic range, cascadable 
...
Read more...
---
Digital humidity sensor withstands harsh conditions
Electrocomp Analogue, Mixed Signal, LSI
Sensirion is expanding its series of fourth-generation humidity sensors to include the SHT4xI-Digital sensor platform, which has been designed specifically for challenging industrial applications. The 
...
Read more...
---
End-to-end device, gateway and cloud dev kit for LoRaWAN
CST Electronics Telecoms, Datacoms, Wireless, IoT
The Digi XON-9-L1-KIT-001 LoRaWAN starter kit provides a complete device, gateway and cloud IoT platform for developing end-to-end LoRaWAN solutions. The kit includes a multi-sensor device, a multi-channel 
...
Read more...
---
Signal chain implementation for condition monitoring systems
Altron Arrow Editor's Choice Analogue, Mixed Signal, LSI
Like all system designs, there are many choices to be made when it comes to designing a condition monitoring system, each of which comes with various trade-offs and can drastically alter the DAQ signal chain design.
Read more...
---
High-speed SAR ADC family
Analogue, Mixed Signal, LSI
Texas Instruments expanded its portfolio of high-speed data converters with a broad family of successive-approximation register (SAR) analog-to-digital converters (ADCs) that enable high-precision data 
...
Read more...
---