printer friendly version
High performing monolithic RF VGAs
18 May 2005
Analogue, Mixed Signal, LSI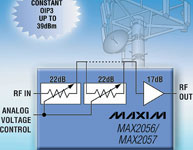 Maxim claims its MAX2056/MAX2057 are the industry's highest performing RF variable gain amplifiers (VGAs) in monolithic form. Designed specifically for 2,5 G/3 G wireless-infrastructure applications, the devices deliver over 40 dB of linearly-controlled dynamic range while maintaining up to 39 dBm of OIP3 and 64 dBm of OIP2 over all attenuation settings.
These VGAs are intended for 800 to 1000 MHz/1700 to 2500 MHz (respectively) WCDMA, GSM/DCS/PCS/EDGE, cdma2000, iDEN and WiMAX wireless infrastructure applications where high linearity and low noise figure are critical for maintaining high levels of ACLR and EVM transmitter performance. These capabilities also enhance receiver sensitivity and blocker immunity when the MAX2056/MAX2057 are used as IF VGAs within WiMAX and microwave terrestrial-link applications.
As complete SiGe VGAs, they integrate two state-of-the-art, voltage-variable attenuators with a low-noise, high-linearity two-stage RF amplifier. The analog attenuators yield infinite control and high attenuation accuracy over selectable 22 dB or 44 dB control ranges. Cascading one attenuator of the MAX2056 low-band VGA with the on-chip amplifier yields 15,5 dB of gain, a noise figure of 4,5 dB, an OP1 dB of 23,5 dBm, and an OIP3 level of 39 dBm. The MAX2057 high-band version similarly offers 15,5 dB of gain, a noise figure of 6 dB, an OP1 dB of 23,8 dBm, and an OIP3 level of 37 dBm.
For more information contact CST Electronics, +27 (0)11 452 0706 or Electrocomp (Value Added Distributor), +27 (0)11 458 9000.
Credit(s)
Further reading:
Thinner pattern coils set to revolutionise wireless charging
Electrocomp Power Electronics / Power Management
TDK developed the 0,76 mm thick charging coils using a unique pattern coil technology without employing conventional lithographic exposure and etching techniques.
Read more...
---
Evaluation board for MEMS accelerometers
Altron Arrow Analogue, Mixed Signal, LSI
The board is designed to facilitate fast system prototyping and device evaluation of MEMS devices in ST's ASM330LHHX product family.
Read more...
---
RF cavity filters for 5G
Electrocomp Telecoms, Datacoms, Wireless, IoT
Temwell has established a one-stop service for 5G RF cavity filters, featuring high specifications across a wide range of power requirements.
Read more...
---
Multilayer ferrite beads
Electrocomp Passive Components
As direct replacements for the discontinued BMB series, TE Connectivity's BMC multilayer ferrite beads cover a wide range of impedance characteristics.
Read more...
---
Efficient cold chain management with high-accuracy temperature sensors
Analogue, Mixed Signal, LSI
Choosing the correct system of temperature sensing in cold chain management is vital to ensure quality and product safety for the consumer.
Read more...
---
Embrace the full power of J-Link debug probes
CST Electronics Test & Measurement
J-Link is supported by all major IDEs, from free Eclipse-based ones up to commercial-grade ones like Segger Embedded Studio.
Read more...
---
Tiny CO2 sensor employs photoacoustic spectroscopy
TRX Electronics Analogue, Mixed Signal, LSI
The device uses a high-sensitivity MEMS microphone to detect the pressure change generated by CO
2
molecules within the sensor cavity.
Read more...
---
Self-learning AI sensor for fitness tracking
TRX Electronics Analogue, Mixed Signal, LSI
The Bosch BHI260AP is ideal for always-on sensor applications like wrist wearables, hearables, smartphones, AR/VR headsets and controller device.
Read more...
---
Sensor nodes for reliable air quality data
TRX Electronics Analogue, Mixed Signal, LSI
The advanced sensors offer easy integration, fully calibrated outputs with a digital interface, and optimal measurement of vital air quality parameters.
Read more...
---
High-resolution magnetic position sensor
TRX Electronics Analogue, Mixed Signal, LSI
Featuring a 14-bit sensor array and analog front-end, the sensor uses a differential measurement method to compensate for external stray magnetic fields.
Read more...
---