printer friendly version
Connectors for data transfer
18 May 2005
Interconnection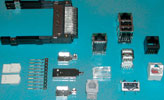 Amphenol offers one of the widest ranges of data transfer connectors. Products include modular plugs and jacks (RJ, registered jack-style connectors); USB; IEEE1394 (fire wire); HSSDC (high speed serial data connection); infiniband; fibre-channel, PCMCIA and multimedia card connectors.
It makes virtually every iteration of modular jack, from the 10 position 10 contact, down to the 4 position 2 contact. Single and multiport versions from one port to 16 gang are available, shielded or non-shielded, with or without filtering and LEDs. Combination RJ45 over dual port USBs with LEDs are also available.
USB; IEEE1394; HSSDC; Infini-Band and Fibre-Channel connectors and cable assemblies are also produced by Amphenol.
Credit(s)
Further reading:
Phase-stable cable assemblies operate up to 50 GHz
RF Design Interconnection
The Lab-Flex T series from Smiths Interconnect are low-loss high-frequency cables that have minimal phase change with changing temperature and flexure.
Read more...
---
Samtec has reorganised its AcceleRate products online
Spectrum Concepts Interconnection
Samtec recently reorganised its family of AcceleRate products into one webpage to enable easier browsing and comparison of products when trying to find the best high-performance solution for the given application.
Read more...
---
Surface-mount resettable fuses
Electrocomp Passive Components
The new series of fuses, suitable for overcurrent and thermal protection, expand the hold current up to 6 A and the maximum voltage to 33 V DC.
Read more...
---
Samtec high-speed interconnects in next-gen UAS
Spectrum Concepts Interconnection
The unmanned aircraft system framework 2.0 autopilot platform utilises several of Samtec's high-speed board-to-board interconnects for the transfer of data between various add-on boards.
Read more...
---
Precision interconnects for DC to 90 GHz
Spectrum Concepts Interconnection
Samtec has released its 1,35 mm family of products including board and cable connectors suitable for millimetre wave applications to 90 GHz.
Read more...
---
Electrocomp stocks PhaseCap Energy Plus capacitor
Electrocomp Passive Components
TDK Electronics' new PhaseCap Energy Plus series capacitor is the latest generation of capacitor for power factor correction.
Read more...
---
16-port USB 3.0 SuperSpeed controller
Rugged Interconnect Technologies Interconnection
The SBX-DUB is a peripheral slot board for CompactPCI and is equipped with four individual USB 3.0 ports on the front panel and another 12 USB 3.0 ports via a connector on the backplane.
Read more...
---
Thinner pattern coils set to revolutionise wireless charging
Electrocomp Power Electronics / Power Management
TDK developed the 0,76 mm thick charging coils using a unique pattern coil technology without employing conventional lithographic exposure and etching techniques.
Read more...
---
Double-row connectors for quick-connect applications
Spectrum Concepts Interconnection
Mill-Max announced a new range of double-row, gold-plated connectors in either spring-loaded or target versions.
Read more...
---
Samtec site's search function gets a UX upgrade
Spectrum Concepts Interconnection
Samtec announced a major upgrade to its on-site user search experience, including improvements in both performance and mobile compatibility.
Read more...
---