printer friendly version
Connector redesign enables smaller footprint and high-density or high-current variations
18 May 2005
Interconnection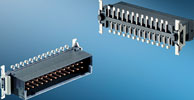 Erni, a leader in the area of SMT assembly - is continuing to design and improve its popular 1,27 mm pitch surface mount connector (SMC) family. This complete redesign is also backwards compatible.
With a corresponding design layout, the high-density SMC connectors can reliably transmit differential signals at data rates of up to 2,5 Gbps. The SMC model range is ideally suited for diverse mezzanine, board-to-board, and board-to-cable applications in industrial automation, telecom, and datacom applications. For example, these SMC connectors have been certified for the new Airbus 380.
Besides the SMT versions, the SMC connectors are also available in press-fit versions for certain applications (such as rear I/O connections on the rear side of backplanes), and in IDC versions for easy connection of flat ribbon cables with a pitch of 0,635 mm. Consequently, they lend themselves to hybrid processing techniques.
The primary design criteria for the SMC series are a double-sided design of the female contact (ERNI Type 6) for good RF characteristics, heat-resistant insulation bodies (with polarisation, pre-centring and optional coding), superior mating reliability due to long wipe lengths, and two solid-metal SMT mounting brackets.
Various profiles and configuration
For variable module design, one often needs to vary the board-to-board stacking heights. Thus, besides the standard versions (8,2 and 9,0 mm), Erni SMC models also offer low-profile versions (6,2 and 6,7 mm). By combining male and female connectors with different assembly heights, it is possible to implement any PCB stacking height between 8,0 and 14,0 mm. Long wipe lengths ensure that mating quality is maintained for all intermediate sizes. PCBs can be connected together using the straight male and female SMC connectors with 12, 26, 50, 68 and 80 pins. And, PCBs can be connected to the backplane using a right-angle version of the SMC connector. Since all versions are available in inverted versions, any conceivable board-to-board configuration is possible.
Male and female connectors are supplied in tape-on-reel packaging for automatic SMT assembly. The SMC connectors have a large lock-in range that is specified at ±0,7 mm or ±4° in the longitudinal and ±2° in the transversal direction. Additional design features for fully automated assembly are: a black insulating body for rapid and reliable visual recognition, a pre-assembled mounting hood for easy pick-and-place, and sturdy SMT mounting brackets made of metal.
Future plans
Erni has revealed that over the next few months it will redesign the complete SMC family with different termination techniques. The purpose of these measures is to achieve further production improvements, generate new variants that require a smaller footprint on the board, and develop high-density or high-current variations. Increased mechanical stability and quality in accordance with the company's new philosophy with regard to mounting and stamping technology is an additional criterion. For future developments for customers, the new design makes it possible to double the number of pins without increasing size requirements.
Credit(s)
Further reading:
Connectors for the evolving world of test and measurement
Spectrum Concepts Interconnection
Instrumentation employed to test new products needs to become more advanced to keep up with rapidly advancing technology.
Read more...
---
Double-row connectors for quick-connect applications
Spectrum Concepts Interconnection
Mill-Max announced a new range of double-row, gold-plated connectors in either spring-loaded or target versions.
Read more...
---
Samtec site's search function gets a UX upgrade
Spectrum Concepts Interconnection
Samtec announced a major upgrade to its on-site user search experience, including improvements in both performance and mobile compatibility.
Read more...
---
Spring-loaded connectors with rolling ball interface
Spectrum Concepts Interconnection
Omniball spring-loaded connectors feature a unique rolling ball interface, enabling contact to be made in both axial and non-axial alignments.
Read more...
---
Mouser stocks wide selection of the latest Phoenix Contact products
TRX Electronics Interconnection
The offering covers a vast selection of sensors, controllers, terminal blocks, connectors and wireless Ethernet products.
Read more...
---
New SMT pins utilise a grooved pattern design
Spectrum Concepts Interconnection
Mill-Max expands its range of SMT pins with the introduction of three new series that feature the Sure-Hold grooved pattern design.
Read more...
---
Wire-to-board connectors with 0,8 mm pitch
Electrocomp Interconnection
An extensive array of circuit sizes (2 to 20 circuits) enables the extension of device functionality and features to meet product development needs.
Read more...
---
Type-C connectors for USB 2.0
Electrocomp Interconnection
The USB4105 Type-C USB 2.0 connectors from GCT (Global Connector Technology) offer a 5 A current rating, 100 MΩ insulation resistance and 3,31 mm profile. They feature 16 contacts with a top-mount position 
...
Read more...
---
Record-seeking sailboat uses Fischer Connectors for sensor data transmission
News Interconnection
The boat is setting out to reach a speed of 80 knots powered only by the wind, and thereby break the long-standing world sailing speed record of 65,45 knots.
Read more...
---
Optoelectronic transceiver for rough conditions
Hiconnex Interconnection
Radiall has added the Essential model to its range of optoelectronic transceivers. Designed for demanding environments, this transceiver combines a small form factor package with an ARINC 801 optical 
...
Read more...
---