printer friendly version
High speed data links for signal integrity
18 May 2005
Interconnection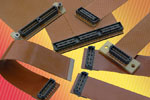 Samtec's Flex Data Links are available with socket and terminal strip interfaces on 0,5 mm pitch (HFHM2-DP Series) and 0,8 mm pitch (HFEM-SE, HFEM-DP and HFEM2-DP Series) for high speed board-to-board connections.
Typical performance for the 0,5 mm pitch system is more than 6 Gbps/pair with 20 signal pairs per bank for a 127 mm length. For the 0,8 mm pitch system, typical performance is up to 4 Gbps per signal line for a 127 mm length and up to 2,5 Gbps per signal line for a 254 mm length.
A wide variety of options are available as standard including single-ended and differential signal routing, two layer and three layer designs, mounting and locking options for rugged applications, and socket and terminal terminations.
A new standard with Samtec is a 0,8 mm pitch Q Strip socket or terminal strip on one end and a standard 43 pin 0,5 mm pitch ZIF flex termination on the other (ZHFH Series) providing 14 signal pairs with ground pins surrounding each pair.
Further reading:
Double-row connectors for quick-connect applications
Spectrum Concepts Interconnection
Mill-Max announced a new range of double-row, gold-plated connectors in either spring-loaded or target versions.
Read more...
---
Samtec site's search function gets a UX upgrade
Spectrum Concepts Interconnection
Samtec announced a major upgrade to its on-site user search experience, including improvements in both performance and mobile compatibility.
Read more...
---
Spring-loaded connectors with rolling ball interface
Spectrum Concepts Interconnection
Omniball spring-loaded connectors feature a unique rolling ball interface, enabling contact to be made in both axial and non-axial alignments.
Read more...
---
Mouser stocks wide selection of the latest Phoenix Contact products
TRX Electronics Interconnection
The offering covers a vast selection of sensors, controllers, terminal blocks, connectors and wireless Ethernet products.
Read more...
---
New SMT pins utilise a grooved pattern design
Spectrum Concepts Interconnection
Mill-Max expands its range of SMT pins with the introduction of three new series that feature the Sure-Hold grooved pattern design.
Read more...
---
Wire-to-board connectors with 0,8 mm pitch
Electrocomp Interconnection
An extensive array of circuit sizes (2 to 20 circuits) enables the extension of device functionality and features to meet product development needs.
Read more...
---
Type-C connectors for USB 2.0
Electrocomp Interconnection
The USB4105 Type-C USB 2.0 connectors from GCT (Global Connector Technology) offer a 5 A current rating, 100 MΩ insulation resistance and 3,31 mm profile. They feature 16 contacts with a top-mount position 
...
Read more...
---
Record-seeking sailboat uses Fischer Connectors for sensor data transmission
News Interconnection
The boat is setting out to reach a speed of 80 knots powered only by the wind, and thereby break the long-standing world sailing speed record of 65,45 knots.
Read more...
---
Optoelectronic transceiver for rough conditions
Hiconnex Interconnection
Radiall has added the Essential model to its range of optoelectronic transceivers. Designed for demanding environments, this transceiver combines a small form factor package with an ARINC 801 optical 
...
Read more...
---
Hi-Rel flexible harnesses
Hiconnex Interconnection
Nicomatic has created a lighter, high-performance alternative to round cables and an ideal complement to its compact, lightweight CMM 220 connectors. Microflex cable accessories offer customers a robust 
...
Read more...
---