printer friendly version
Programmable multiphase clock generators
18 May 2005
DSP, Micros & Memory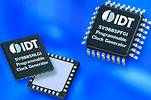 IDT's new family of programmable clock generators use an EEPROM-based programmable platform along with an enhanced, multiphase-locked loop (PLL) architecture. The 5V9885PFGI (32-TQFP) and 5V9885NLGI (28-VFQFPN) are suitable for a wide range of applications in the communications, digital consumer and industrial markets. The innovative three-PLL architecture includes ultra-high resolution prescalers, multipliers and output dividers with VCO ranges up to 1 GHz. This allows nearly any combination of clock scaling ratios from a single input frequency. An I²C compatible interface is available (as an alternative to the JTAG) to program the internal EEPROM, which allows users to save and restore device configurations at any stage of procurement, manufacturing or deployment. Advanced I/O capabilities support universal input logic and LVTTL, LVPECL and LVDS output types.
Memec SA, +27 (0)21 674 4103
Further reading:
Fujitsu FRAM and ReRAM now available from Mouser
TRX Electronics DSP, Micros & Memory
Fujitsu Semiconductor Memory Solution's ferroelectric random access memory (FRAM) and large-density resistive random access memory (ReRAM) products are now being distributed by Mouser Electronics. Fujitsu 
...
Read more...
---
Functional safety packages for Microchip MCUs and DSCs
EBV Electrolink DSP, Micros & Memory
Safety is a primary concern in automotive applications to ensure reliable operation and end users' wellbeing. Microchip Technology is offering newly certified functional safety packages to enable engineers 
...
Read more...
---
MCU with enhanced security and innovative sensing features
EBV Electrolink DSP, Micros & Memory
Enabled with Bluetooth Low Energy wireless connectivity, onsemi's new low-power RSL15 microcontroller (MCU) addresses the growing demand of connected industrial applications for security without sacrificing 
...
Read more...
---
Discovery kit for IoT nodes using STM32U5 MCU
Altron Arrow DSP, Micros & Memory
The B-U585I-IOT02A Discovery kit provides a complete demonstration and development platform for STMicroelectronics' STM32U585AI microcontroller, featuring an Arm Cortex-M33 core with Arm TrustZone and 
...
Read more...
---
200 MHz MCUs backed by TrustZone security
Hi-Q Electronics DSP, Micros & Memory
Renesas Electronics now offers a 200 MHz RA6E1 microcontroller (MCU) which uses a high-performance Arm Cortex M33 core and TrustZone. The device is built on a highly efficient 40 nm process and supported 
...
Read more...
---
32-bit MCU for IoT edge applications
NuVision Electronics DSP, Micros & Memory
Silicon Labs launched the EFM32PG22 (PG22) 32-bit microcontroller (MCU), a low-cost, high-performance solution with an optimised combination of energy efficiency, performance and security. With easy-to-use, 
...
Read more...
---
Crossover MCU with 3D camera
EBV Electrolink DSP, Micros & Memory
NXP Semiconductors has announced the expansion of its NXP EdgeReady solution portfolio, adding a solution for secure face recognition that leverages a high-performance 3D structured light module (SLM) 
...
Read more...
---
MCUs for secure and connected automotive gateways
Altron Arrow DSP, Micros & Memory
The SPC58 Chorus H Line is part of STMicroelectronics' portfolio of general-purpose automotive power architecture microcontrollers (MCUs). It is designed for high-end body, networking and security applications 
...
Read more...
---
Low-power multiprotocol wireless MCU
Altron Arrow DSP, Micros & Memory
The STM32WB15CC multiprotocol wireless microcontroller (MCU) embeds a powerful and ultra-low-power radio compliant with the Bluetooth Low Energy SIG specification 5.2. It contains a dedicated Arm Cortex-M0+ 
...
Read more...
---
MCU evaluation and development kits
RS Components (SA) DSP, Micros & Memory
RS Components announced availability of a new range of evaluation and development kits for Infineon Technologies' AURIX family of microcontrollers (MC), which are based on the manufacturer's 32-bit TriCore 
...
Read more...
---