printer friendly version
Dynamic power factor correction offers benefits
13 July 2005
Circuit & System Protection
Conventional power factor correction (PFC) systems consist of a power factor controller and power capacitors. They are connected to the power line via electromechanical capacitor switching contactors. However, due to the discharge time of the capacitors, reset times are longer than 60 seconds.
New applications are increasingly calling for technologies that respond in realtime. Here dynamic PFC systems such as electronic thyristor modules are replacing slow electromechanical switches. As well as shorter response times, longer service life is an important advantage. Thyristors are not prone to mechanical wear. Eliminating mechanical capacitor contactors also avoids high inrush currents. Thyristor modules switch the capacitors at zero-crossing, thus avoiding the inrush currents that can be as high as 200 times the rated current (Figure 1).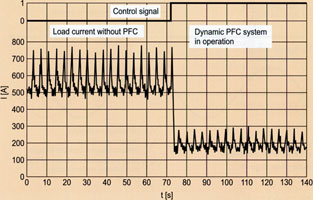 Figure 1. Current-time diagram for an industrial load. Peak current consumption is reduced by two-thirds with dynamic power factor correction
Dynamic systems open up new applications and offer a host of advantages:
* Reduction of reactive power and lower energy costs, even with rapidly changing loads.
* Switching times shorter than 20 ms.
* Reduced capital expenditure (distribution and transmission systems, cable cross-sections, etc) thanks to avoidance of peak currents.
* Stabilisation of line voltage.
* Prevention of flicker and smooth, transient-free switching.
* Longer service life of PFC system and equipment.
Dynamic power factor correction is used in welding equipment, industrial presses in the automotive industry, wind parks, cranes, lifts, and main motor starting compensation, where it makes the soft starter redundant (Figure 2).

Figure 2. Dynamic PFC in the steel industry. Here, Tower Automotive operates presses and welding equipment in parallel with the power line
One-stop shopping for dynamic PFC
Epcos offers a comprehensive range of products for dynamic power factor correction with two types of thyristor module. These include TSM-C modules that can handle reactive powers of 25 and 50 kVAr, the new dynamic power factor controller BR6000-T, PhaseCap PFC capacitors, and complete dynamic PFC systems.
The self-monitoring TSM-C thyristor module is a dynamic electronic switch that can switch on PFC capacitors free of transients in a few milliseconds (Figure 3). It is distinguished by:
* Ease of assembly: the thyristor module can be used like a capacitor switching contactor; complete intelligence is integrated into it.
* Self-monitoring for capacitors handling up to 50 kVAr.
* No harmonics generated because complete sine wave is switched.
* Fast response times of less than 7 ms.
* Continuous self-monitoring of voltage, capacitor current and thyristor switch temperature.
* Cascading output.
* Alarm output on each module.
* Control and error message display.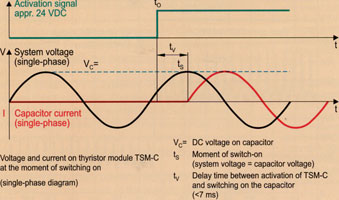 Figure 3. Switch-on graph of TSM-C module. The delay between activation and switching is less than 7 ms
The Epcos BR6000-T dynamic PFC controller (Figure 4) is the result of ongoing development of the BR6000 series, to which new functions have been added. It was specially developed to control the thyristor modules for dynamic switching and corresponding power factor correction. Thanks to the fast processor, short switching cycles are achieved. In addition to the switching time of less than 40 ms, the BR6000-T offers very fast setting of the power factor by simultaneous switching of several stages. Various parameters can be adjusted for perfect matching of the PFC controller to different thyristor modules.

Figure 4. The control panel of the PFC BR6000-T has a text-driven intuitive display that makes it very easy to use
The BR6000-T is available with six or 12 transistor outputs and one alarm terminal. A text-based, menu-driven display makes the PFC controller intuitive and easy to use.
Epcos offers one-stop shopping for dynamic power factor corrections:
* Processor-controlled PFC controllers with up to 12 outputs.
* Fast-switching thyristor modules.
* PCB-free PFC capacitors with integrated overload protection.
* Inductors for damping PFC capacitors.
Credit(s)
Further reading:
High power-density TVS diodes
25 November 2020, Hi-Q Electronics , Circuit & System Protection
Today's modern high power-density electronics are more vulnerable to electrical stresses than ever due to component miniaturisation. High-demand, scalable electronics such as smart meters require highly 
...
Read more...
---
CO2 sensor for indoor air quality applications
25 November 2020, Electrocomp , Analogue, Mixed Signal, LSI
With dimensions of just 10,1 x 10,1 x 6,5 mm, the SCD40 from Sensirion's footprint has been miniaturised by a factor of five compared to its predecessor, the SCD30. Using the photoacoustic sensing principle, 
...
Read more...
---
AEC-Q200 compliant line filters
28 October 2020, Electrocomp , Circuit & System Protection
Bourns Magnetics Product Line is introducing the Model DR334A line filter series. These filters are constructed with a ferrite toroid core delivering compact size and high impedance over a broad frequency 
...
Read more...
---
Rugged three-phase AC filter capacitors
30 September 2020, Electrocomp , Passive Components
TDK introduced two new series of EPCOS power capacitors for AC filtering in three-phase delta connection applications. The B32375* series is designed for the low to medium power range and covers a capacitance 
...
Read more...
---
High-speed protectors for automotive circuits
30 September 2020, Electrocomp , Circuit & System Protection
Bourns announced the release of the AEC-Q101 compliant Model TBU-CA-Q High-Speed Protector series. These products are low-capacitance, single bidirectional high-speed protection components, constructed 
...
Read more...
---
Grounding jumpers for management of high-power busbars
31 August 2020, RS Components (SA) , Circuit & System Protection
RS Components (RS) has introduced Molex's Triton grounding jumpers for the safe management of high-power busbars. Unique to the industry, the range is UL-certified to deliver quality, safety and reliability.  
...
Read more...
---
Stylish new plastic enclosure family
30 September 2020, Electrocomp , Enclosures, Racks, Cabinets & Panel Products
Hammond Electronics has announced its new 1557 family. Initially available in four plan sizes, each in two heights, it is available in polycarbonate sealed to IP68 and ABS designed to meet IP66. The sizes 
...
Read more...
---
Microthermal liquid flow sensors
29 July 2020, Electrocomp , Analogue, Mixed Signal, LSI
The SLF3x liquid flow sensor series from Sensirion represents an advancement for microthermal liquid flow sensors. By combining Sensirion's 20-year track record in low and lowest flow rate sensing with 
...
Read more...
---
Industrial enclosures in stainless steel
31 August 2020, Electrocomp , Enclosures, Racks, Cabinets & Panel Products
The IP66 EJSS family from Hammond Electronics is available in 304 or 316 grade stainless steel, supplied as standard in a natural smooth brushed finish. Sealed to IP66, the EJSS is designed for use as 
...
Read more...
---
Protection for single-cell Li-ion batteries
31 August 2020, Altron Arrow , Circuit & System Protection
The AP9221 is a single-package protection solution specially designed for single-cell Li+ rechargeable batteries in portable and wearable equipment. Made by Diodes Incorporated, it provides rich battery 
...
Read more...
---