printer friendly version
Latching high voltage relays
13 July 2005
Switches, Relays & Keypads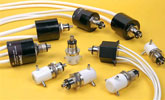 Gigavac has developed 10 new latching high-voltage relays that are completely sealed and rated from 8 kV to 70 kV.
Gigavac latching relays consume power only when initial coil voltage is applied - which saves energy; the new models ensure the relay will remain in the last position, even during power outages.
In response to customer requests, the company re-engineered 10 popular models to handle latching requirements - the Gigavac G12L (8 kV) and G13L (15 kV) latching relays are double-pole, double-throw, which make them ideal for reversing polarity or selecting between power sources or loads. The G2L, G8L, G15L, G60L, G61L, G62L, G64L and G71L latching models are single-pole, double-throw relays, rated from 15 kV to 70 kV using vacuum or SF6 as the dielectric. Vacuum is preferred for radio frequencies and for 'make' or 'break' applications. SF6 gas is best for capacitive 'make' applications or where stable leakage current is needed for long periods of non-operation.
Credit(s)
Further reading:
Personality profile: Mervyn Stocks
30 September 2020, Denver Technical Products , Editor's Choice
Mervyn Stocks, the founder and MD of Denver Technical Products, started his career as a learner technician, worked at some well-known companies in the industry before setting out on his own.
Read more...
---
Compact, easy-to-integrate contactors
31 August 2020, RS Components (SA) , Switches, Relays & Keypads
RS Components is now stocking Eaton's complete Moeller series of compact DILMT contactors. Easy to integrate in a variety of industrial machines and systems, the contactors enable space savings of up 
...
Read more...
---
Versatile micro switches
30 June 2020, TRX Electronics , Switches, Relays & Keypads
The V19, Honeywell's unsealed micro switch family, provides a cost-conscious switch solution to assist in hitting overall system-level cost and design goals in high-volume applications. Suitable applications 
...
Read more...
---
Tactile switches for demanding applications
29 April 2020, Brabek , Interconnection, Switches, Relays & Keypads
The Multimec switch from APEM has been designed with the intention to manufacture the best possible switch. The company's automatic production lines have 100% in-line testing, but before the parts get 
...
Read more...
---
Waveguide electromechanical relay switches
26 February 2020, RF Design , Switches, Relays & Keypads
Pasternack has just launched a new series of double ridge waveguide electromechanical relay switches which perform over broader frequency bands, making them ideal for applications involved with electronic 
...
Read more...
---
Illuminated pushbutton switches
25 November 2019, TRX Electronics , Switches, Relays & Keypads
The KLS series expands C&K Switches' product offering in the LED pushbutton family. It meets the market requirements for haptics and sound with clear 'click' feedback. With various cap options and bright 
...
Read more...
---
Connectors for automotive electronics
31 July 2019, TRX Electronics , Switches, Relays & Keypads
TE Connectivity's HDSCS connector series is designed to meet the rigorous demands of the commercial vehicle industry and off-road applications that require high standards of performance. Made from a rugged 
...
Read more...
---
SP4T switch matrix
26 June 2019, Conical Technologies , Switches, Relays & Keypads
Mini-Circuits announced the release of the latest addition to its test system lineup, the RC-2SP4T-40 USB and Ethernet controlled single-pole four-throw switching matrix. This new device is fitted with 
...
Read more...
---
Wi-Fi microcontroller
29 May 2019, iCorp Technologies , DSP, Micros & Memory, Switches, Relays & Keypads
The ESP32-S2 from Espressif Systems is a highly integrated, low-power, 2,4 GHz Wi-Fi microcontroller SoC (system-on-chip) supporting Wi-Fi HT40 and 43 general-purpose I/Os. Based on an Xtensa single-core 
...
Read more...
---
Miniature slide switches
29 May 2019, Wiltron Agencies , Switches, Relays & Keypads
Hartmann Codier's new SR254 product range of slide switches provides variants in horizontal and vertical versions that can be used as on, off, or change-over switches with contact wiping on make and break. 
...
Read more...
---