printer friendly version
Otto Marketing - taking the load off your cabling and connector worries
10 August 2005
Interconnection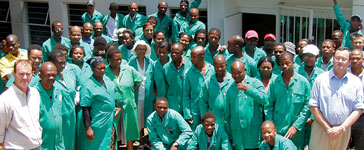 Many manufacturing companies forget the complexity of the cabling and connectors that one finds in any electronic system, whether it be a laptop, payphone, parking meter or vending machine.
For the system manufacturer, cabling is a non-core business, and in-house production ties up valuable resources (eg, in stockholding, labour and test facilities). While many companies used to make use of small and often unreliable suppliers, more and more major players in local industry have turned to Otto Marketing as the source of all their cabling requirements, from prototyping right through the production phase.
Origins
Otto Marketing (Otto) was started by Barry Culligan in 1990, the objective being the distribution of the high-quality connectors produced by the leading Japanese company Hirose Electric. Despite the fact that today it contributes some 70% of the business's turnover, Culligan points out that Otto got into the cabling business almost by chance. In fact, the customers that he was supplying connectors to persuaded him that what they really required was a more value-added product, namely an assembled and tested wiring loom complete with connectors and other accessories. Starting in a small way with some core customers, Otto developed the required tooling and test assemblies, working in close cooperation with the manufacturers' QA people. As the business expanded so also did the representation, so this now includes several specialist connector companies, which complement the Hirose line, as well as cable, wire, and cabling accessory suppliers.
Representation of Hirose Electric was an ideal start for Otto, as it had been in business since 1937 and manufactures an extensive range of connectors. Hirose is rated as the world's fifth largest electronic and electrical connector manufacturer and products cover telecoms, automotive, computer, consumer, instrumentation and control and other fields, for all types of cable from insulated copper strand, to coaxial and ribbon. These are today marketed globally through a network of 24 representatives (including Otto) in 18 countries. In addition, Culligan is quick to point out that in his experience Hirose is also one of the most innovative, particularly in miniaturisation, and it also provides Otto with full support in meeting the special needs of local customers, even to the point of designing new product. The scope of the business of Hirose and the quality of product is evidenced from its list of major international customers.

Manufacturing
Electronic system manufacturers always regarded cabling as a nuisance business, and while outsourcing at low prices was possible, poor quality of the product resulted in increased costs to the manufacturer, as time and money were spent locating trivial faults. According to Culligan, Otto has changed all this and offers a high quality and reliable product at, not by the 'cheapest price', but by one that will ensure the 'lowest overall cost' to the customer. The other major differentiator is that Otto will work with the client right from the start of a new development, and will ensure that cabling and connectors (as well as switches and other accessories) are selected to meet specific environmental and other requirements. While Otto directly represents connector companies such as Hirose, Apfel, Lumberg, CONEC, PLA, etc, the products of other leading manufacturers, including Amphenol, Tyco and Molex are incorporated as necessary. Many of the more complex harnesses include connectors from several suppliers.
The Otto business is widely diversified, and manufactures cable assemblies for a wide variety of applications, including vending machines, antenna systems, electronic parking meters, vehicle tracking systems, GSM-based telephones, payphones, fleet management systems, satellite decoders and pre-payment electricity meters.
Having started a manufacturing operation, it was decided not to take the half-hearted approach, and the company achieved ISO 9001:2000 certification during 1997 from Dekra. Today, Otto is fully compliant with best quality practices, and through a philosophy of '100%', Culligan says that returns are negligible, normally arising through drawing revisions rather than faulty workmanship. Otto is also a full member of the IPC and manufactures all cables to IPC Level 3. Most assembly staff have received both theoretical and practical cable assembly training by the SA representative of the IPC (NKOKA).
While cabling by its very nature is a labour-intensive operation, Otto has invested in automation where appropriate. In particular, Otto has two of the latest Kodera cut-and-strip wire machines. One machine allows high-speed production of more simple stripped wires, while the other affords flexibility for more complex tasks and can cope with flat ribbon cable. With the two machines fully operational, more than 70 000 stripped wires can be produced per day.
Stripping of coaxial and other shielded cable is carried out using state-of-the-art Komax BT-86 RF cable strippers. In addition, Otto has a number of other pneumatic and electric wire stripping machines for other cables. The complementary area of manufacture where automation is used to good effect is in crimping. Here the wide variety of terminals used is catered for using several CMK machines from Taiwan, for which Otto holds a large number of interchangeable 'cassette jigs', which were developed locally as required. Two pneumatic crimp machines are used to terminate a wide variety of cable lugs and terminals.

Testing and quality
In-process testing and final inspection is performed on all jobs, and all test results are recorded. Crimped wires are tested on calibrated pull-force testers, and RF cables, digital cables, and all others are fully tested with professional test equipment before being supplied to the customer with a certificate of conformance.
Otto is run along the lines of a family-type business, says Culligan, with highly motivated staff ensured security through generous salaries and benefits, and working under competent supervision. Ideas are encouraged and rewarded with bonuses, while training is regarded as critical and is supervised by QA manager, Meshack Seapela. High levels of productivity and quality are ensured through setting of shared production targets and bonuses.
Although involved in development of wiring looms and production of small runs for evaluation purposes, Otto Marketing specialises in medium to high volume manufacture. The company has seen significant growth and today employs a staff of 57. Otto Marketing recently moved into a new factory in Strijdom Park, Randburg, which was completely re-furbished to the exact requirements of the business.
For more information contact Barry Culligan, Otto Marketing, +27 (0)11 791 1033, barry@otto.co.za, www.otto.co.za
Credit(s)
Further reading:
How are end-launch PCB connectors useful?
29 April 2020, RF Design , Interconnection
There has been an increasing use of RF coaxial connectors, especially microwave and millimetre-wave coaxial connectors, for high-speed digital and precision sensing applications, There is also a growing 
...
Read more...
---
IP68 circular connectors
29 April 2020, IPD Electronics , Interconnection
Sure-Seal 7/8" IP68 connectors are designed for both signal and high-current applications. They are compatible with industrial mini-change connectors and are sealed to an IP68 rating. These 7/8" IP68 
...
Read more...
---
Micro-miniature circular connectors
29 April 2020, IPD Electronics , Interconnection
Available from local distributor IPD Electronics via its agreement with PEI-Genesis, Amphenol 2M series micro-miniature connectors are fully guaranteed to be intermateable with Glenair Mighty Mouse connectors. The 
...
Read more...
---
RF/microwave connectors for wide frequency ranges
29 May 2020, RFiber Solutions , Interconnection
Withwave, a supplier of versatile RF and microwave test solutions, offers a range of SMPM connectors covering 26,5 to 67 GHz. The connectors cover wide frequency ranges from RF to microwave with excellent 
...
Read more...
---
High-density ZIF connectors
25 March 2020, IPD Electronics , Interconnection
Available from IPD Electronics through its distribution agreement with PEI-Genesis, ITT Cannon's DL connector family is a versatile, high-density zero insertion force (ZIF) connector series with up to 
...
Read more...
---
2 mm connectors for board signal transfers
29 April 2020, TRX Electronics , Interconnection
TE Connectivity is expanding its range of AMPMODU interconnection solutions with the introduction of 2 mm centreline board connectors. These new connectors occupy 38% less space than traditional 2,54 
...
Read more...
---
Tactile switches for demanding applications
29 April 2020, Brabek , Interconnection, Switches, Relays & Keypads
The Multimec switch from APEM has been designed with the intention to manufacture the best possible switch. The company's automatic production lines have 100% in-line testing, but before the parts get 
...
Read more...
---
RF connectors and cable assemblies
25 March 2020, IPD Electronics , Interconnection
Sure-Seal's RF connector series offers an excellent waterproof connector solution for harsh environment communication systems. Connectors and cable assemblies are available in a variety of permutations 
...
Read more...
---
High-temperature power connectors
29 April 2020, Otto Marketing , Interconnection
Hirose Electric has introduced the HVH-280 Series power connectors for automotive applications. They are low-profile connectors with a 3-point high-pressure female contact design that enables a high current 
...
Read more...
---
Temperature conditioned coaxial cable assemblies explained
29 April 2020, RF Design , Interconnection
There are many applications, some emerging, that require both phase and amplitude error to be minimised. These applications include synthetic aperture radar using antenna arrays, beamforming/MIMO antenna 
...
Read more...
---