printer friendly version
New Labview release delivers distributed intelligence for design, control and test
2 November 2005
Test & Measurement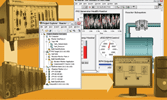 National Instruments has released a major upgrade to the Labview graphical development platform that helps improve the productivity of engineers in design, control and test.
Labview 8 introduces distributed intelligence - a powerful suite of new capabilities for engineers and scientists to easily design, distribute and synchronise intelligent devices and systems. Labview 8 also features a new project-based environment for developing and managing large-scale applications as well as the latest in Express technology for simplified instrument control.
The new release also includes significant updates to the Labview Real-Time Module, Labview FPGA Module, Labview PDA Module and Labview Datalogging and Supervisory Control Module.
"For nearly 20 years, Labview has become the pre-eminent solution for instrumentation system design offering unparalleled productivity to engineers and scientists," said James Truchard, NI president and CEO. "With the release of Labview 8, National Instruments expands the platform even further to increase productivity for a broader range of applications and technologies, including heterogeneous test systems, rapid system prototyping, full-scale system automation and embedded realtime, FPGA and microprocessor systems - all using the same time-proven, open and intuitive platform."
Labview 8 has new flexible and easy-to-use distributed communication and control tools. This latest version presents a simplified, scalable interface for communicating with and synchronising between remote intelligent devices and systems, such as realtime processors and FPGAs. This allows embedded designers, test engineers and control system engineers to use the same graphical platform for simple data transfer, deterministic realtime communication and network synchronisation with integrated alarms, events and datalogging.
Labview Project is a new key feature. This introduces a new project-based environment for managing large applications and team development. The Labview Project also includes tools for multiple target management; integrated code differencing and source code control; multibuild management; and the ability to seamlessly deploy applications to desktop, mobile, industrial and embedded targets.
Additionally, Labview 8 continues to build on Express technology with new tools for simplifying instrument control and data acquisition. With the new Labview Instrument Driver Finder, engineers and scientists now can automatically recognise connected instruments and search, download and install the appropriate driver from the more than 4000 available on the NI Instrument Driver Network (www.ni.com/idnet).
For more information contact National Instruments SA, 0800 203 199.
Further reading:
DIN-rail programmable transmitter
23 October 2019, Instrotech , Test & Measurement
Calog Instrument's versatile DPM9000 series – a miniature DIN-rail mount programmable isolated transmitter range – boasts high reliability and a versatile, wide range of programmable inputs. With dimensions 
...
Read more...
---
Hands-on learning module
23 October 2019, Altron Arrow , Test & Measurement
The ADALM2000 (M2K) active learning module is an affordable, USB-powered, software-defined instrument that exceeds the capabilities of its predecessor ADALM1000 (M1K). With 12-bit ADCs (analog-to-digital 
...
Read more...
---
Digital multimeter with thermal imager
23 October 2019, RS Components (SA) , Test & Measurement
A digital multimeter (DMM) with a built-in thermal imager has been added to RS Components' RS PRO product range. The RS-9889 allows engineers to identify thermal overload issues in electrical equipment 
...
Read more...
---
Project-based learning for the modern engineer
23 October 2019 , Test & Measurement
Projects that inherently challenge students to use innovative design thinking often involve interacting with an unknown process or device. Students are encouraged to understand the unknown through theory, 
...
Read more...
---
Automotive Ethernet testing software
25 September 2019, Comtest , Test & Measurement
Tektronix has released two new software packages that greatly simplify Automotive Ethernet testing, debug and protocol decode for use with its 5 and 6 Series mixed-signal oscilloscopes (MSO). Using 
...
Read more...
---
4-channel PC-based oscilloscope
28 August 2019, Vepac Electronics , Test & Measurement
The newly developed Model 1330 from Peaktech is a 4-channel PC oscilloscope with 100 MHz bandwidth and 1 GSps sample rate, which is suitable for mobile use on a laptop, and permanent installation in control 
...
Read more...
---
Handheld PoE tester
26 June 2019, Coral-i Solutions , Test & Measurement
Ideal Networks has launched a new handheld tester that eliminates guesswork when installing, maintaining and troubleshooting PoE devices and data cabling. PoE Pro measures and reports PoE class, voltage/voltage 
...
Read more...
---
Debugging probe for STM32 MCUs
31 July 2019, Altron Arrow , Test & Measurement
The STLINK-V3MINI probe, new from STMicroelectronics, combines the features of the STLINK-V3SET with standalone simplicity for faster programming and ease of use. The compact, portable probe can be 
...
Read more...
---
Digitiser for advanced applications
31 July 2019, Comtest , Test & Measurement
Tektronix, Inc. has unveiled the 6 Series low-profile digitiser, a 4-channel instrument offering up to 8 GHz bandwidth, 25 GSps sampling rate and a 12-bit ADC (analog-to-digital converter) on every channel, 
...
Read more...
---
Cost-effective tools for makers and small businesses to innovate
31 July 2019, TRX Electronics , Test & Measurement
In addition to professional engineers, makers and hobbyists are now able to contribute significantly to innovation in our modern world – as they can develop ideas with passion and without the financial and logistical constraints that often stifle ideas in large corporations.
Read more...
---