printer friendly version
PFC out of the box
2 November 2005
Circuit & System Protection
With its PhaseMod family, Epcos is taking a completely new approach to power factor correction. This elegant and comprehensive solution features a high degree of integration, substantial savings in space, and the greatest ease of installation.
Optimisation of power quality and reliability of the energy supply are more important than ever. Power factor correction (PFC) in its various forms - such as static and dynamic PFC, harmonics filters and active filters - plays a key role here. PFC systems help not only to satisfy basic demands for stable energy supply and power quality, but also to save energy costs and reduce capital expenditure at the same time. Given the right design, a PFC system soon pays for itself.
The key benefits of PFC are:
* Reduced power consumption and lower costs.
* Less reactive power in the entire grid.
* Lower power dissipation.
* Reduced emission of greenhouse gases spares the environment.
* Higher power quality and lower voltage drops.
Power capacitors for PFC and accessories such as controllers, reactors and contactors have been improving power quality and raising the power factor worldwide for many years. But automatic PFC systems take up a lot of space and require high capital expenditure. Although power capacitors are key components of PFC systems, they account for only 10% to 20% of total costs.
The new PhaseMod family developed by Epcos can dramatically reduce the size and capital cost of PFC systems. It represents a completely new generation of automatic PFC equipment and PFC modules. Whereas conventional PFC systems are put together from a selection of commercially-available standard components (such as capacitors, busbars, contactors and fuses), mounted in cabinets and interconnected by cables, the PhaseMod family is a forward integration system of matching components selected and customised for PhaseMod (Figure 1) complete with the necessary connections. PhaseMod improves power quality, extends the service life of the capacitors, and increases their reliability and safety thanks to a multistage concept.

Figure 1. Complete PhaseMod module Here the S-PhaseMod module has an integrated power factor controller. It is available for rated voltages from 230 to 440 V
Multifunctional carrier platform
The carrier platform (Figure 2) based on sheet moulding compound (SMC) provides a stable, heavy-duty foundation of electrically insulating material that is ideal for mounting components for power distribution and power electronics. This carrier platform integrates the interconnections and copper busbars required for power distribution. It doubles as a basic platform on which all components can be mounted. In addition to all electrical connections, the carrier platform contains inserts for mechanical fastening and electrical contact with switchgear such as capacitor contactors and fuses.

Figure 2. PhaseMod carrier platform made of SMC. All electrical contacts have been integrated into the platform
Design
The choice of a composite fibre material with reinforced fibreglass has made a low-cost solution with good technical and physical properties possible. Thanks to forward integration, PhaseMod systems require less material and fewer parts and need less space. The various integrated components were carefully selected and customised. Epcos' proven MKK AC technology with concentric windings, wavy cut, edge reinforcement and gas impregnation was improved by adding a special capacitor structure to cope with very high energy levels up to 100 kvar (Figure 3).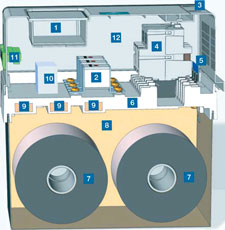 Figure 3. PhaseMod construction. 1: PF controller; 2: HRC fuses; 3: Step operation LEDs; 4: Capacitor contactor with inrush current limiting; 5: Discharge resistor; 6: SMC platform; 7: Capacitors in MKK AC technology; 8: Steel case IP54; 9: Busbars for parallel connection up to 500 kvar; 10: Overpressure switch; 11: Connector for control cable; 12: Plastic front cover, IP20
The high inrush currents that power capacitors have to withstand, call for heavy-duty contactors and capacitors. Special capacitor contactors with inrush current limiting are therefore used to prolong service life and improve power quality. They make use of pre-mating contacts and magnetic coupling. A fuse with a specific trigger characteristic was developed for the PhaseMod to ensure reliable protection of the capacitors. This innovative fuse is also more economical and ensures more reliable contact thanks to direct mounting.
As well as long service life and economy of operation, safety is a key parameter of power factor correction. The PhaseMod has a multistage safety system featuring: self-healing; dry technology; overpressure sensors; discharge resistors; HRC fuses for short-circuit protection; temperature monitoring of every single capacitor winding.
PhaseMod family
The PhaseMod family is divided into the A-PhaseMod series for installation in automatically-controlled PFC equipment (larger systems for up to 500 kvar) and the S-PhaseMod series that replaces a complete small PFC system. PhaseMod comprises a complete product family currently comprising over 70 standard types for voltages from 230 to 480 V, line frequencies of 50 or 60 Hz, and reactive powers from 50 to 100 kvar.
The first two series of the PhaseMod family have laid the foundation for an even more comprehensive architecture of the future that will offer more degrees of freedom for coping with PFC challenges. In view of the sharp increase in nonlinear loads and the resulting harmonics, effective countermeasures are urgently needed. For this purpose, Epcos is specially developing the AF and SF PhaseMod series, which can be detuned. These modules are suitable for use as harmonics filters as well as for classical power factor correction. The next development stage will be dynamic power factor correction based on high-speed thyristors combined with PhaseMod modules. Here power semiconductors will replace conventional contactors and likewise be integrated into the SMC carrier platform. Special attention will be paid here to power dissipation.
Credit(s)
Further reading:
Multi-sensor IoT module
29 July 2020, Electrocomp , Telecoms, Datacoms, Wireless, IoT
TDK announced worldwide availability of the InvenSense SmartBug, a compact, wireless multi-sensor solution designed for a plethora of commercial and consumer IoT applications. The out-of-the-box solution 
...
Read more...
---
DIN rail enclosures
30 June 2020, Electrocomp , Enclosures, Racks, Cabinets & Panel Products
Hammond Manufacturing has announced its 1597DIN family of UL94-V0 flame-retardant plastic enclosures for mounting to standard IEC/EN 60715 35 mm DIN rails for applications such as industrial control equipment, 
...
Read more...
---
CeraCharge now available in a small packing unit
30 June 2020, Electrocomp , Passive Components
TDK is presenting a new packing unit for CeraCharge, the world's first SMD technology solid-state rechargeable battery, in the compact size EIA 1812 (4,4 x 3,0 x 1,1 mm). The packing unit (B73180A0101M199) 
...
Read more...
---
Robust temperature sensor for E-mobility
30 June 2020, Electrocomp , Analogue, Mixed Signal, LSI
The new B58703M1103A* temperature sensor is specially developed for demanding E-mobility applications, which call for high long-term stability. The NTC sensor is designed for a temperature range of -40°C 
...
Read more...
---
3 kW TVS diode arrays
30 June 2020, Avnet South Africa , Circuit & System Protection
To ensure critical operations, aviation and space systems rely on digital and logic functionality and circuitry in engine control units, environmental controls, instruments and actuators. Data centres, 
...
Read more...
---
Thick-film chip resistors
29 April 2020, Electrocomp , Passive Components
Bourns announced the introduction of its new Model CR01005 series thick-film chip resistor. This extra small – 01005 inch (0402 metric) – CR01005 series broadens the general purpose thick-film chip resistor 
...
Read more...
---
Integrated EMC line filters and design kit
29 May 2020 , Circuit & System Protection
Würth Elektronik provides solutions to help prevent EMI problems with non-compliant equipment. It offers complete WE-CLFS EMC line filters that have most components one needs for an EMC filter inside 
...
Read more...
---
Advanced EMI shielding solutions
29 May 2020, Actum Group , Circuit & System Protection
All electronic devices generate electromagnetic radiation that can be transmitted through the air from one electronic device to another. This is known as electromagnetic interference (EMI). In certain 
...
Read more...
---
Dual-channel high-speed protector
29 April 2020, Electrocomp , Circuit & System Protection
Bourns announced the release of the Model TBU-RS085-300-WH, for use in RS-485 communication interface protection. The part is an integrated dual-channel transient blocking unit (TBU) over-current and 
...
Read more...
---
Bourns launches new mobile app
25 March 2020, Electrocomp , Design Automation
The new Bourns app is now available free to download for iOS and Android at the Apple App Store and at the Google Play Store. Mobile apps are very popular marketing tools these days with over 50 million 
...
Read more...
---