printer friendly version
Discover the advantages of cascaded op-amps
8 March 2006
Analogue, Mixed Signal, LSI
Microchip Technology has introduced cascaded dual op-amps: the MCP627X (2 MHz), MCP628X (5 MHz) and MCP629X (10 MHz). Features of this new topology include:
* Chip select (CS) pin for both amplifiers.
* Small 8-pin packages (PDIP-8, SOIC-8, MSOP-8).
* Pinout similar to the industry standard for duals.
The two op-amps are connected in one device so they will support many application circuits. Looking at Figure 1 we see that the output of op-amp A is connected internally to the non-inverting input of op-amp B. Combining these into one pin (VOUTA/VINB+ = pin #1) makes it possible to add a CS input (pin #5) to an 8-pin package. Both op-amps function as normal op-amps.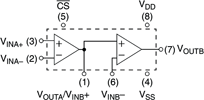 Figure 1. Pinout configuration
The CS input helps conserve power in many popular dual op-amp applications. This pinout makes it relatively easy to modify many existing designs for these parts.
Applications
The most common application circuit supported by these devices is cascaded amplifiers, allowing for easy layout in this common application. Usually, most of the gain is produced by the first stage.
There are several interesting variations of the circuit in Figure 2 that are supported by these parts. For instance, the input op-amp (op-amp A) can be configured as an inverting amplifier, as an inverting (Miller) integrator or as a difference amplifier. The output amplifier can be set up as a unity-gain buffer to isolate the load from op-amp A. This results in an overall performance improvement when driving heavy loads (eg, 1 kilo-ohm).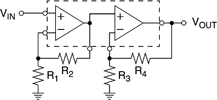 Figure 2. Cascaded amplifiers
It is also possible to make a low-pass filter using just resistors (no capacitors) as in Figure 3. This is a high bandwidth, second-order filter. The resistors R1 and R2 set the DC gain, while R3 maintains stability and controls the filter Q. The filter cutoff frequency is typically 10% to 50% of the op-amp's gain bandwidth product (GBWP).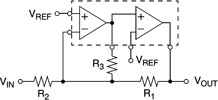 Figure 3. Low-pass filter with no capacitors
Credit(s)
Further reading:
Thick-film chip resistors
29 April 2020, Electrocomp , Passive Components
Bourns announced the introduction of its new Model CR01005 series thick-film chip resistor. This extra small – 01005 inch (0402 metric) – CR01005 series broadens the general purpose thick-film chip resistor 
...
Read more...
---
MOSFETs for automotive applications
29 April 2020, Altron Arrow , Power Electronics / Power Management
Supporting the needs of the electro-mobility market, Infineon Technologies launches its new product family: the CoolMOS CFD7A series. These silicon-based, high-performance products can be used in both 
...
Read more...
---
Phase noise analyser for precision oscillator characterisation
29 April 2020, Altron Arrow , Test & Measurement
To help research and manufacturing engineers make precise and accurate measurement of frequency signals, including those generated by atomic clocks and other high-performance frequency reference modules 
...
Read more...
---
Highly accurate 1-wire temperature sensor
29 April 2020, CST Electronics , Analogue, Mixed Signal, LSI
The MAX31825 temperature sensor from Maxim Integrated provides 8-bit to 12-bit Celsius temperature measurements with better than ±1°C accuracy from 0°C to +70°C and ±1,75°C from -45°C to +145°C. The 
...
Read more...
---
Bluetooth evaluation kit
29 April 2020, Altron Arrow , Telecoms, Datacoms, Wireless, IoT
The Cypress CYW920719B2Q40EVB-01 evaluation kit enables users to evaluate and develop single-chip Bluetooth applications using the CYW20719, an ultra-low-power dual-mode Bluetooth 5.0 wireless MCU (microcontroller) 
...
Read more...
---
Solid-state drive based on QLC technology
29 April 2020, Altron Arrow , Computer/Embedded Technology
Micron Technology announced new Micron 5210 ION enterprise SATA SSD capacity and features, solidifying its leadership in QLC (quad-level cell) technology volume production. The world's first QLC solid-state 
...
Read more...
---
HDMI 2.1 active switch
29 May 2020, Altron Arrow , Analogue, Mixed Signal, LSI
Diodes Incorporated announced the PI3HDX12221, an HDMI 2.1 active switch with linear ReDriver that enables manufacturers of TVs, PCs, gaming consoles and set-top boxes to adopt the latest 12 Gbps HDMI 
...
Read more...
---
Chip resistors in automotive grade
29 May 2020, Altron Arrow , Passive Components
Vishay has enhanced its MC AT precision series of automotive grade thin film chip resistors with a wider range of resistance values from 47 Ω to 10 MΩ in the 1206 case size. The MCA 1206 AT is the industry's 
...
Read more...
---
Board-mount pressure sensors
29 May 2020, TRX Electronics , Analogue, Mixed Signal, LSI
The ABP series of board-mount pressure sensors from Honeywell are fully calibrated and temperature compensated for sensor offset, sensitivity, temperature effects and accuracy errors (which include non-linearity, 
...
Read more...
---
IoT-based smart agriculture solutions
29 May 2020, Altron Arrow , Editor's Choice
Smart agriculture relies on critically important technologies to perform tasks like sensing, processing, storing, networking and physically moving. However, there's one technology that binds these together 
...
Read more...
---