Microchip Technology has introduced cascaded dual op-amps: the MCP627X (2 MHz), MCP628X (5 MHz) and MCP629X (10 MHz). Features of this new topology include:
* Chip select (CS) pin for both amplifiers.
* Small 8-pin packages (PDIP-8, SOIC-8, MSOP-8).
* Pinout similar to the industry standard for duals.
The two op-amps are connected in one device so they will support many application circuits. Looking at Figure 1 we see that the output of op-amp A is connected internally to the non-inverting input of op-amp B. Combining these into one pin (VOUTA/VINB+ = pin #1) makes it possible to add a CS input (pin #5) to an 8-pin package. Both op-amps function as normal op-amps.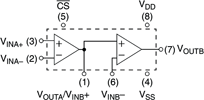 Figure 1. Pinout configuration
The CS input helps conserve power in many popular dual op-amp applications. This pinout makes it relatively easy to modify many existing designs for these parts.
Applications
The most common application circuit supported by these devices is cascaded amplifiers, allowing for easy layout in this common application. Usually, most of the gain is produced by the first stage.
There are several interesting variations of the circuit in Figure 2 that are supported by these parts. For instance, the input op-amp (op-amp A) can be configured as an inverting amplifier, as an inverting (Miller) integrator or as a difference amplifier. The output amplifier can be set up as a unity-gain buffer to isolate the load from op-amp A. This results in an overall performance improvement when driving heavy loads (eg, 1 kilo-ohm).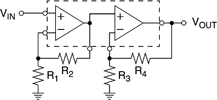 Figure 2. Cascaded amplifiers
It is also possible to make a low-pass filter using just resistors (no capacitors) as in Figure 3. This is a high bandwidth, second-order filter. The resistors R1 and R2 set the DC gain, while R3 maintains stability and controls the filter Q. The filter cutoff frequency is typically 10% to 50% of the op-amp's gain bandwidth product (GBWP).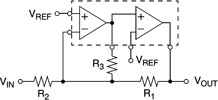 Figure 3. Low-pass filter with no capacitors