printer friendly version
Otto Marketing starts RF cable assembly operations
8 March 2006
News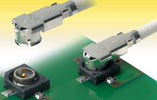 In order to keep up with the huge growth in wireless communications, and in particular, with the explosion in GSM-based applications, Otto Marketing, a long standing manufacturer of quality cable assemblies, has now established a dedicated RF cable assembly facility.
This was facilitated by its recent move into its new 1000 m² industrial premises in Strijdom Park, Randburg.
In order to ensure the highest standards of quality and workmanship, the company says that various tools and equipment were evaluated, and then the most accurate and effective items were purchased. These include two precision coaxial-cable stripping machines (a Komax BT-86 and a Schleuniger Coaz-Strip), an Anritsu Sitemaster S331A RF cable loss and insertion loss tester, an Oristec precision cable measurement and cutting machine, two Komax compressed-air crimping machines, a CMK900 electric crimping press, as well as a wide variety of crimp dies for these machines.

Selected assembly staff received IPC training in RF cable assembly and testing, and Otto can now supply a wide range of RF cable, connectors and cable assemblies, including: N type, BNC; SMA, SMB; MCX, MMCX; H.FL, U.FL; RG174, RG178, RG316, RG400.
All cables are tested for both mechanical conformance and electrical performance. They are tested for insertion and return loss on the Ansitsu S331 RF tester, and if required, performance graphs can be supplied with the RF cable assemblies.
Otto has already supplied many thousands of RF pigtails and cables to customers to connect GSM modules to external antennas. It was a logical step then, it says, to sign a distribution agreement with a leading antenna manufacturer, Joymax. Otto is now able to supply a large selection of RF antennas for numerous applications.
The most popular applications are currently GSM, GPS, LAN and VHF. The GPS521 active external GPS antenna is one of the most popular items at present. Antennas are available in many different styles (stubby, magnetic, window or wall mount, etc).
Credit(s)
Further reading:
SAAB Avionics approves Elmatica auditor for PCB subcontractors
29 January 2020, Elmatica , News
Expanding on its international relationship with SAAB Avionics, printed circuit board supplier Elmatica's Jan Pedersen successfully completed the Part 21, Subpart G training, regarding auditing of printed 
...
Read more...
---
Electronics news digest
29 January 2020 , News
South Africa
• More than 2400 people braved pouring rain in Gauteng to attend the 5th Science Forum South Africa (SFSA) at the CSIR International Convention Centre in December. The annual Department 
...
Read more...
---
Appointment: ExecuKit
29 January 2020, ExecuKit , News
ExecuKit has appointed Marshant Benadie in a technical support role.    His duties will include developing business with clients within the electronics distribution and manufacturing industry; managing 
...
Read more...
---
Repro installs new SMT production line
29 January 2020 , News
The company is actively seeking business for this new assembly line, which promises extensive flexibility and high accuracy, and can easily be expanded for higher production volumes.
Read more...
---
AREI's plans for 2020
29 January 2020 , Editor's Choice, News
Erich Nast, chairman of AREI, discusses what the association's plans are to tackle the challenges and opportunities that lie ahead.
Read more...
---
Check out Dataweek's new-look website
29 January 2020, Technews Publishing , Editor's Choice, News
Our technical design elves have been locked away in our basement for months, improving the visual design and functionality of the Dataweek website.
Read more...
---
From the editor's desk: A fresh start, but a sad farewell?
29 January 2020, Technews Publishing , News
A couple of years ago, not many people had heard of Yekani. The company bought a stake in the well-known East London-based satellite decoder maker, Vektronix, and subsequently acquired it in its entirety. When 
...
Read more...
---
Company profile: ETION Create
EMP 2020 Electronics Manufacturing & Production Handbook, ETION Create , News
ETION Create is an original design manufacturer (ODM) that has been in operation for more than 25 years. Originally known as Parsec, the company was founded in 1993, focusing on the design, development 
...
Read more...
---
Company profile: Laser Stencil Technology
EMP 2020 Electronics Manufacturing & Production Handbook, Laser Stencil Technology , News
Since its inception in 2004, Laser Stencil Technology has grown into a prominent figure in the South African electronics manufacturing industry. Having been involved in circuit board manufacturing using 
...
Read more...
---
Company profile: Repro Supplies
EMP 2020 Electronics Manufacturing & Production Handbook , News
Repro Supplies is a systems integration company that specialises in turnkey systems for the mining industry, industrial, traffic and LED markets, both locally as well as internationally. The company was 
...
Read more...
---