The size of an SBC has had many limitations in the past. With IEI's new RoHS-compliant WSB-9154 board more is possible these days, according to the company. The WSB-9154 industrial computer board is a piece of technology able to run P4 Prescott or Celeron D processors in the LGA-775 socket. This is all neatly put together into a very small package featuring hyper-threading technology with low power consumption, which results in low temperatures and thermal output.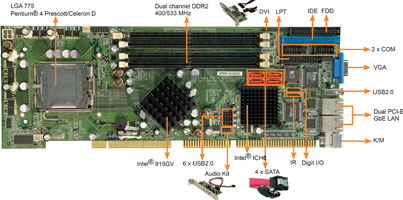 It has Dual channel memory that supports 4x DDRII 240-pin sockets of 533/400 MHz DDR SDRAM up to 4 GHz. This not only increases the memory, but also the speeds, transforming the conventional memory into ultrafast memory capable of running side by side with 800 MHz processors. This avoids bottlenecks leaving the system with double buffer size performance.
Another notable feature is SATA, giving users built-in RAID 0 and 1. There is also Real GbE LAN (Dual Marvell 88E8053) which provides a high performance PCI express Gigabit Ethernet controller that has 145% more bandwidth than normal PCI bus. VGA and sound is also included with DVI function added to the Intel Media Accelerator 900 Graphics controller. I/O ports available are: 2 x RS232, 1 x LPT, 1 x IrDA, 4 x SATA, 1 x FDD, 1 x PS2, 1 x USB and 6 x USB 2.0.